Fresh bread slices with a spicy green chutney & cream cheese spread and fresh cucumber slices makes for an easy yet delicious make ahead cucumber sandwich you can munch on any time!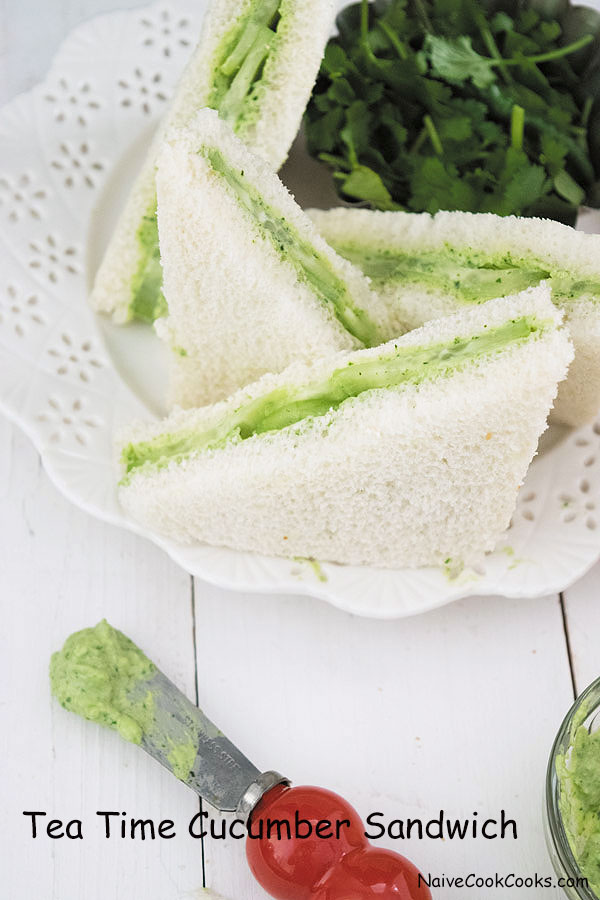 Last two days we have been working on getting to know how to make videos and it's been so much fun! I was actually really scared and even though I have been wanting to start making videos, I had no idea where to start. So finally we made not 1 but 2 videos but today's video is our so called official first video! It's not perfect, I must admit, but it's our first so we love it!
So this past weekend while we were attending family function,I ate these spicy-creamy-soft sandwiches made by my relatives which I instantly loved and I knew that I had to share them with you all. So I bugged my mom and got the recipe from her and who knew it was such a simple recipe but so good!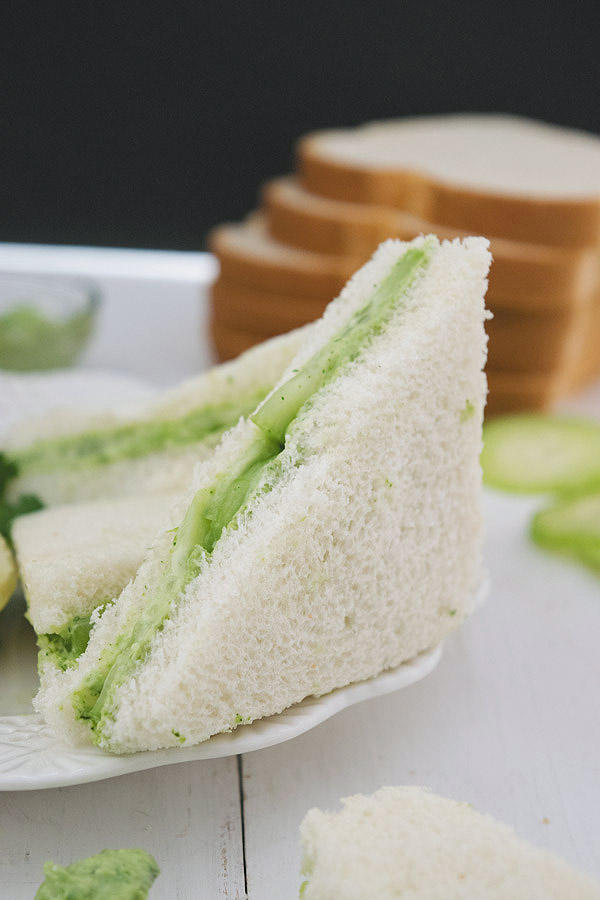 If you have never eaten cilantro chutney, you are in for a treat and if you are already crazy about it like me, then you might have already guessed that these are going to be awesome!
All you need to do is make fresh green chutney, mix it with room temperature cream cheese and them smear on bread slices ( fresh soft bread slices a must!) and then layer them with tons of cucumber slices and that's about it.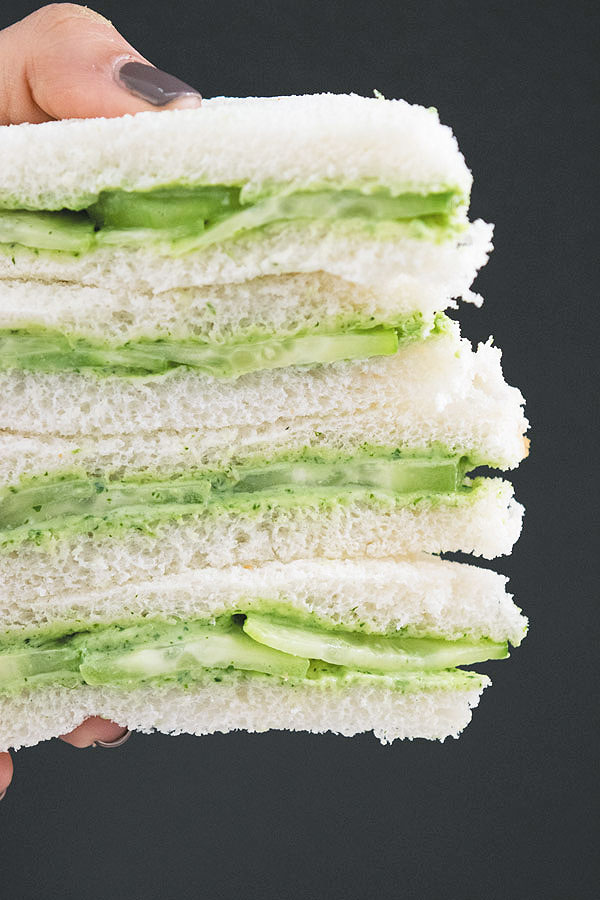 They are so good by themselves or when served with a hot cup of tea/coffee!
Follow along for a lot more delicious treats and life happenings on INSTAGRAM ||FACEBOOK||PINTEREST ||TWITTER ||GOOGLE+ || BLOGLOVIN

Tea Time Cucumber Sandwich
Ingredients
Green chutney :
1 cup chopped cilantro
3 garlic cloves
3-4 green chili
Lime juice to taste
Salt to taste
Few drops of water
Other ingredients:
4 ounce cream cheese, softened at room temperature
Fresh bread slices
Thin cucumber slices
Instructions
In a food processor, add all the chutney ingredients and blend until smooth. You might need to scrape the side few times in between and add few drops of water. Taste and keep the chutney aside.
Now in a bowl add the soft cream cheese and to it add 2-3 tbsp of chutney or start with 1 tbsp chutney, mix and add more chutney depending on how spicy you want your spread to be.
Now take bread slices. If you want, you can cut the sides and then spread this cream cheese mix on one side of all the slices. Layer half of these slices with thinly sliced cucumbers and then cover them with the leftover bread slices. Cut the sandwiches in half and serve!
Notes
Ami says :
1.To use those trimmed sides of bread, you can make
seasoned breadcrumbs
!
2.I love love my small handy
Revel grinder
for making chutneys, pestos, grinding spices, making garlic-ginger paste and it works like a charm! It's quite affordable so if you are looking to buy a good grinder, I would suggest to go with this!
Some recipes I love making using my favorite GRINDER ->>
https://www.naivecookcooks.com/kale-hashbrowns-pistachio-pesto-breakfast-pizza/