Indian pastry pockets stuffed with spiced lentils and fried/baked until crispy and served with cilantro chutney!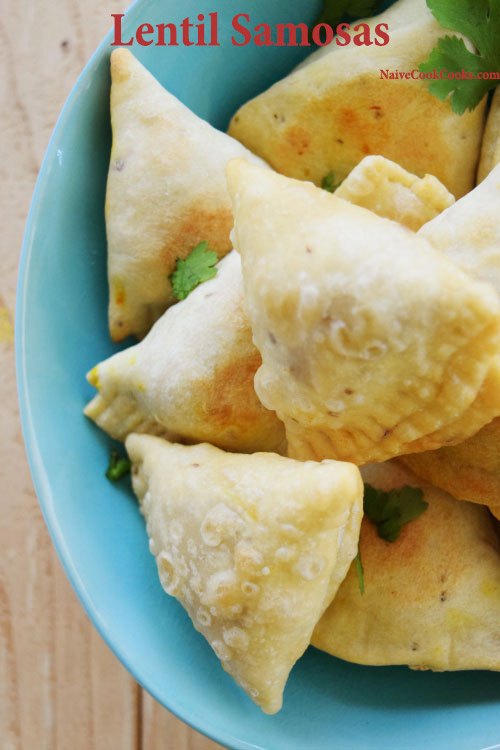 It is SEPTEMBER! Can you even believe that it's already 2nd september?!Time is flowing by so quickly and I know that I complain about it all the time but seriously yesterday when I received a promotional email from better homes & gardens saying that soon around sep7th they are staring 100 days of holidays, I was like whoa! So early!!
But it sorts of all already feels like fall in the air especially during early mornings. Weather change means lots of celebrations around the corner and one of my favorite Indian festival that is just around the corner is Janmashtami. It's an annual celebration for the birth of Hindu God Krishna. Usually people fast & all sorts of delicacies are prepared.
I especially remember eating lots of sweets and buckwheat fritters (my favorite!) prepared by my mother and that was one reason I always looked forward to this occasion. Usually it's monsoon season too so fried food like fritters with hot cups of tea seemed just the right thing to do!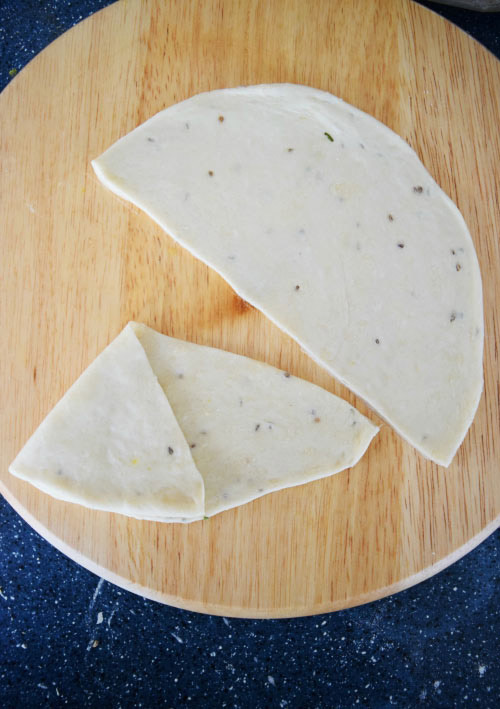 But now since we are trying to eat healthier, I created both the versions of these samosas. Baked & fried and you will be shocked to know that I feel that I love the baked version! It's so much more crunchy than the fried and tastes exactly the same but way less fat! Samosas as you might know are very common Indian street food, basically fried pastry pockets stuffed with filling of your choice.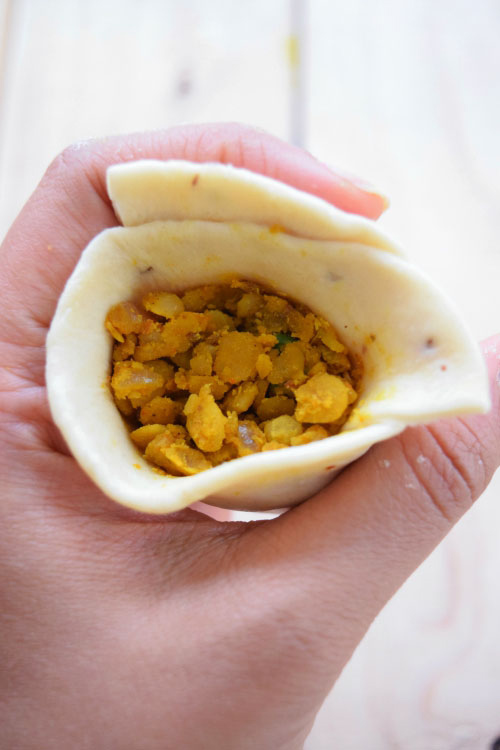 Here to make them protein packed, I used lentils (split pigeon peas/arhar dal/toovar dal) and sauteed them with onion and spices. For the dough you can make whole wheat dough but since they are samosas, I like to keep some things still the same as it's a delicacy which we eat or make rarely so I want to enjoy them to the fullest and not spoil them by going over the board with the health factor!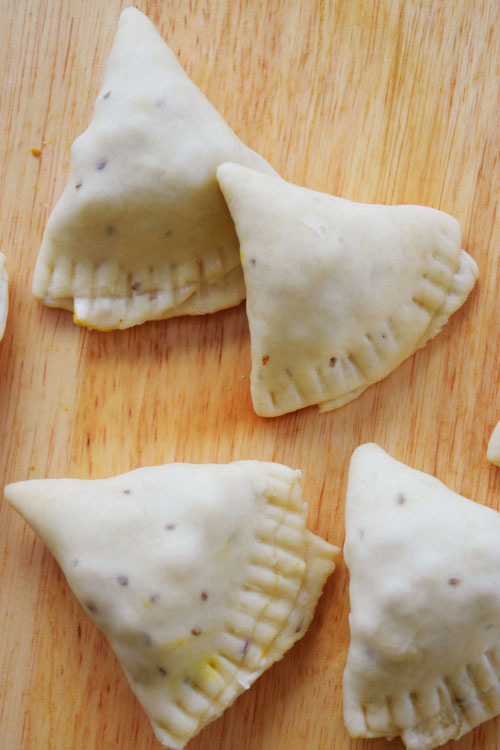 A really simple 5 min dough is prepared and then rolled into balls. One by one balls are rolled out and each flat roll is cut into 2 semi circles and shaped into a triangle & stuffed! Easy peasy. Then you can either fry them or bake them. Both ways taste great!
Can you see how crunchy golden brown they are?! I immediately inhaled like 3 of them just for taste tasting and they were SO SO GOOD! Dipped in spicy cilantro chutney and a hot cup of earl grey tea ( my latest tea obsession!), they taste wonderful!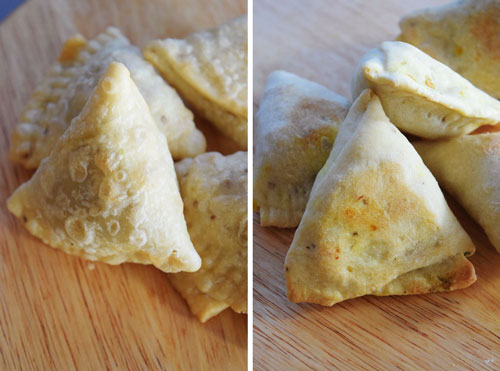 I am getting all hungry just looking at these!
Here left side is the fried version & right side is the baked version! Both versions ROCK!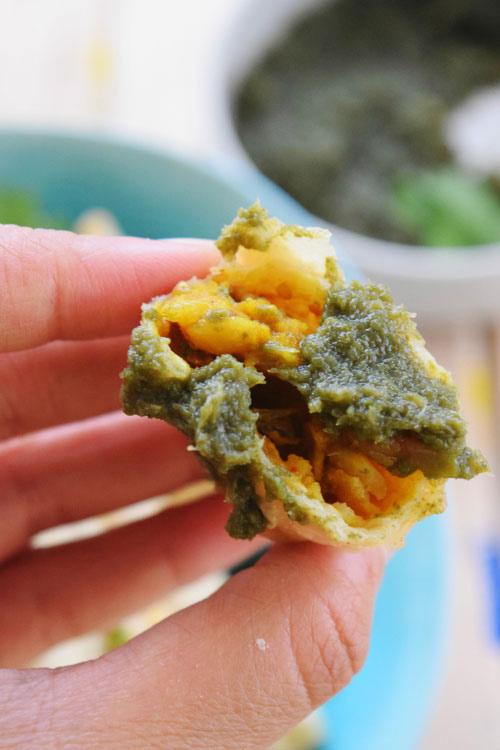 Follow along for a lot more delicious treats and life happenings on INSTAGRAM || FACEBOOK ||PINTEREST ||TWITTER ||GOOGLE+
Lentil Samosas
Ingredients
Filling
1 tsp oil
½ tsp cumin seeds
2 green chilies, finely chopped
½ cup finely chopped red onion
1 cup boiled & drained split pigeon peas (you can find split pigeon pea lentil in any big grocery store or Indian store. I have even seen them in walmart in Asian food aisle!)
Salt to taste
¼ tsp red chili powder (more or less as per taste)
½ tsp turmeric powder
½ tsp garam masala
½ tsp coriander powder
½ tsp mango powder or lime juice
¼ tsp fennel powder (optional)
Dough
1.5 cups all purpose flour
1 tsp salt
1 tbsp oil
½ cup chilled water
½ tsp carom seeds
Paste for sticking
2 tbsp water
1 tbsp all purpose flour
Instructions
Filling
In a skillet, add oil. Once hot, add cumin seeds and let them sizzle. Now add green chilies & onions. Add salt and saute them for 5-7 mins on medium heat. Now add lentils (that are already boiled & drained completely) along with all the spices. Stir them around so they are evenly coated with spices. Taste and adjust seasoning as per taste. Keep them aside to cool.
Dough
Now in a bowl add flour, salt, carom seeds and oil. Using hands mix the dough so the oil is distributed in the flour. Now add chilled water starting with ¼ cup and proceeding as needed. Knead it into a soft supple dough. Keep it in a bowl and let it sit for 15 mins.
Paste for sticking
Simply mix water and flour and keep aside.
Method
Break the dough into 8 even size balls. Take one ball at a time. Rub the rolling surface with a little oil and roll first ball into a circle. We are looking for not-too-thick & not-too-thin thickness. Cut the circle into half which gives you two semi circles. Now keep the semi circle dough on the rolling surface with the round edge towards you. Bring the left corner halfway and bring the right corner on top of the left corner to see if they are making a proper triangle. Now take the right circle back to the initial position and apply paste on the left side which is siting in the center. Bring the left side on top of it and press it gently so it sticks. Now you have a triangle pocket. Open it gently and fill it with around 1 tbsp or more of the filling. Make sure not to overfill or it will pop out while frying! Now apply paste on the base of the triangle ( if I say so in technical terms!) and seal them. Now taking a fork, I like to seal the base but you can even use your hands.
I have some pictures on top which should help you.
Repeat the same way with the rest of the balls. You will end up with 16 samosas.
For frying
If you want to fry these, place a pot with oil almost halfway filled. Heat it up. To check if the oil is ready for frying, after say 5-6 mins drop a very small piece of dough (a pinch of dough actually) and if it comes up as soon as it hits the oil, this means your oil is ready. Keep the flame to medium-high and fry 2-3 at a time until golden brown on both sides. Drain them and keep on paper towel to soak up the excess oil.
For baking
Pre heat oven to 400F.
Grease a baking sheet. Spray oil on the samosas both back and front or simply brush oil on the samosas. Transfer samosas to the baking sheet and bake for 10 mins and then flip and bake for another 7-10 mins or until nice & golden brown!
Serve with ketchup or cilantro chutney. (I simply add a bunch of fresh cilantro, few green chilies, salt, ¼ tsp cumin seeds, 1 tsp ginger and lime juice to taste in a food processor and process until smooth along with some water. Adjust salt, lime juice as per your taste!)
More Indian Inspired Recipes:
https://www.naivecookcooks.com/malai-kofta/