These Fried Tacos are life changing. A crispy fried bread topped with masala chickpeas makes these tacos way better than any you have eaten before! Must try!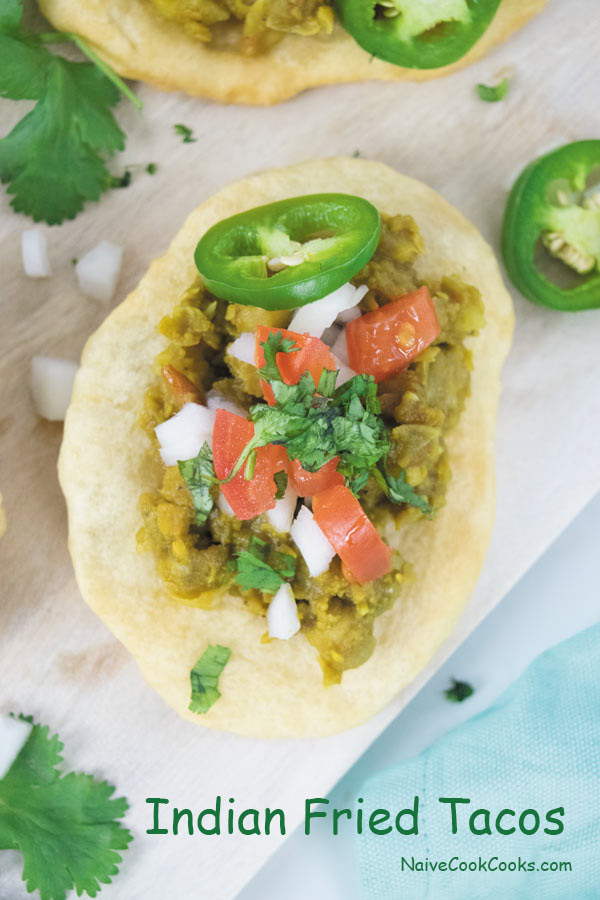 This #meatlessmonday we are doing something almost everyone loves but raising the standards a slight bit and making everybody's beloved tacos fancier and tastier! Are you ready for fried tacos my friends?! These Indian style Fried Tacos are to die for! A crispy fried bread topped with masala chickpeas, lots of fresh onions, tomatoes and jalapenos makes them the ultimate tacos.
And they are so good for meatless mondays too. But if you are not much into eating vegetarian, simple switch chickpeas with your favorite meat and voila you got yourself something so delicious that you would dream about it or atleast I did for days and still do!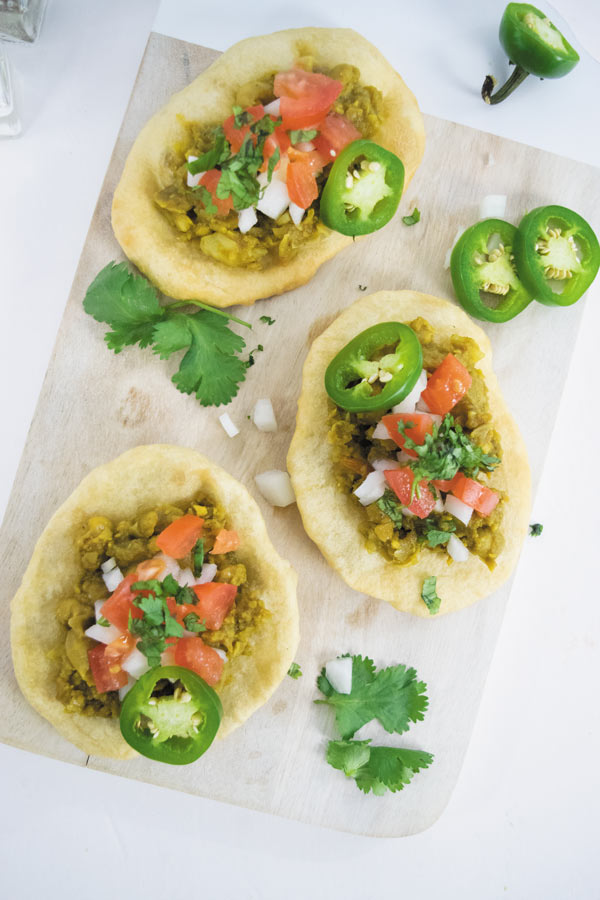 So while branstorming for a recipe, I realised I was craving tacos and Chola Bhatura. Chola Bhatura is a simple hearty Indian meal with spiced chickpeas served with fried bread, some pickle and lots of lemony onions! It's the perfect food to eat when you are craving something indulging and growing up I would make my mom make them atleast once in two weeks or if I was lucky once every week! 😉 They were and still are my favorite thing to eat when eating Indian food.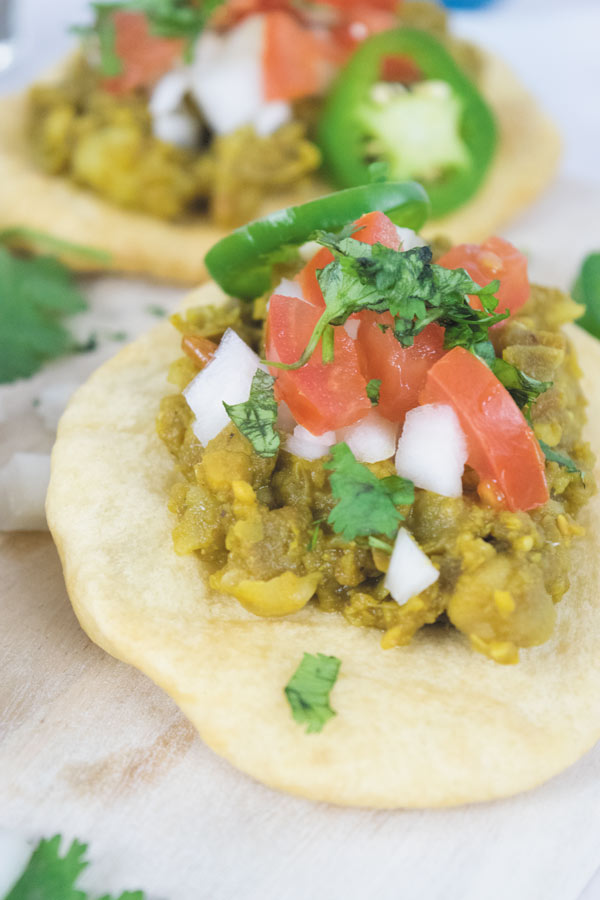 And then when I thought of tacos, I realised there is a famous Mexican version of fried tacos so I decided to combine both the ideas & what a treat it turned out to be! After eating these tacos, you will seriously stop thinking about plain tacos. I mean frying makes everything better right?! The bread here is soft crispy and rich and when topped with spicy masala chickpeas, it's like a match made in heaven!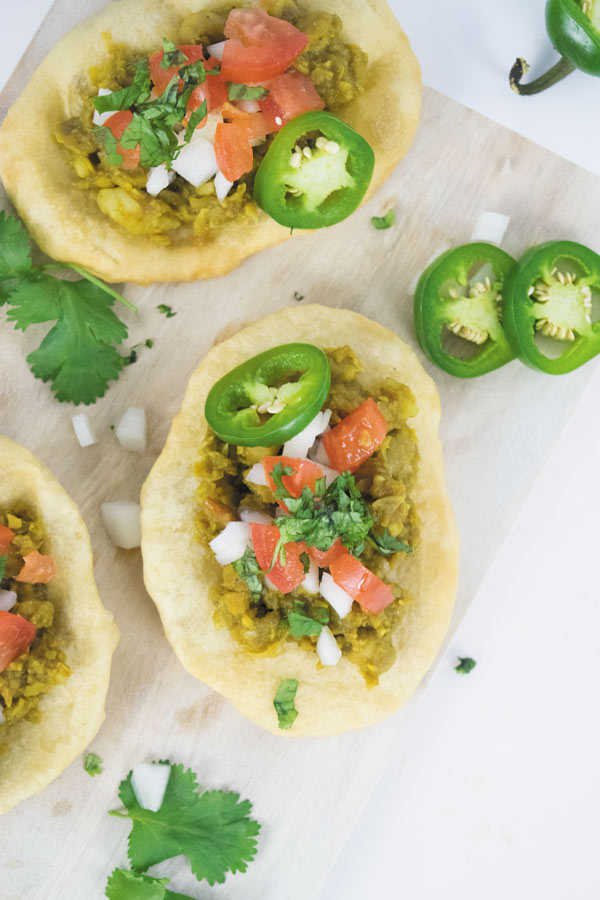 They do need little bit of planning so if you are in a rush for weeknight dinner, then I suggest just buy your favorite brand of canned biscuits and after rolling them into oval or round shape, fry them. They will be phenomenal here too! On another note, today actually I was supposed to post Chapter 3 in our How to start a food blog Series but my post wasn't fully written so instead I decided to share something for a delicious dinner!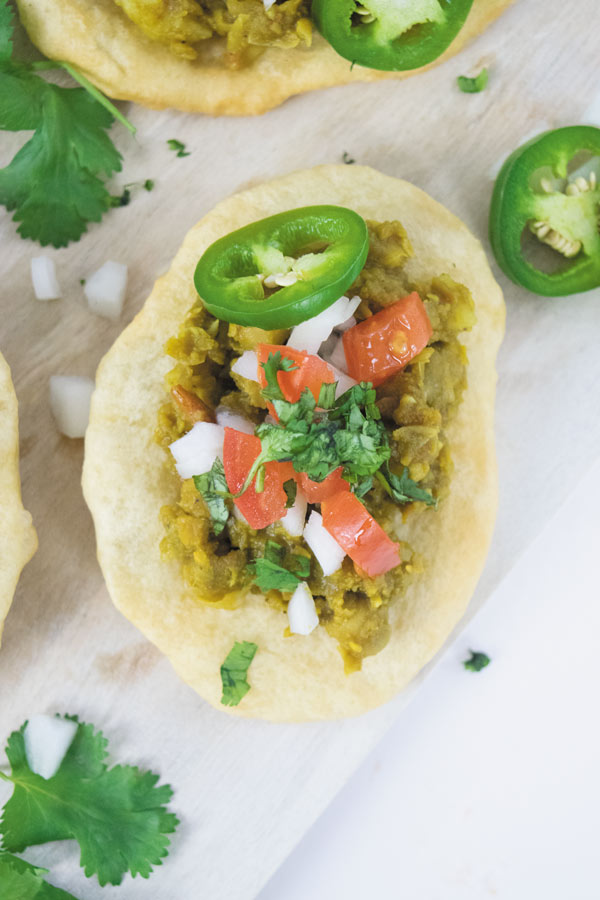 These->> you must make!
Follow along for a lot more delicious treats and life happenings on INSTAGRAM ||FACEBOOK||PINTEREST ||TWITTER ||GOOGLE+ || BLOGLOVIN || YouTube
Indian Fried Tacos
Ingredients
Fried Bread for Tacos ->
1.5 cups all purpose flour (maida)
½ cup rice flour
½ tbsp sugar
½ tsp salt
½ tsp baking soda
½ cup yogurt
water as required (I used in between ¼-1/2 cup water)
oil for deep frying
Masala Chickpeas ->>
1 + ⅔ cups chickpeas, boiled (You can use canned or boil dry chickpeas at home)
1-2 small potatoes, boiled, peeled and mushed
1 tbsp olive oil
2-3 bay leaf
1 cinnamon stick
4-5 cloves
2-3 dried red chili
½ cup finely chopped red onion
1 tomato, chopped very fine
½ tsp garam masala
¾ tsp amchoor powder (or dried mango powder) (Easily found at Indian stores) or lime juice
Salt to taste
¼ tsp turmeric powder
2 tsp dry coriander powder
¾ tsp cumin powder
1-2 green chili, made into a paste (or less if you want less spicy)
2 tsp fresh ginger paste
1 tsp garlic paste
1 cup water
Additional items ->
Chopped onion, tomatoes, cilantro and jalapenos
Instructions
Fried Bread for Tacos ->
In a bowl sift all purpose flour, rice flour and baking soda. Add salt and sugar to the flour mix and stir. Add yogurt along with ¼ cup water. Start kneading slowly and keep adding a tbsp water at a time as required. Knead it into a soft supple dough. Cover and let it rest for 2-3 hours or until it rises.
Meanwhile make masala chickpeas.
In a pot, add oil.
Once hot, add bay leaf, cinnamon stick, cloves and red chili to it. Once they start to sizzle, add chopped onions and cook until softened.
Add tomato and cook until it becomes a bit soupy.
Add spices (garam masala, amchoor or lime juice, salt, turmeric, coriander powder,cumin, green chili paste, ginger paste and garlic paste)
Stir it all around until cooked through. Add a cup of water to it and cook on slow-medium until gravy gets a bit thick. Add mushed up potatoes and chickpeas. If starts to get dry, add more water. Cover and cook on low for 10-15 minutes or until the flavors develop. Taste and adjust seasoning. Keep it aside. Make sure it's kind of a almost dry consistency so it's easy to place on tacos.
Now once your dough is ready, roll and fry these tacos!
Do not deflate the dough. Just uncover and break a medium piece of dough and shape it into a round shape. Roll either round or oval shape. Before you start rolling, place oil for frying in a deep pot and start to warm it up.
To test if oil is hot enough, drop gently a very small piece of dough in it. If it rises immediately, this means oil is ready for frying. Now turn the gas to medium-high so taco bread cooks evenly.
Now add one rolled taco at a time and fry on one side for a minute or so until puffed up. Flip and repeat on the other side. Once cooked and nice goldenish, transfer to a paper towel lined plate.
Repeat with the rest of the dough.
For serving, place 2-3 fried tacos on a plate. Place some chickpeas on each taco and spread them around. Then top it with chopped onion, tomato, cilantro and jalapenos! Enjoy!
Notes
Ami says :
I used chickpea recipe from my
Dahi Misal
recipe.
Fried Taco recipe adapted from
Veg Recipes Of India
Is running short on time, buy your favorite plain canned biscuits dough and cut them in small pieces and roll and fry instead!
 Some more DINNER recipes ->>
https://www.naivecookcooks.com/poblano-crepe-enchiladas/