Crispy Baked Parmesan Chicken Bites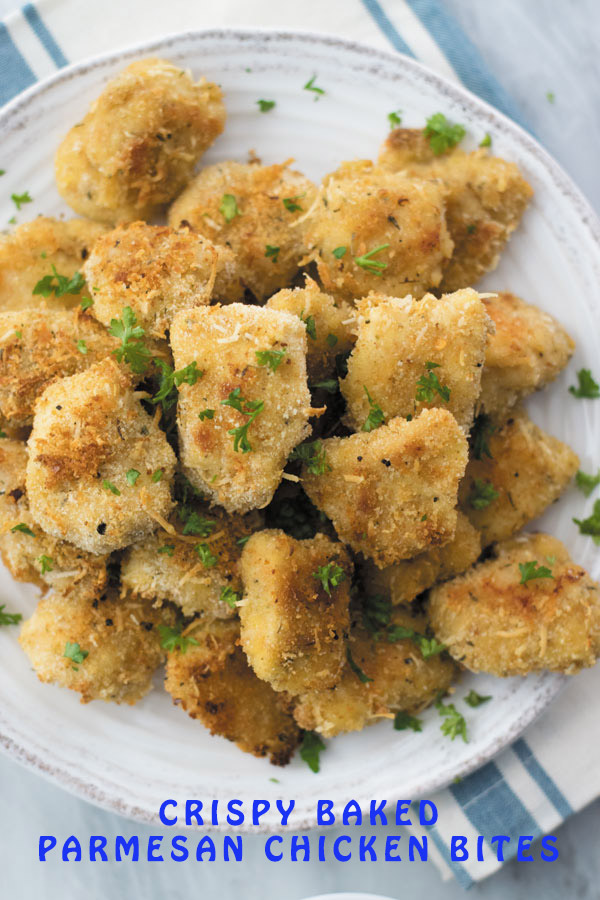 2 chicken breasts, cleaned, cut in small pieces
¾ cup bread crumbs (If using plain store bought add seasoning as mentioned HERE. or make your own seasoned breadcrumbs)
½ cup shredded parmesan cheese
Salt & Black pepper to taste
1 egg
1 tbsp oil
Oil for spraying
Preheat oven to 400F. Get a baking tray and lay it with parchment paper and grease it with oil.
Take chicken breasts, clean and cut them into small pieces.
In a bowl break an egg and to it add oil. Mix.
In a shallow plate take seasoned breadcrumbs and parmesan. Mix and taste for seasoning. Make sure this mixture is well seasoned.
Dip few pieces of chicken in egg mix. Working with one piece at a time, after dipping in egg mix cover it with bread crum mixture. Using hands pat the bread crumbs tightly all around the chicken piece. Place it on ready baking sheet. Repeat.
Once done spray all the chicken pieces with oil and bake for 6 minutes at 400F and then flip, spray some more oil and bake for another 6-9 minutes. To check if chicken is cooked, cut one piece in half and if the meat is white, that means it's ready to eat. If meat is still pink, cook for another minute or two.
** If you are using frozen chicken, then the baking time will be a little more.
Recipe by
Naive Cook Cooks
at https://www.naivecookcooks.com/crispy-baked-parmesan-chicken-bites/