This easy and so healthy tilapia gets cooked and ready to eat all in under 30 mins from start to finish. Served with cilantro lime rice or mashed potatoes & a salad this makes up for a complete meal which is not only delicious but healthy too!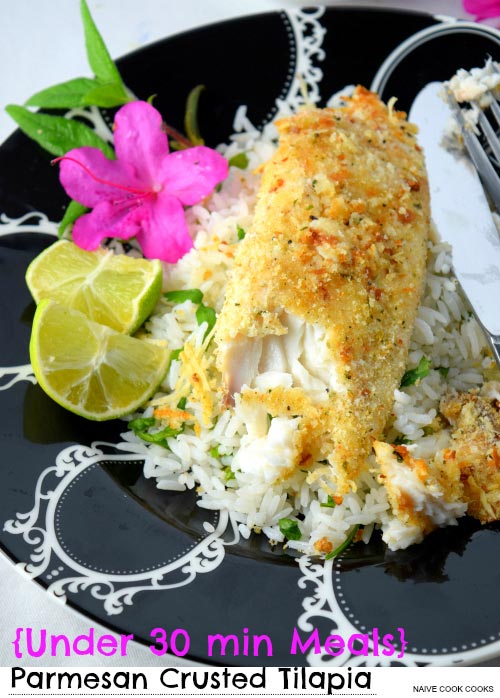 Lately I am all over Tilapia. Will you laugh at me if I tell you that I cooked my first fish ever at home a week ago? Yeah sounds kind of funny! But in my defense let me tell you that I was not much of a fish eater until this happened. I usually shy away from sea food because of that prominent fishy smell. But seriously not here at all. Last weekend I tasted a piece of parmesan crusted tilapia at Sam's club.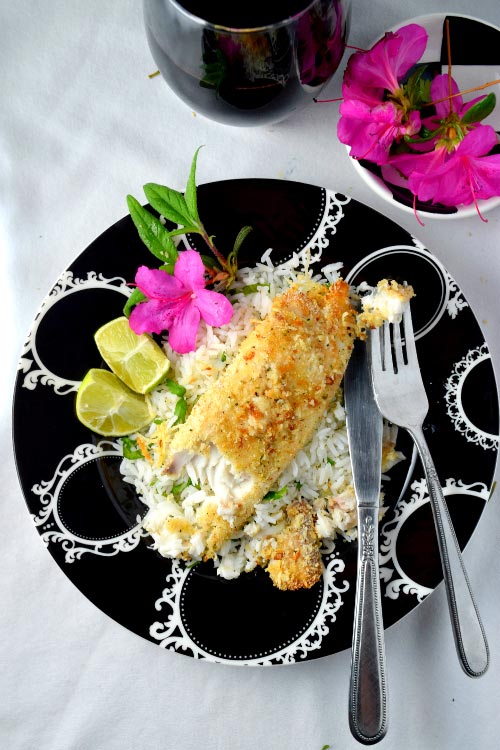 If you have been to Sam's club on weekends you might know that you might sometimes get to taste a lot of their new products. So that's when I became bold enough and went ahead and tried a good bite sized piece of parmesan crusted tilapia and it was so GOOD. Not fishy at all, just soft, melty goodness. It felt like soft cheese in my mouth.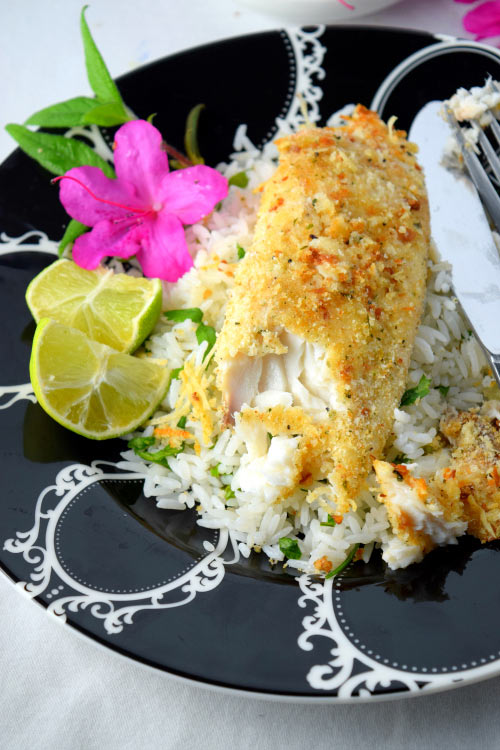 Days went by but I couldn't forget about it so there I was with my first ever purchase of a pound of tilapia fillets from Trader Joes (I know a pound seriously?!). Where do you  guys usually buy your fish from anyways?? This meal comes together from start to finish in under 30 minutes and while fish is baking in oven or cooking on skillet, you can quickly throw together this cilantro lime rice. First time I served this along with mashed potatoes and spinach-strawberry salad and second time over a bed of this cilantro-lime rice!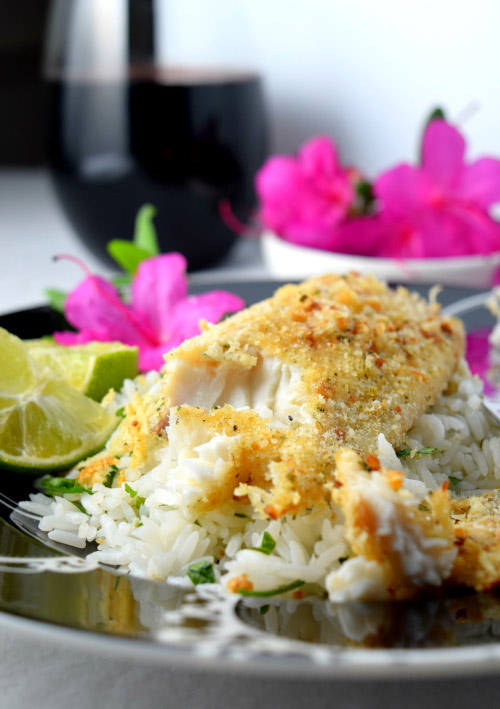 Choose your favorite way to enjoy this SUPER FLAKY, SOFT AND FLAVORFUL fish!
Help in spreading the word!
Follow along for lot more delicious treats and life happenings on INSTAGRAM || FACEBOOK || PINTEREST 

Baked Parmesan Crusted Tilapia Under 30 Mins
This easy and so healthy tilapia gets cooked and ready to eat all in under 30 mins from start to finish.
Ingredients
Tilapia
2 Tilapia fillets
¼ cup breadcrumbs( I used panko breadcrumbs first time, second time I used my homemade seasoned bread crumbs) (Both taste equally delicious)
Salt & Black pepper to taste
2 tbsp freshly grated parmesan
1-2 tbsp butter, melted
Cilantro-Lime rice
½ cup rice, uncooked, cook as per package directions
3-4 tbsp freshly chopped cilantro
Salt to taste
1-2 tbsp lime juice
Instructions
Pre heat oven to 400F.
Using a pastry brush, spread melted butter all over the tilapia fillet.
Now in a plate mix breadcrumbs and parmesan. If using panko, make sure you season them well. If using my homemade seasoned breadcrumbs, no need to season more.
Lay the butter coated tilapia over the mix and press by hands so each side gets evenly coated with the breadcrumb-parmesan mix.
Transfer to a lined and sprayed with oil baking sheet. Cook in oven for 7 minutes. Flip and cook for another 5-7 minutes or until cooked through. The inside will turn opaque and it will be flaky when touched with a fork.
Serve over rice or with mashed potatoes or your choice of sides.
Rice
Cook rice as per package directions. Once cooked, fluff it using a fork. To it add, cilantro, salt and lime juice. Mix and taste.
Looking for more easy dinner ideas?
https://www.naivecookcooks.com/chicken-fettucine-in-whiskey-gouda-sauce/