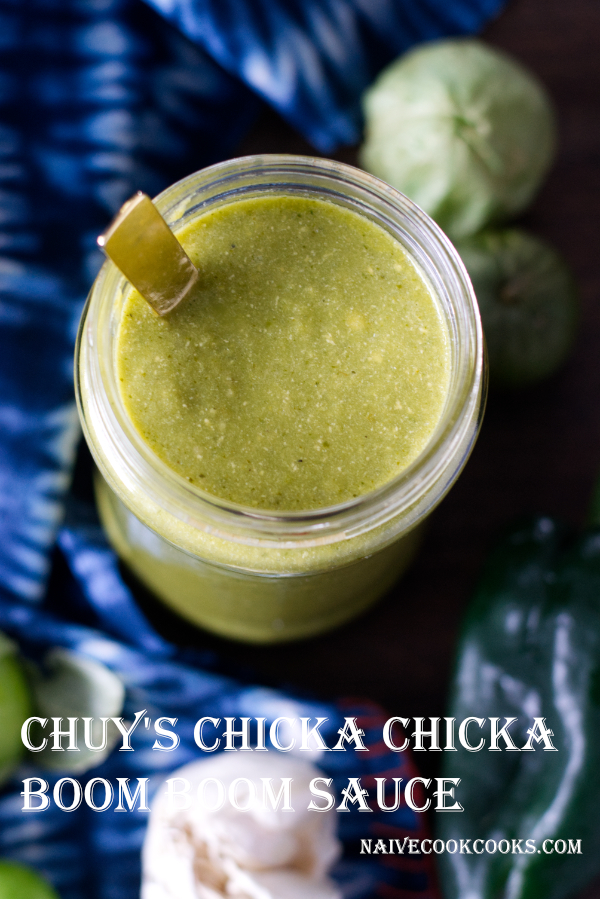 Reposted with Updated photos & perfected Recipe on July 9th 2020
Last year while visiting family in Texas, for the first time I visited a well known Tex-mex restaurant there called Chuy's. I was told about their very popular and in demand Chicka Chicka Boom Boom Sauce. I being an avid lover of spicy food went ahead and ordered it.
To my great surprise, it was one of the best green enchilada sauce I had ever encountered. I usually prefer red enchilada sauce as usually green enchilada sauces are super tangy at places and it kind of takes away the flavor. Things taste good when in right proportion. But not here as it was very well balanced. A perfect tangy-creamy-spicy combo. Things could not have been better.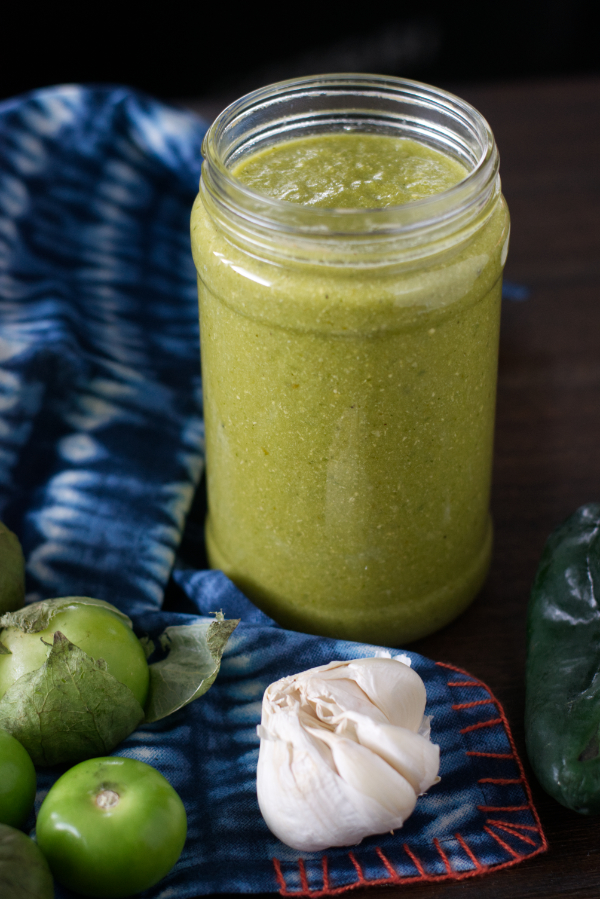 There I resolved to try making it once back home but as life has it, months went by and I totally forgot about it.
We got busy with moving, took a trip to India, came back and still I had no memories of it. While visiting our family in Florida, I was told about some versions of the recipe available online. Ronak's mom even made it for us but I still forgot to write down the recipe or for that matter look at what site she used for recipe.
Few days ago while brainstorming for creating posts, I stumbled upon enchilada sauce recipes and all I wanted to eat was Chuy's famous spicy-tangy green enchiladas. If you are still wondering about Chicka Chicka Boom Boom Sauce, that's the name they sell these enchiladas by. Funny name, right?!
Now since I had no recipe or notes, I did a bit of research and found few places sharing the recipe.
Here, I made some of my own changes but I was myself surprised with the results. One of the best enchilada sauces I have made up to date and so simple. It comes together in less than 30 minutes flat and totally from scratch apart from the green chiles which come from Mexico and hard to find fresh here.
I will seriously suggest you to go ahead and make this sauce this weekend. I made it again and am planning to use it for quinoa enchilada sauce bake this week. You can use this sauce for enchiladas, for quinoa bake, for tacos, for lasagna and what not!
If you make THIS RECIPE, DO SHARE YOUR CREATIONS BY TAGGING ME ON INSTAGRAM @naivecookcooks

Chuy's Chika Chika Boom Boom Sauce
Ingredients
1 poblano
4 medium size tomatillos
2 cans of Hatch Fire Roasted diced green chiles (4 oz each can)
5 Tbsp cilantro, chopped
4 thin green onions, cut in big pieces
1 tsp green chili paste to taste or use jalapeno or serrano pepper
Salt to taste
Black pepper to taste
Vegetable broth
4 slices of American cheese ( ¾ oz each slice)
Instructions
Take poblano and tomatillos and wash them under running water. Poke holes using a knife. Place them in a zip lock bag and microwave for 2 minutes.
In a blender, add softened poblano, tomatillos, both cans of hatch green chiles, cilantro, green onion. Blend it on high until you get a smooth paste. You will get around 3 cups of sauce.
Now in a deep pot, add the sauce from blender along with 1 cup of vegetable broth, salt, black pepper and green chili to taste. Start with little green chili paste and proceed as per taste. If you want more tangy, add lemon juice. I felt it was enough tangy so I didn't use any lemon juice. Heat it up on medium. To it add torn cheese slices one at a time and keep stirring until it melts completely and beautifully mixes with the sauce. Repeat with the remaining cheese slices. Cook it on slow for few minutes.
At this point you can make enchiladas with this sauce or once cool, you can refrigerate it in an airtight jar for future use.
Notes
Updated on July 9th 2020:
I made this recipe exactly but double the batch this time and froze the extras! It's great for enchiladas, nachos, enchilada bake, served over meats and what not!
More Sauce Recipes: