Chocolate NanKhatai Recipe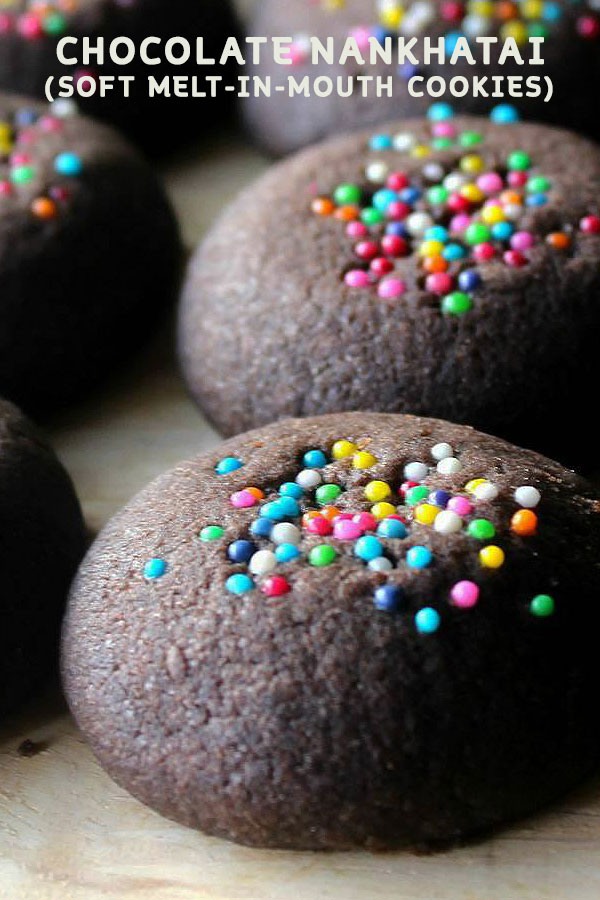 All purpose flour (maida) – 1 cup
Powdered Sugar – ½ cup
Corn flour (cornstarch) – 1 tablespoon
Clarified Butter (ghee) – ½ cup (you can even use butter at room temperature
but only if you do not have ghee)
Cocoa powder – 1.5 tablespoon
Baking powder – ½ teaspoon
Chopped almonds or sprinkles for garnish (I used colorful sprinkles)
Milk – 1-2 teaspoons (if required for kneading)
Preheat the oven to 170 degree C (~335F) for 10 minutes.
In a bowl sift together the flour, cornstarch, cocoa powder and baking
powder and mix well.
In another bowl, add the powdered sugar and ghee and mix well with a
hand beater until the mixture is light and fluffy.
Add the flour mixture to this sugar-ghee mixture and mix well.
Knead into a smooth dough (use your hand ). Use little milk if required
to bind the dough.
Line a baking sheet or cookie sheet with parchment paper. Divide the
dough into equal small balls and place them on the tray spacing them out.
Lightly press the almonds or sprinkles on top of the dough balls.
Bake the cookies for 18-20 minutes. They may appear to be soft after
baking but will turn crispy on cooling completely. Once cooled, store them
in an airtight container.
Recipe by
Naive Cook Cooks
at https://www.naivecookcooks.com/chocolate-nankhatai-recipe/