These Easy Cashew Sugar Cookies with whole wheat flour, cashews, Almond Breeze Almondmilk Cashewmilk will knock your socks off!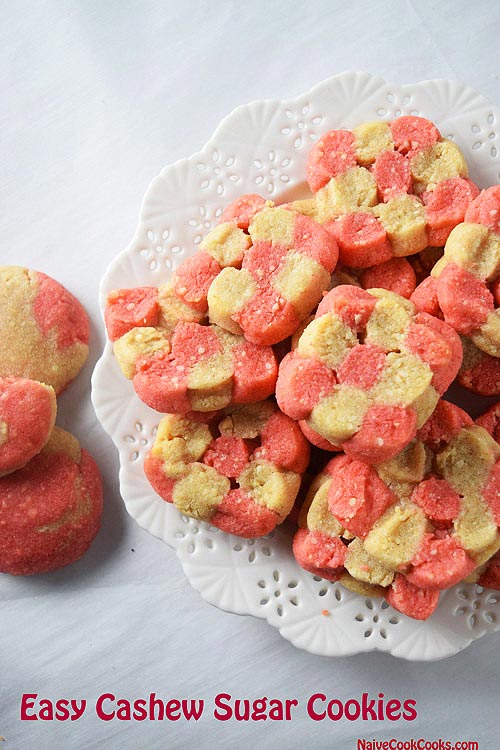 It's holiday season  ? and all I can think of is sweets!! I wonder if you are also feeling this way. So here I am with another favorite cookie recipe which is a take on my all time favorite From Scratch Sugar Cookie recipe and it's oh so delicious! It's made using whole wheat flour, cashew flour (powdered cashews), Almond Breeze Almond Milk,  Cashew Milk and NO-eggs and the best part ; it might just be my new favorite sugar cookie recipe! Soft, chewy and everything a sugar cookie is meant to be!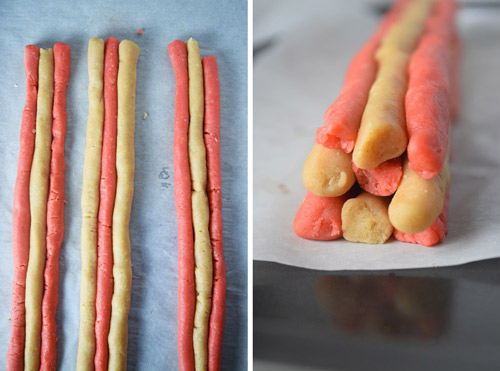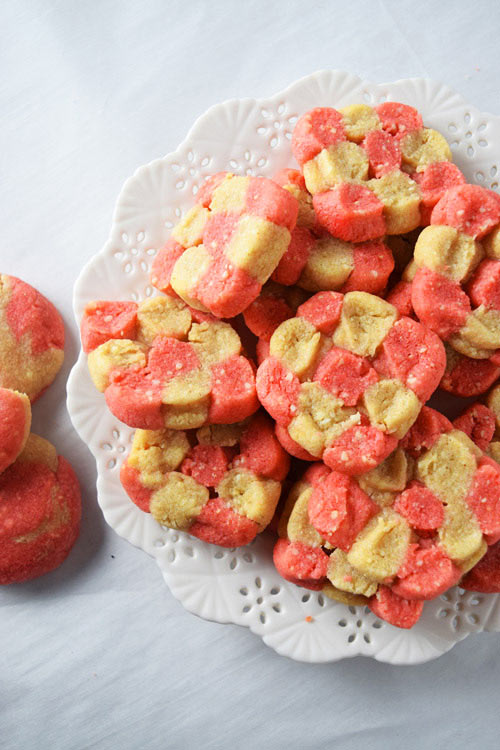 And this time instead of using icing, I decided to do something different. I have always wanted to learn how to make Checkerboard cookies and I thought this was the perfect time! And let me tell you that it is so simple! I mean all you do is divide dough into 2 balls and color one ball with either food color or if you want chocolate flavor, add some cocoa powder. Then working with one ball at a time, I divided that ball into 5 small balls and rolled each ball into a medium thickness rope. Then I repeated the same procedure with other dough and tada now all you need to do is stack the ropes side by side to make a pattern and then pile them on top of each other and FREEZE! One of the most important part here as it makes cutting the cookies so much easier. I mean seriously just do it and you will see what I mean.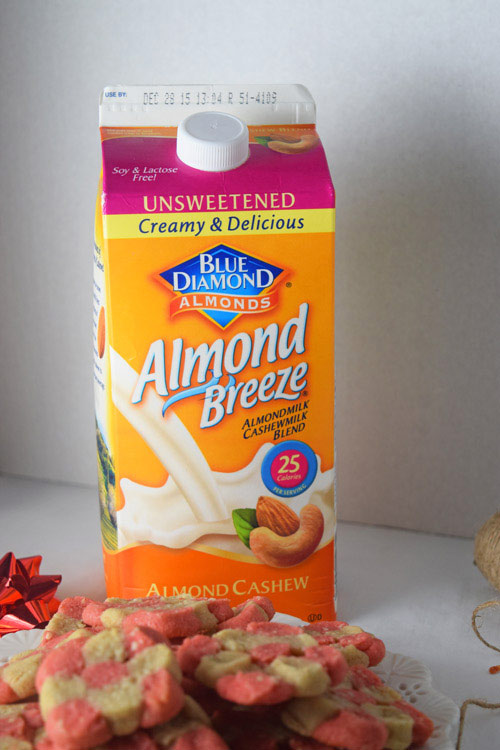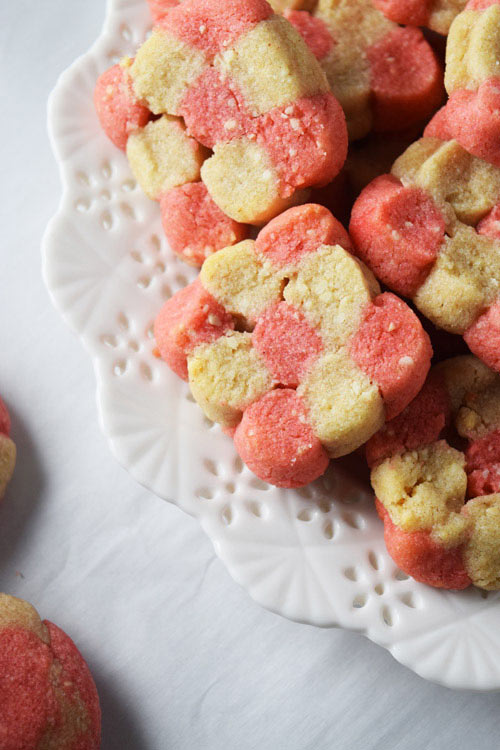 Then all you do is cut the frozen log into thick cookies and bake!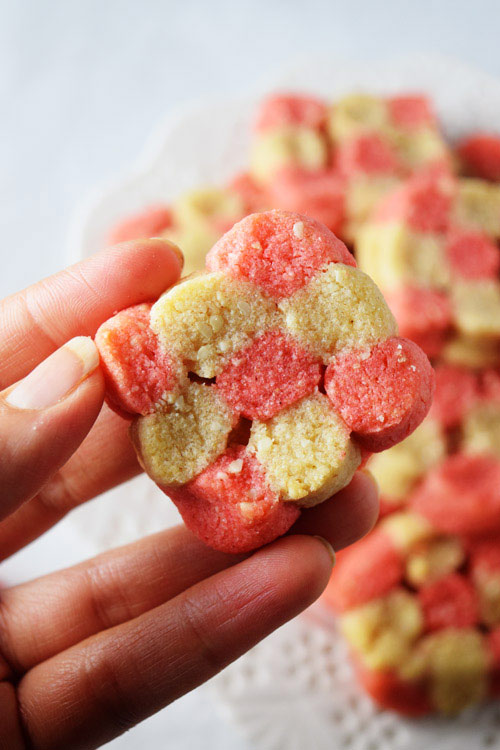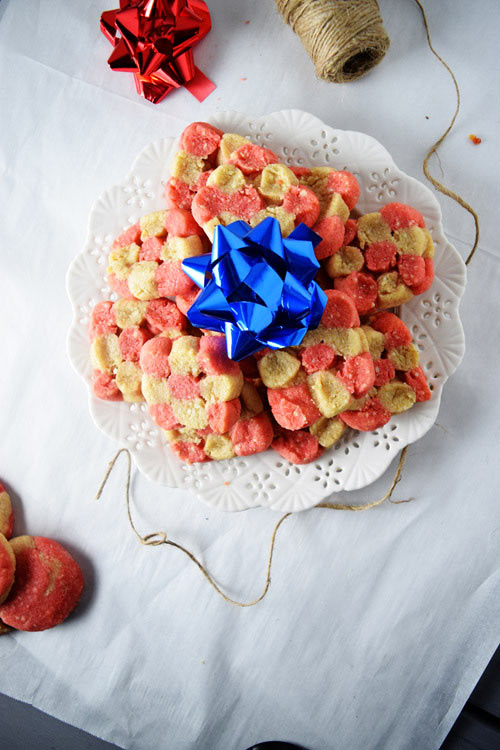 "This post is sponsored by Almond Breeze Almondmilk. Enter for a chance to win the Ultimate Kitchen Prize Pack, get great savings and ideas for delicious Blendabilities at AlmondBreezeBlendabilities.com."
Follow along for a lot more delicious treats and life happenings on INSTAGRAM || FACEBOOK ||PINTEREST ||TWITTER ||GOOGLE+

Easy Cashew Sugar Cookies
Ingredients
1 cup all purpose flour
½ cup cashews (grind them to powder consistency)
⅛ tsp baking soda
¼ tsp baking powder
¾ cup sugar
1 stick (1/2 cup) unsalted butter, room temperature
1 tsp vanilla extract
1 tbsp Almond Breeze Almondmilk Cashewmilk
Red food coloring (optional)
Instructions
Grind cashews to a powder like consistency. In a bowl mix cashew powder, all purpose flour, baking soda and baking powder and stir.
Cream butter and sugar until mixed. Add vanilla extract and mix. Now add dry ingredients to wet ingredients and mix. To it add 1 tbsp Almond Breeze Almondmilk Cashewmilk and stir until a soft dough forms. Divide the dough in half. And to one half of the dough, add few drops of red food color and mix until it is evenly colored.
Wrap each dough in separate plastic wraps and let it sit in refrigerator for 30 minutes.
Take out one dough at a time and break it into 5 balls. Roll each boll onto a floured surface to a medium thickness long rope.
Now do the same with the other ball of dough but make only 4 balls.
Now you will have 5 ropes of one color and 4 ropes of other color. Now as you can see in picture stack the ropes together.
First stack : pink-Plain-pink
Second stack : plain-pink-plain
Third stack : pink-plain-pink
You can reverse the colors too if you want.
Now make sure they are sticking to each other and very carefully place second stack on top of first and then third stack on top of second. Now press them hard from all sides using hands until they all are very close together. Wrap in plastic wrap and freeze for 30 minutes.
Preheat oven to 375F.
Remove plastic wrap and cut log into medium thickness ½' - 1" cookies. Lay them on parchment lined paper and bake for 6-7 minutes. Cool completely on wire rack and store in covered container for upto a week or so!
Some more
COOKIE
 recipes :