These cornbread muffins are not your usual type. Chipotle chiles impart a deep flavor and enhances the flavor of corn. Goes great with chili or warmed up with a smear of your favorite sweet spread or old-fashioned butter! Soon these will be your new favorite!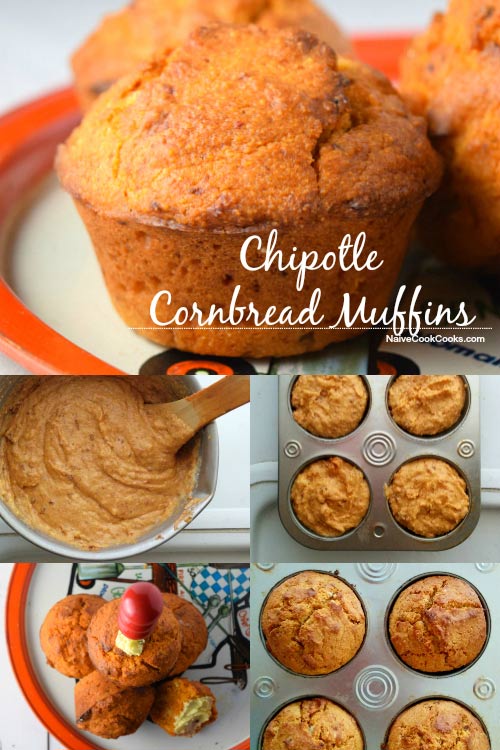 Happy Cinco de mayo, you guys! These are something you must make like right at this moment.
I have found my favorite new cornbread flavor. I have always enjoyed eating sweet cornbread which tastes like eating a dessert cornbread and almost always I will make sweet cornbread recipe to go with chili. But this time, I decided to break the rules and try something new.I won't lie but Jerry was sort of disappointed as he loves sweet cornbread but then he liked this new savory kind too.
I am always impressed by the way Bobby Flay cooks and that's one reason I am always on the lookout for his recipes and cookbooks. Have you seen Brunch at Bobby's yet? Omg I find myself drooling at all the recipes! I feel like cooking all of them at once. Yeah I know sounds typical me, crazy!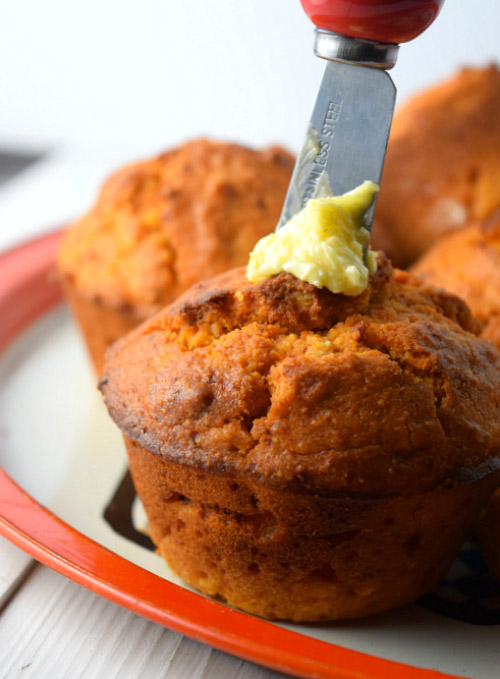 This cornbread has pureed chipotles which imparts real depth and is something so simple but packed with so much flavor. It's not your usual cornbread if that's what you are looking for. But I insist you to go little *BOLD* and give this cornbread a go. I am telling you that you will be in love with this cornbread and this will be your new favorite savory cornbread recipe. We enjoyed it with my 3-bean chili with lots of toppings. Perfect and easy weeknight dinner which is healthy too if you keep your cornbread portions controlled.
What are you cooking tonight for Cinco De Mayo? I have been seeing so much good food all over the internet that I am so unsure of what to eat! Totally out of topic, do you like going to weird antique stores for prop hunting? Well, I have become one of those people and I am totally loving it! As much as I love food, I love photographing and for that I love having all sorts of unique, vintage, fun props and I have realized that antique stores usually don't burn a hole in your pocket and are really fun. I can easily spend hours there looking for that perfect plate!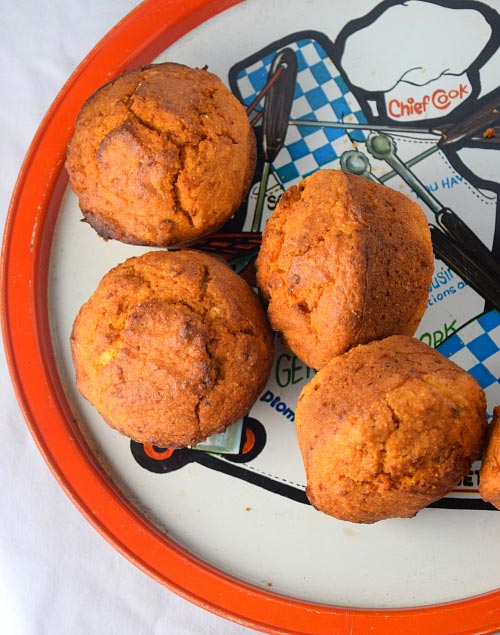 This plate was a fun find and I have been wanting to use it and today ended up being the day I got to use it with these muffins. I am loving the color combination which goes really well with cornbread muffins. Atleast I like to think that! 🙂
You need these in your life!
Help in spreading the word!
Follow along for lot more delicious treats and life happenings on INSTAGRAM || FACEBOOK || PINTEREST 

Chipotle Cornbread Muffins
Ingredients
1 cup ground yellow cornmeal ( coarsely ground)
1 cup all purpose flour
2 tbsp sugar
1 tsp salt
1.5 tsp baking powder
1 large egg, slightly beaten
½ cup buttermilk (Make your own by adding 2 tsp lime/lemon juice in ½ cup milk and let sit for 10-15 mins)
½ cup milk (I used 2% fat)
6 tbsp unsalted butter, melted
4 canned chipotles, pureed
Olive oil or butter spray to coat
Instructions
Preheat oven to 450F.
In a mixing bowl, mix cornmeal, flour, sugar, salt & baking powder. Fold in the beaten egg, buttermilk, milk, butter & pureed chipotles.
Brush the insides of muffin tin with your choice of spray and immediately pour the batter, filling ¾th. Bake for 21-25 mins or until cornbread is brown around the edges and a knife inserted comes out clean.
I started checking it at around 20 mins and mine got done at around 22 mins.
Take them out of the oven and cool. Serve with your fav chili or enjoy for breakfast/ snack warmed up for 15 seconds in microwave and then generously spread with your favorite sweet preserve or butter.
Notes
Recipe adapted from Bobby Flay's Bold American Food cookbook.
More Bread Recipes: