Tangy raspberries, sweet lychees turned into delicious pink smoothie with light notes of rose water. Refreshing, healthy and stunning looking smoothie ready in minutes.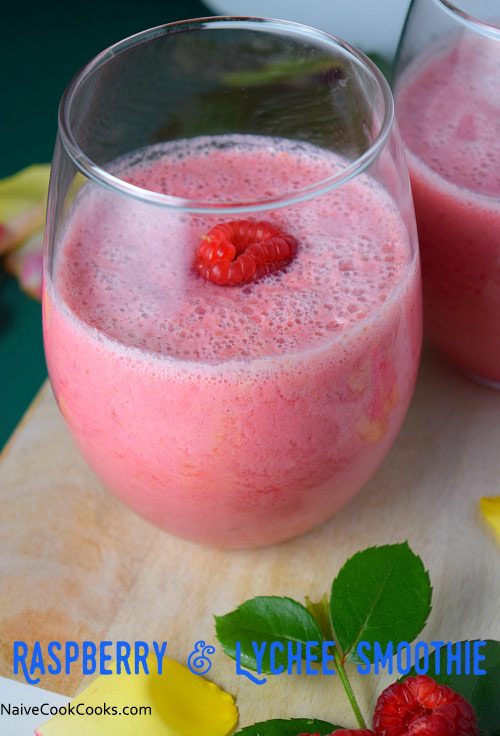 Happy Monday you guys! I am back from our trip and I can't tell you how happy I am to be back home to my own kitchen and work space. As good as it feels to see family , there is nothing better than getting back to your own place. Isn't it? Well being back means getting back to work in full force and today I have something refreshing and stunning for you all. You might want to consider it as a mother's day option too.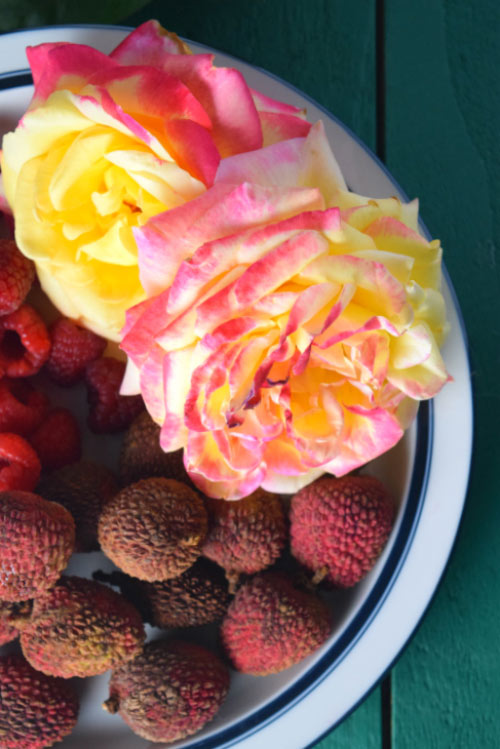 Jerry's parents have huge mango and lychee trees and every summer I am a happy girl when I get to eat seriously sweet home grown mangoes. This was my first year eating home grown lychees and I am in love. I have never really enjoyed eating lychees because of their texture or the way they feel in my mouth. Horrible I used to say but not any more. These are so juicy and  filled with so much sweetness that even a lychee hater like me can't stop eating these.
While at home I saw this smoothie recipe in delicious magazine and I was taken aback by its beautiful color. There was no time to make it there so once back, this was on my first thing to do list. Tangy raspberries, sweet lychees, yogurt, few tsps rose water turned into a fragrant drink which feels fit for Gods. I mean seriously just look at the color and the taste was so refreshing.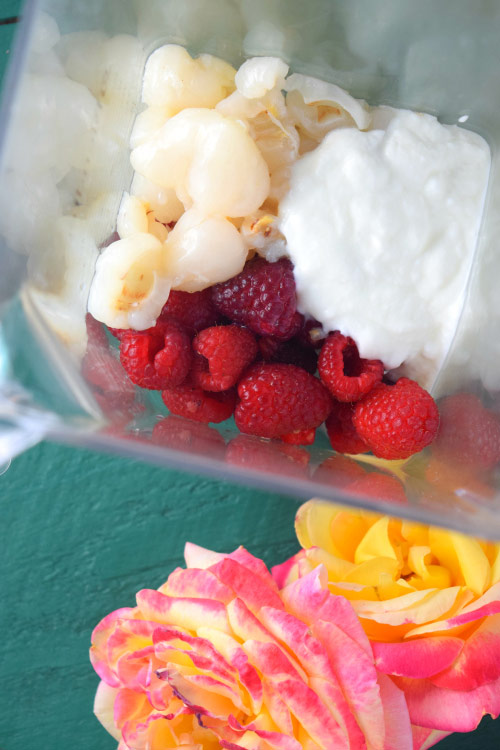 This is a drink you must be making at home because it takes like 15 mins max from start to finish and even lychee haters won't mind sipping onto this. So creamy. I added few tbsps of honey to balance the flavors but it's totally up to your preference.
How was your weekend? Did you guys do anything fun?
Help in spreading the word!
Follow along for lot more delicious treats and life happenings on INSTAGRAM || FACEBOOK || PINTEREST 

Raspberry & Lychee Smoothie
Ingredients
1.5 cups fresh or frozen raspberries
Around 25 fresh lychees, peeled and seed removed
5 tbsp full fat yogurt (You can even use low fat or any kind you prefer)
1-2 tbsp rose water
6-10 ice cubes
½ cup water
4 tbsp honey or any sweetener as per taste
Instructions
Add all the ingredients in a high speed blender and blend until smooth. Serve immediately.
Notes
Recipe adapted from Delicious Magazine
More Drink Recipes: