Chipotle Cornbread Muffins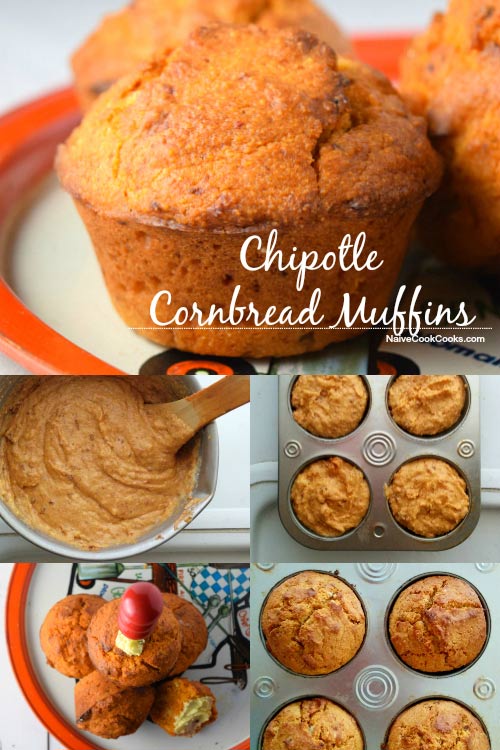 1 cup ground yellow cornmeal ( coarsely ground)
1 cup all purpose flour
2 tbsp sugar
1 tsp salt
1.5 tsp baking powder
1 large egg, slightly beaten
½ cup buttermilk (Make your own by adding 2 tsp lime/lemon juice in ½ cup milk and let sit for 10-15 mins)
½ cup milk (I used 2% fat)
6 tbsp unsalted butter, melted
4 canned chipotles, pureed
Olive oil or butter spray to coat
Preheat oven to 450F.
In a mixing bowl, mix cornmeal, flour, sugar, salt & baking powder. Fold in the beaten egg, buttermilk, milk, butter & pureed chipotles.
Brush the insides of muffin tin with your choice of spray and immediately pour the batter, filling ¾th. Bake for 21-25 mins or until cornbread is brown around the edges and a knife inserted comes out clean.
I started checking it at around 20 mins and mine got done at around 22 mins.
Take them out of the oven and cool. Serve with your fav chili or enjoy for breakfast/ snack warmed up for 15 seconds in microwave and then generously spread with your favorite sweet preserve or butter.
Recipe adapted from Bobby Flay's Bold American Food cookbook.
Recipe by
Naive Cook Cooks
at https://www.naivecookcooks.com/chipotle-cornbread-muffins/