Creamy dreamy yet skinny Chicken fettuccine in a delicious whiskey & gouda cheese sauce.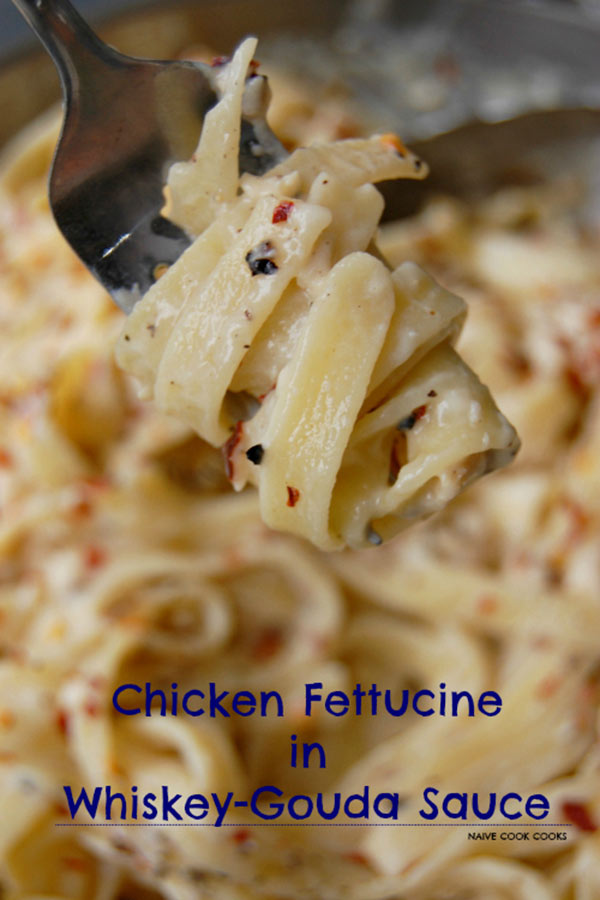 It feels great to be back, you guys and a big big thank you for all your well wishes Linda, Michelle, Manali, Dannii and Kelly. You guys rock!
I missed this space badly for the last few days and however hard I tried, I had no energy to cook or even write a single line here. Getting sick, I tell you, is a dreadful horrible thing. I hate getting sick as it seems everything stops, house a big mess, work unfinished, unpaid bills and so on. After 3 days of straight bed rest, I had no idea where to start from as it was a big mess everywhere.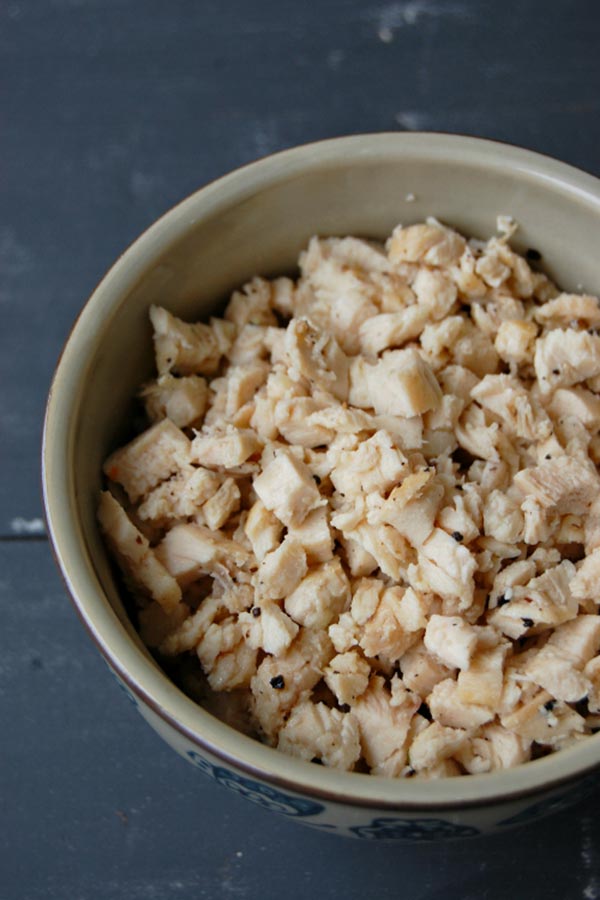 This pasta was the first thing I made when I felt a little better and wanted to get back in the working mode. Chicken makes it protein rich and skinny sauce wont make you feel guilty when you go for seconds. It turned out way better than I had expected but next time I would totally add some greens may be broccoli, spinach, kale.
I like chicken in very small pieces when in pasta so here after cooking it on a skillet, I simply chopped it fine. A simple yet delicious weeknight dinner and it comes together in under an hour. Serve it with your favorite salad, some garlic bread and you have a delicious meal that is not only tasty but way cheaper than any restaurant meal.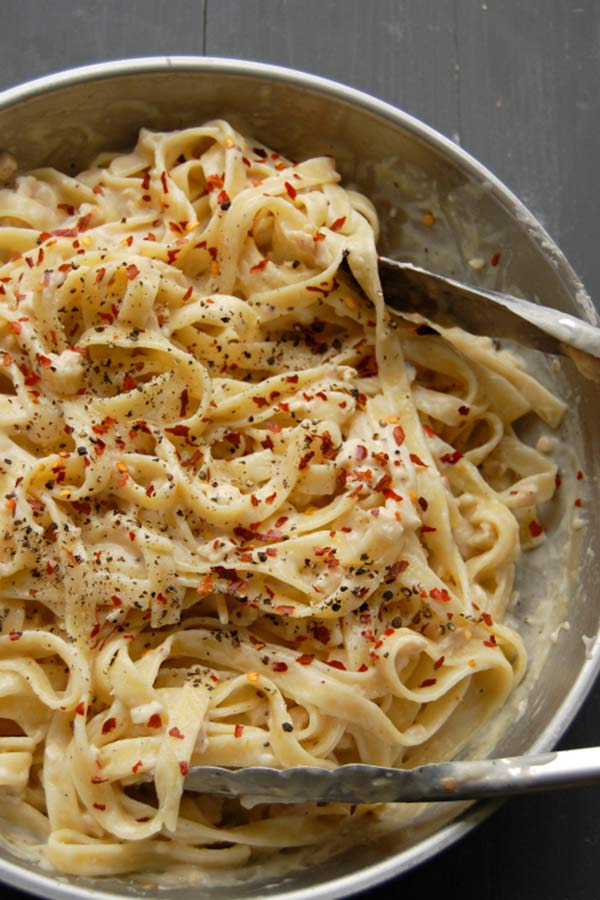 And now I am all geared up for Christmas!! Countdown has started and we are only 21 days away! Yohoo. I cannot wait to have some of this Chicken Fettuccine in Whiskey-Gouda Sauce.
Chicken Fettuccine in Whiskey-Gouda Sauce
Creamy dreamy yet skinny chicken pasta in whiskey & gouda cheese sauce!
Ingredients
1 tsp olive oil
2 thinly sliced chicken breasts
Salt & black pepper to taste
1 tbsp olive oil
5 garlic cloves, smashed and chopped
2 tbsp all purpose flour
1 cup 2% milk
1 cup water
1 tsp oregano
1 tbsp whiskey ( I used Jack Daniels)
½-1 cup gouda cheese, shredded
Salt & black pepper to taste
½ lb fettuccine pasta, cooked as per instructions
Red chili flakes
Instructions
Cook pasta as per instructions.
On a hot skillet, add 1 tsp olive oil. Clean chicken breasts and sprinkle both sides with salt and black pepper. Place chicken on the skillet and cook until its no longer pink. Flip and repeat. Make sure chicken is cooked all the way through. Keep it aside. Once cool to handle, chop it in small pieces.
In the same skillet, add 1 tbsp olive oil. To it add garlic and once fragrant add flour. Cook flour on medium gas until it starts to get golden. Add milk and water and using a hand stirrer, stir it constantly so no lumps remain. Add salt, black pepper and oregano. Stir and add whiskey. Let it cook and once it starts to get thick, add cheese. Turn off the gas and stir the sauce until all the cheese is melted. Taste and adjust seasonings. Add the cooked pasta and chicken and fold in the sauce.
Serve garnished with red chili flakes and more salt & black pepper if needed.
Notes
I suggest adding the pasta and chicken to the sauce just before serving as if made in advance, pasta absorbs all the sauce and you end up with a dry looking pasta dish.
More Pasta Recipes: