Chicken Fettuccine in Whiskey-Gouda Sauce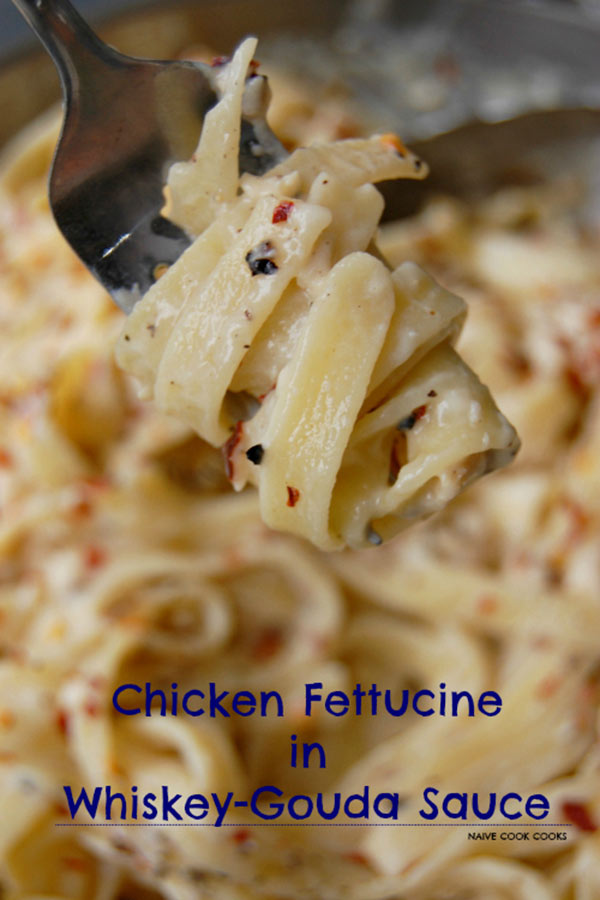 1 tsp olive oil
2 thinly sliced chicken breasts
Salt & black pepper to taste
1 tbsp olive oil
5 garlic cloves, smashed and chopped
2 tbsp all purpose flour
1 cup 2% milk
1 cup water
1 tsp oregano
1 tbsp whiskey ( I used Jack Daniels)
½-1 cup gouda cheese, shredded
Salt & black pepper to taste
½ lb fettuccine pasta, cooked as per instructions
Red chili flakes
Cook pasta as per instructions.
On a hot skillet, add 1 tsp olive oil. Clean chicken breasts and sprinkle both sides with salt and black pepper. Place chicken on the skillet and cook until its no longer pink. Flip and repeat. Make sure chicken is cooked all the way through. Keep it aside. Once cool to handle, chop it in small pieces.
In the same skillet, add 1 tbsp olive oil. To it add garlic and once fragrant add flour. Cook flour on medium gas until it starts to get golden. Add milk and water and using a hand stirrer, stir it constantly so no lumps remain. Add salt, black pepper and oregano. Stir and add whiskey. Let it cook and once it starts to get thick, add cheese. Turn off the gas and stir the sauce until all the cheese is melted. Taste and adjust seasonings. Add the cooked pasta and chicken and fold in the sauce.
Serve garnished with red chili flakes and more salt & black pepper if needed.
I suggest adding the pasta and chicken to the sauce just before serving as if made in advance, pasta absorbs all the sauce and you end up with a dry looking pasta dish.
Recipe by
Naive Cook Cooks
at https://www.naivecookcooks.com/chicken-fettuccine-in-whiskey-gouda-sauce/