Delicious stuffed mushrooms pasta for an easy & quick weeknight meal!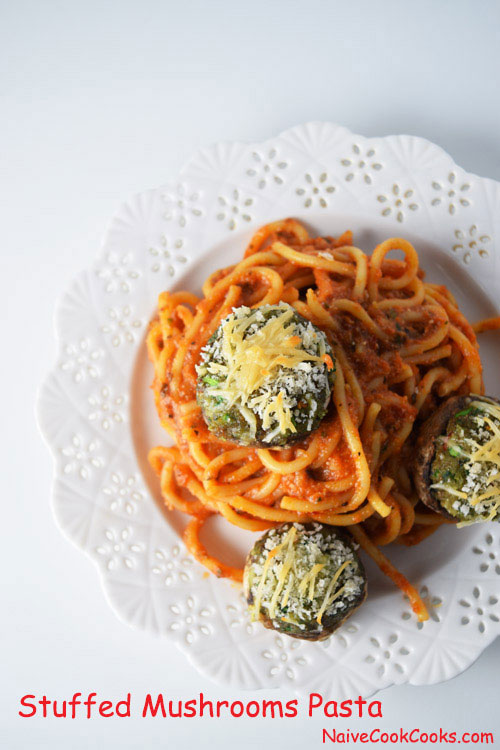 Thank you to Ragu for sponsoring today's post and inspiring me to pass on my family traditions. #sponsored #simmeredintradition #ragu
It's pasta day here and I could not be more happier. This week has been super hectic with us still trying to settle in our new place ( This is the first time we have finally something to call
our own and it's so much fun to see it all come together. Though I can't thank our parents enough who have been so supportive & helpful during the whole process). Nothing like family, right?!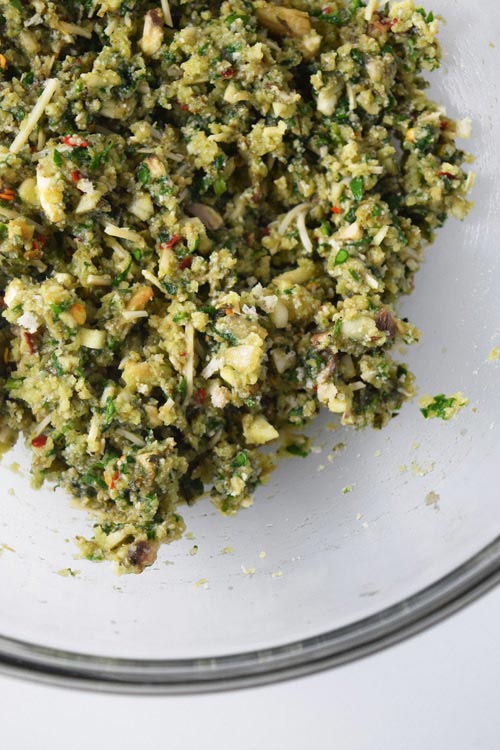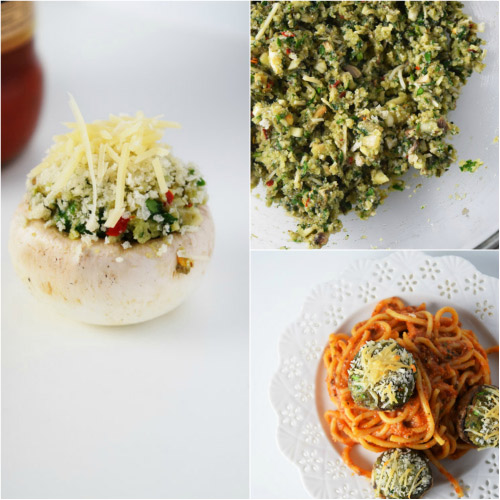 So jumping on today's post. We have been mostly eating sandwiches or eating out these days since we are still waiting for most of our stuff to arrive but yesterday I decided to cook with the few stuff I had on hand and it turned out to be a delicious meal. I used Ragu roasted garlic pasta sauce and added bunch of seasonings and added boiled pasta in the sauce  and while pasta was boiling, I quickly made a simple spinach & cheese filling for mushrooms and stuffed them with the delicious filling. Then you just bake everything together for the most delicious meatless meal ever! And it is so so simple!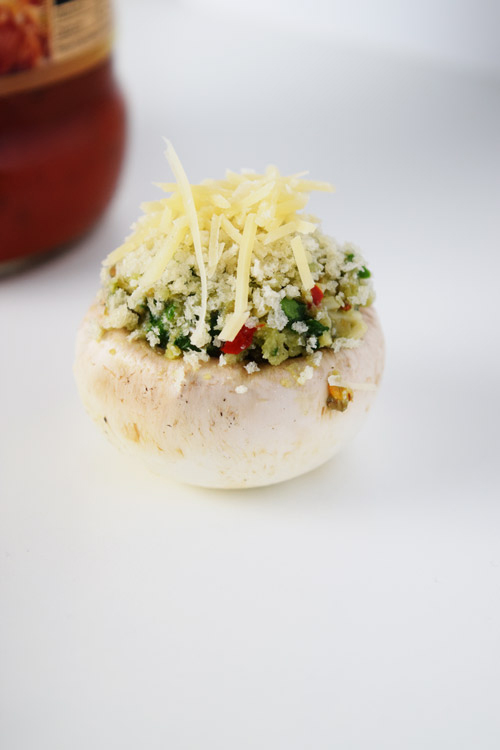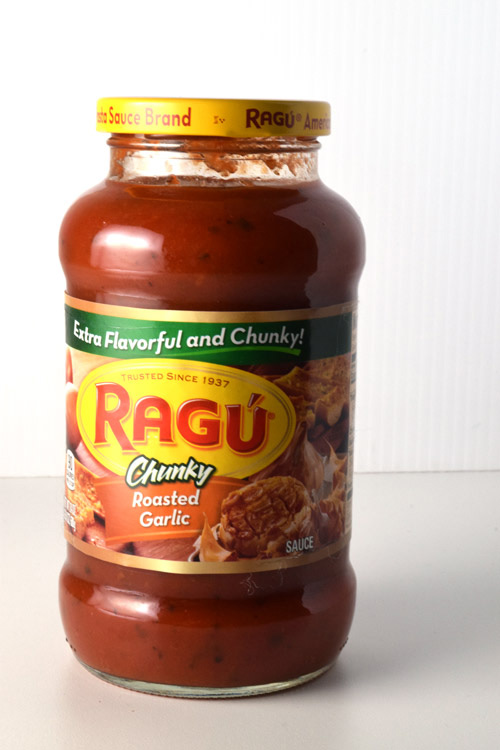 If I can make it in my barely there kitchen, so can you! And it all takes under an hour and you can even make extra and use it for next day lunch! I have always enjoyed eating stuffed mushrooms but never tried making them myself. So with a little help from my mom, I made these and these are perfect when served with some tomato sauce on their own as well. You can serve them as a side dish if you ant to along with your favorite grilled meat or whatever you are making or just make it ONE-POT meal and cook it with pasta for a warm comforting meal!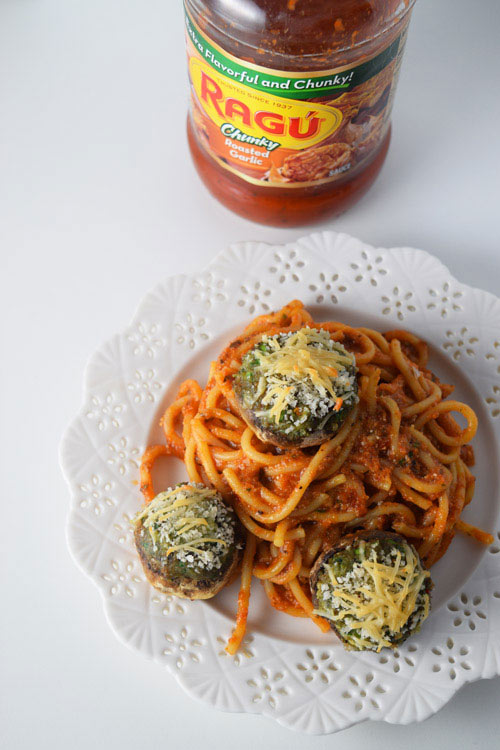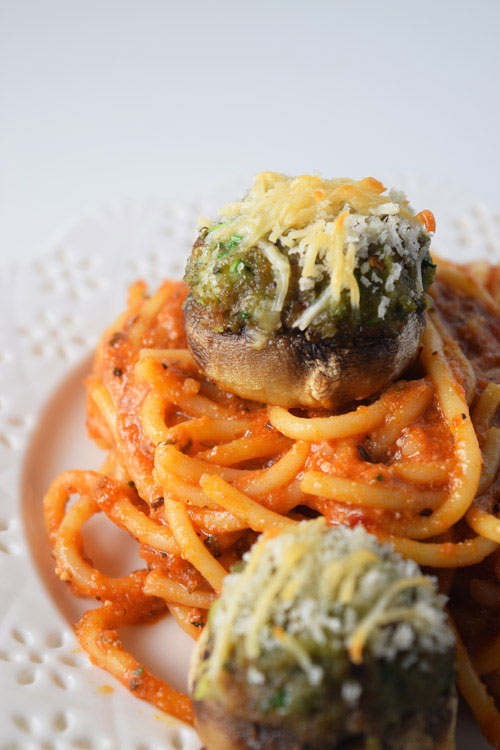 Follow along for a lot more delicious treats and life happenings on INSTAGRAM || FACEBOOK ||PINTEREST ||TWITTER ||GOOGLE+
Stuffed Mushrooms Pasta
Ingredients
Stuffed Mushrooms :
8 oz white button mushrooms
3 tbsp parmesan cheese, shredded
3 tbsp ricotta cheese, low fat
1 cup spinach, chopped very fine ( ~5 Tbsp after chopping fine)
½ tsp chili flakes
¼ tsp oregano
1 tsp basil powder
Pinch of thyme
4 garlic cloves, minced (add less garlic if you don't like too much garlic)
3 tbsp breadcrumbs
Additional breadcrumbs & parmesan cheese for adding on top
Pasta :
1 jar of Ragu Roasted Garlic Pasta sauce
4 oz pasta ( I used spaghetti but you can use any shape you like )
Salt to taste
½ tsp chili flakes
1 tsp basil powder
4 tbsp ricotta cheese
Pinch thyme
½ tsp oregano
1 tbsp tomato ketchup
Instructions
Stuffed Mushrooms :
Clean mushrooms under running water and gently pull the stems. Chop the stems very finely and transfer them to a bowl. To it add, parmesan cheese, ricotta, spinach, chili flakes, oregano, basil, thyme, breadcrumbs and salt to taste. Mix and taste.
Now fill the centre of mushrooms with this filling.
Meanwhile boil pasta as per package directions. In another pot, add ½ cup sauce and to it add salt, chili flakes, basil, ricotta, thyme, oregano and ketchup. Mix and taste the sauce. Add the strained boiled pasta into the sauce and stir it around around evenly mixed.
Pre heat oven to 350F.
Take a baking dish and add some sauce from the jar at the base. Transfer pasta into the dish and then place the stuffed mushrooms. Now sprinkle the mushrooms with breadcrumbs & parmesan cheese and bake it for 15 - 17 minutes until mushrooms are cooked through. The pasta sauce will flavor the mushrooms and the water from mushrooms will go inside the pasta making it taste delicious!
Serve with crusty garlic bread!
 Some more Pasta Recipes ->>
https://www.naivecookcooks.com/roasted-red-pepper-sauce-pasta/
https://www.naivecookcooks.com/balsamic-roasted-brussels-sprout-pasta