Cherry Scones With Chocolate Whiskey Sauce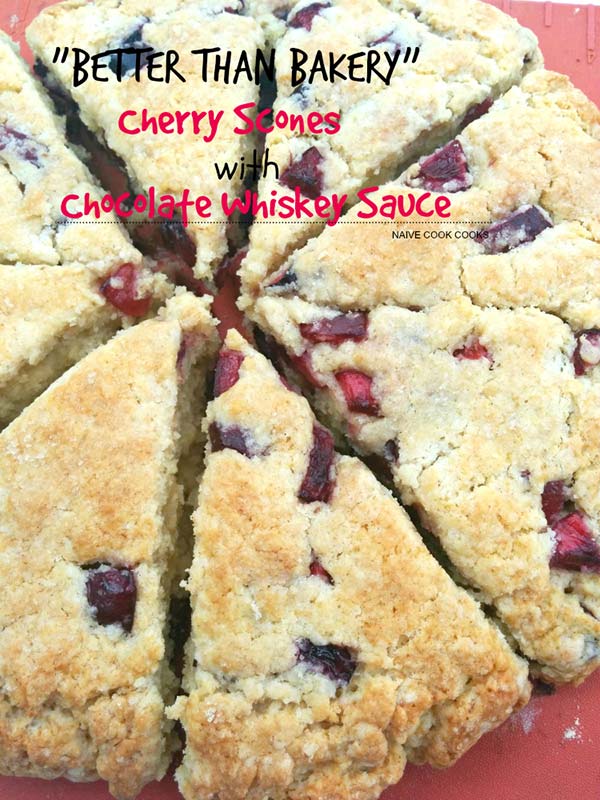 2 cups all purpose flour
½ cup granulated sugar (I used cane sugar)
2.5 tsp baking powder
½ tsp cinnamon powder
½ tsp salt
½ Cup unsalted butter, frozen and grated on a grater (I used a box grater)
½ cup heavy cream
1 large egg
1 tsp vanilla extract
1 cup packed with chopped fresh cherries, pitted
Coarse sugar for sprinkling on top before baking
Chocolate whiskey sauce
2.5 Tbsp semi-sweet chocolate, chopped or chips
⅓ cup milk (I used whole milk but you can use any fat content)
3 Tbsp sugar
1 Tbsp heavy cream
½ tsp vanilla extract
1 tsp good quality whiskey
Preheat oven to 400F.
Adjust baking rack to the middle position. Line a baking tray with parchment paper or silicone mat and keep aside.
In a bowl, as flour, sugar, baking powder, cinnamon and salt. Grate the DirecTV butter on a player and add it in the stirred flour mixture. Mix it using your hands or pastry cutter until it resembles a coarse meal. Set aside.
In another small bowl, add heavy cream, egg and vanilla extract. Stir it until it gets smooth. Add it to the flour mix and using a rubber spatula move t around very very gently until ask the flour send to be most. Do not over work the dough or you will get hard scones!!
Slowly add chipped cherries and using your have just being it all together so cherries get evenly distributed but with minimum stirring of the dough. Try to father dough into a ball add much as possible and transfer to the lined baking sheet. Using your have pat it down into an 8" corridor and using a sharp knife cut in 8 slices. If you feel knife getting stuck, you can cost the knife with all purpose flour everyone you cut in the dough.
Sprinkle with coarse sugar.
Bake in a Porte heated oven for 22-25 minutes until to gets golden and inside gets cooked. Once out of the oven let them cool.
Chocolate whiskey sauce
Melt chocolate over a double boiler. I usually fill a pot with ⅓ water and bring to a boil. Then I lower the heat and place a glass or stainless steel bowl on top of the pot ( take a bowl that easily sits on the pot). I add the chocolate and make sure bottom of the bowl is not in contact with the water in the pot. In few minutes, chocolate will start to melt. Stir it around and once melted keep it aside. In another pot bring milk and sugar to a boil. Take it off heat and add heavy cream and chocolate and stir until mixed. At this point if you want thicker sauce, you can add more sugar. Once little cool, add whiskey and stir, serve over scones!
Recipe by
Naive Cook Cooks
at https://www.naivecookcooks.com/cherry-scones-with-chocolate-whiskey-sauce/