Black beans & cheese stuffed peppers with poblano rice makes for a refreshing summer meal! Serve with grilled corn on the side for a perfectly delicious meal!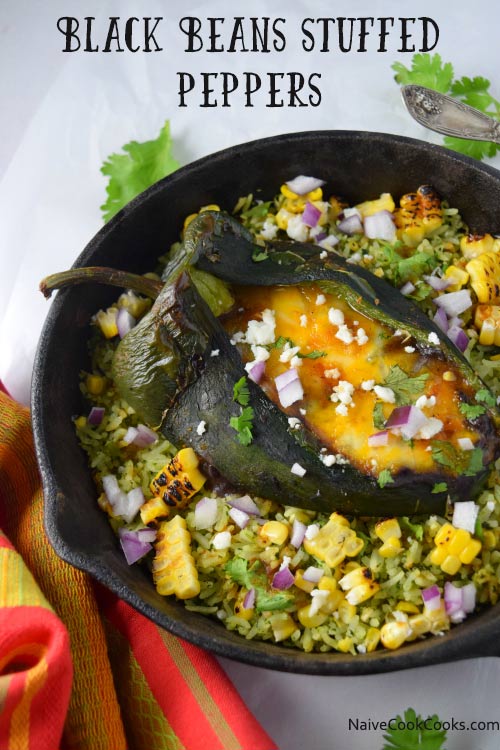 Happy Memorial Day!
Last day of the long weekend! What did you guys do?
We went to help Jerry's cousin who are moving soon and last two days involved packing and moving tons of  boxes. But it was both work and play as we had loads of fun seeing them after long and spending time with their little daughter. We decided to keep monday free from work but we ended up cleaning our kitchen as I saw tons of ants in the cupboards coming from some secret source. Don't you hate that??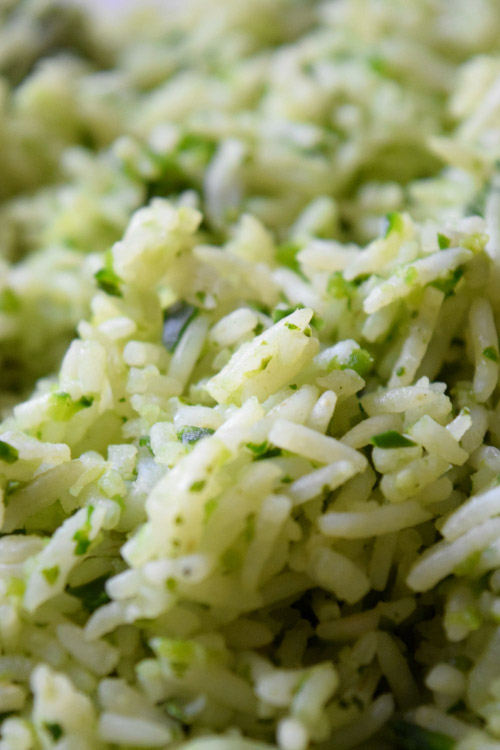 Day when you decide you won't do anything and get complete rest before the week starts and you end up finding one after another tasks to care of! There are days I miss being a kid living with my parents when I had zero responsibility and the only thing I was supposed to take care was my studies. Ahh those carefree days!
Well enough about me. How is your memorial day weekend going? Are you guys hanging out with your friends, making tons of food, shopping or just chilling with your loved ones?! Do tell me!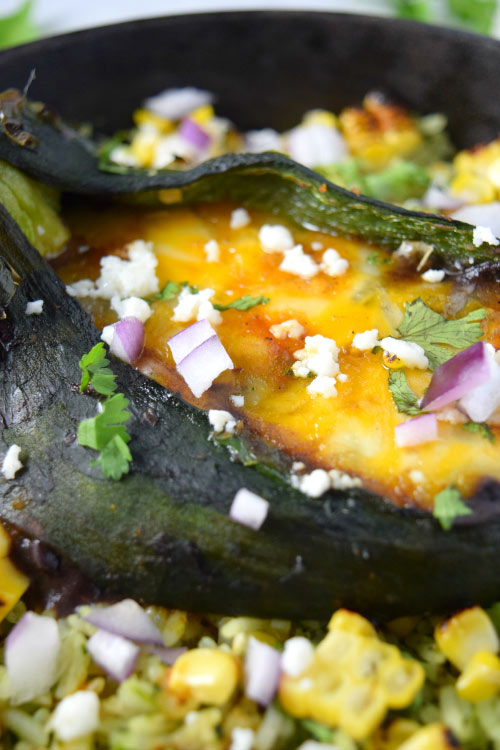 I made these peppers by getting inspired from a video I saw on food network by a chef from a restaurant in New Mexico and I just had to make these. I as usual gave them my own twist by filling up peppers with beans instead of just cheese to make them more filling & healthier and baking them in oven instead of frying. I also added poblano puree in the rice which gave it a really nice kick and the red sauce I made as per the recipe. I suggest you make all the three things : peppers, rice & sauce as it makes it into a seriously delicious complete meal. And if you want to save time during the weekday, you can make beans (if making from scratch), sauce & rice a day before!
I mean it's a perfect summer meal. I love summer for all it's gorgeous produce! I am looking forward to making so much delicious stuff in the coming days though fingers crossed as you know I get days when every recipe I touch turns into a disaster haha!! #foodbloggerproblems
 You can even grill these babies!
***If you can't find poblanos, substitute them for green bell peppers and instead of Poblano rice, you can make my GREEN SPINACH RICE.
**The Red sauce here is authentic tasting Mexican red sauce so if you are not sure about it, you can try this easy RED ENCHILADA SAUCE instead.
Black Beans Stuffed Peppers
Ingredients
Black Beans Stuffed Poblano
4 poblano peppers
1 cup black beans, dry, soaked in water and cooked
Salt to taste
1 tsp red chili powder or to taste
1 tsp cumin powder
½ cup crumbled queso freso cheese
1 cup colby jack cheese
Poblano Rice
1 cup rice, cleaned and rinsed under running water
1 poblano roasted and pureed
Salt to taste
1 jalapeno
Handful cilantro
1 tsp oil
1 corn, roasted
Red Sauce
4 new mexico chilies
½ red onion
4 garlic cloves
1 tsp cumin
1 tsp coriander
Vegetable broth or water
2 tsp olive oil
Instructions
Poblano rice
Roast one poblano over an oven flame and once all charred, transfer to a glass bowl and cover with plastic wrap so it steams up. Remove it's skin and puree along with jalapeno, cilantro,salt. Add cleaned rice in a pot, add the pureed mix and 2 cups water and oil. Taste salt and cook until rice is cooked through.
Red Sauce
Bring 2 cups water to a boil and add the chilies. Boil for 15 minutes until chilies are softened. Pull out the chilies.Meanwhile, add oil in a skillet. To it, add garlic, onions, cumin and coriander and saute until softened through. Transfer the onion mixture along with the chilies to a food processor and puree. Transfer this to a pot along with some water. Adjust salt to taste.
Black Beans Stuffed Peppers
Boil black beans with water in pressure cooker or in a pot. Once black beans are done,transfer them to a pot and add salt, red chili and cumin. Mix and adjust seasoning as per taste. You don't want them too liquidy, so you can dry off some water if it's liquidy.
Now roast poblano peppers one by one on stove top. Keep them directly on the gas and once charred on all sides, keep them in a glass bowl and cover with plastic wrap.
Keep them like this for sometime so it steams up which will help in removing the skin.Remove their skin and make a slit so that we can stuff them up but making sure you make a slit only in the front side of the pepper.
Preheat oven to broiler setting.
Now take around half of the bean mixture in a bowl and add queso fresco. Mix.Stuff this mixture in all the 4 poblanos. Then add some shredded cheese in all the peppers and transfer them to a oiled oven safe skillet and put in a preheated oven. Cook for around 12-15 minutes until nicely cooked through and cheese is all melted. **You will end up with extra black beans which you can use later for making quesadillas, tacos or eat as a dip with chips.
Serve on a plate with rice at the bottom. Place one poblano at the centre along with some roasted corn and sauce on the side.
More Vegetarian Recipes: