Perfect weekend brunch, dinner or for get together with friends!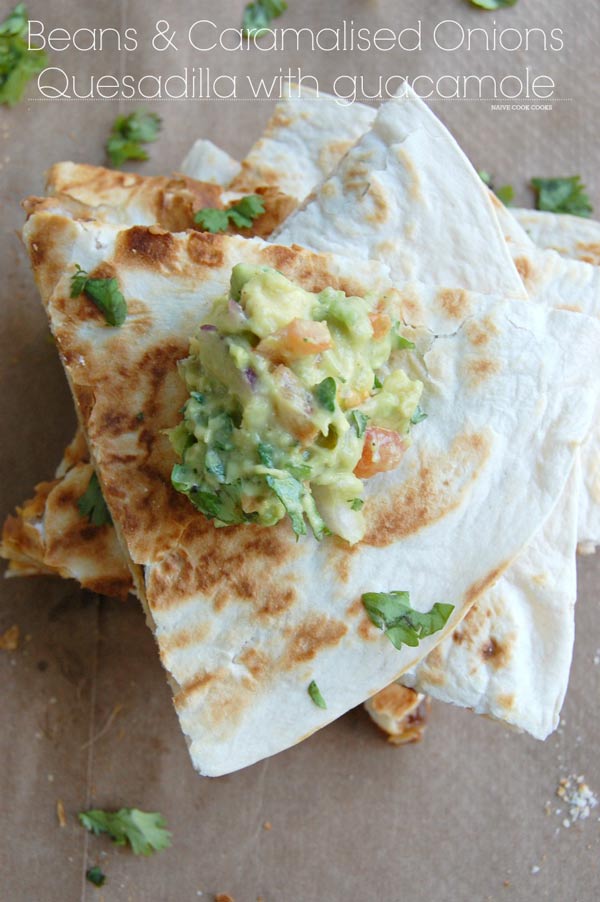 Its Friday and we are so close to cinco de mayo that right now all you should be cooking and feeding is these quesadillas. Not because I made them and not because I feel these are one of the best Caramelized Onions & Bean Quesadilla I had in long time but simply because we all need good things in life!!
For starters I have never before caramelized an onion. Yes I have cooked tons of onions, sauteed them, fried them, made gravies with them but caramelizing onions is a whole new concept for me!
All it takes is little patience and lots of onions! Caramelization is a process that breaks down the carbohydrates such as sugar and causes browning.
Onions when caramelized turn burn and yield a sweet nutty flavor which goes great in sandwiches, in soups, on meat or in these quesadillas!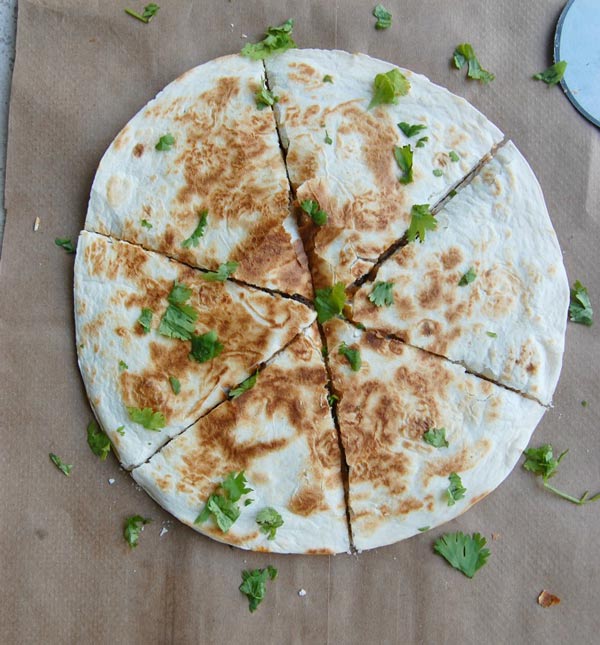 These quesadillas taste oh so good with homemade guacamole, some green hot sauce and these!!
Perfect for brunch, get together or for a movie marathon night!
Seriously, you should start chopping onions now!

Caramelized Onions & Bean Quesadilla with Guacamole
Ingredients
4 soft flour tortillas
Sharp cheddar cheese
Hot sauce
Caramelized onions
1 large red onion, cut in half and chopped in half moon shapes
½ tsp olive oil
½-1 tsp balsamic vinegar
Salt to taste
Refried beans
1 cup dry pinto beans ( I like making refried beans from scratch as they are so quick and free from preservatives. But if short on time, you can totally go the can route!)
Red chili powder to taste
Salt to taste
1 tsp taco seasoning
1 tsp olive oil
Guacamole
1 avocado, mashed
½ tomato, chopped
2-3 tbsp red onion, chopped
½ jalapeño, chopped
Few tbsp freshly chopped cilantro
Salt to taste
Juice of half a lemon
Instructions
Rinse and soak dry pinto beans in hot water for fifteen minutes. Drain and add fresh water about 2 -3 cups and pressure cook them on medium low. After about 6-7 whistles, turn off the gas and let it cool.
Chop onions. In a stainless steel pan, add oil and onions on medium high heat. Stir them around and let them cook for 5-7 minutes. Lower the heat and let them keep cooking for 35-45 mins. Keep stirring occasionally after every 5 mins-10 mins so they don't burn and but don't stir too much as it won't let them brown. If you find them sticking too much, add balsamic vinegar and using a spatula scrape it all. This will loosen the onions and infuse flavor. If u feel they are cooking to slow, you can increase heat little bit or vice versa but remember to get the real deal caramelized onion takes around 35-50 mins. So have patience!
Once done, keep them aside.
Now in a separate pot, add little oil and the drained boiled beans. Add salt, red chili powder and taco seasoning. Mix and mush the beans using back of spatula. Taste and adjust seasoning. Cook for few minutes until you get the desired consistency. If too dry, add little water.
For guacamole, in a bowl add all the ingredients together and taste.
For assembling
Heat a flat skillet or pan, and place one tortilla on low heat. Let it warm and flip. Add few tbsps of beans and spread them all over the tortilla. Add some caramelized onions and spread. Add shredded cheddar cheese and little green hot sauce. Place other tortilla on top and flip using a large sturdy flat spatula. Increase the heat little bit and cook until golden brown. Flip and repeat. Server hot with guacamole and these!
More 30 Min Meal Recipes: