Crispy homemade pizza dough topped with balsamic and olive oil tomatoes, fresh basil and balsamic glaze! All the flavors of bruschetta on Bruschetta Pizza!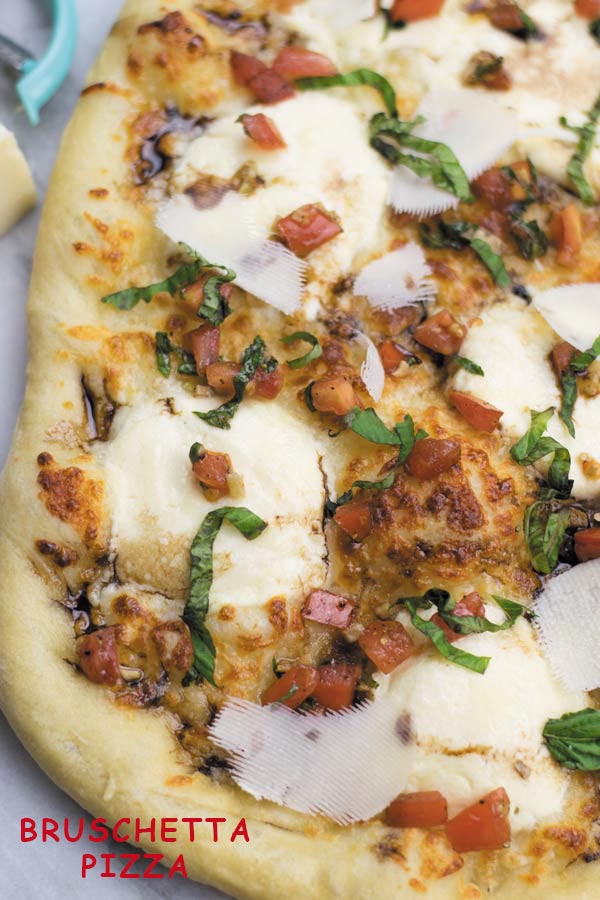 Today I am sharing with you one of the best things, something which I can never get tired of eating! Bruschetta – a delicious combination of tangy and salty with freshly chopped tomatoes, fresh basil leaves, extra virgin olive oil, balsamic vinegar, sauteed garlic, salt and pepper. This won't seem to be much but it sure makes one delicious appetizer which once you taste, I am sure you can 't stop eating!
I love eating bruschetta in summer but few days back when I saw our favorite pizza shop in downtown selling bruschetta pizza, I knew I was getting it. I was really impressed as even though it was freezing outside, a warm pizza crust with bubbling hot cheese topped with fresh tomato & basil mix made it such a comforting cold weather food!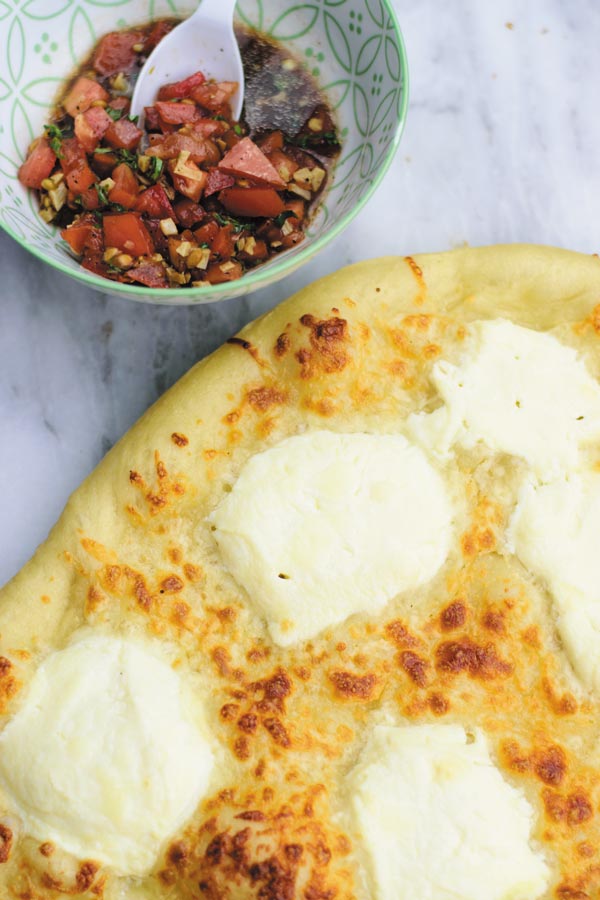 I knew I had to make it and that too soon because I have a tendency to forget. I made this for us for a cozy pizza night dinner and it turned out fantastic! We are all ready to leave for holiday trip and this year we have picked a very unconventional spot which is not at all Christmasy because well let's be honest what can be better than to be in Colorado for Christmas! So instead of celebrating Christmas at home, this year we decided to take a family trip to Vegas! I know how unconventional. I had the same feeling initially but then when I saw what all they do for Christmas, I knew I wanted to experience it atleast once!
So leaving you with this pizza!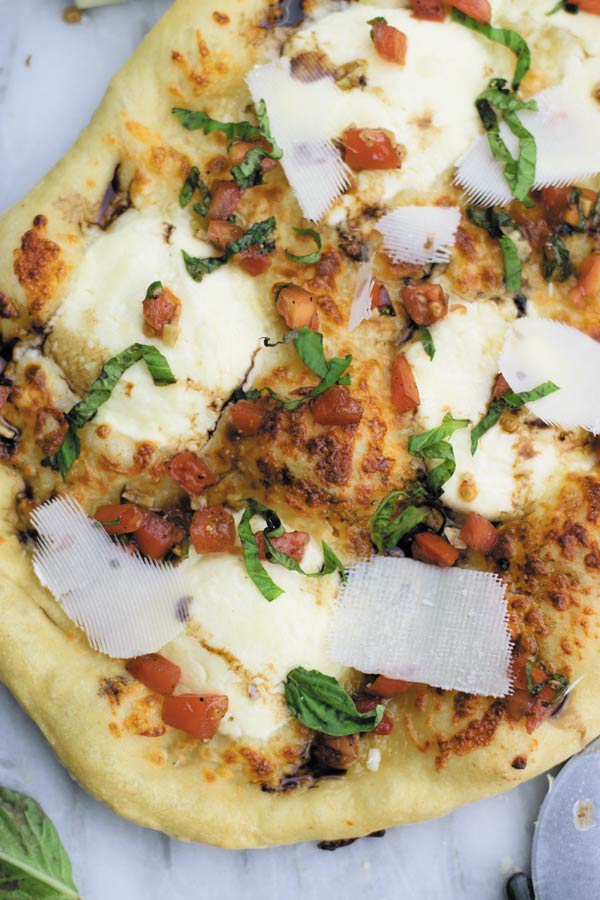 Hope you are in full holiday spirit!! Wishing you lots of cookies, hugs and laughter with loved ones!! xoxo
 So go ahead and give this a try! If you make these or any other recipe from our blog, do tag us by using#naivecookcooks on social media channels.
If you enjoyed this recipe, don't forget to FOLLOW me on INSTAGRAM||FACEBOOK||PINTEREST||TWITTER ||GOOGLE+ || BLOGLOVIN || YouTube

Bruschetta Pizza
Ingredients
Bruschetta Pizza:
1 Pizza dough ( store bough or Homemade)
1.5 tbsp extra virgin olive oil
4 garlic cloves
1 tomato, chopped fine
A bunch of basil leaves, chopped
Salt & pepper to taste
2 - 3 tsp balsamic vinegar
Some oil for rubbing the top of pizza crust
½ cup shredded mozzarella
~6 scoops of ricotta cheese
Balsamic vinaigrette:
5 tbsp balsamic vinegar
1.5 tbsp sugar
Instructions
Bruschetta pizza:
Roll out the dough for pizza crust.
Apply some oil all over the dough surface. Cover the surface with ½ cup shredded mozzarella cheese. Drop scoops of ricotta on to the surface.
Bake for about 11 minutes or until the crust is golden and cheese is melted.
If you feel ½ cup mozzarella cheese is not enough, add another ½ cup of mozzarella cheese.
Meanwhile get the topping for bruschetta ready.
Chop garlic cloves. Heat 1.5 tbsp oil in pot and to it add chopped garlic cloves. Saute until fragrant. Transfer the cooked garlic to a bowl. To it add tomato, basil, salt, pepper and balsamic vinegar. Toss it together and taste and adjust any seasoning if needed.
Once the pizza is cooked, top it off with this mix leaving out the water that may have escaped from tomatoes.
Top it with balsamic glaze and serve immediately.
Balsamic Glaze:
In a pot add balsamic vinegar and sugar and cook it until it reduces to half and thickens a bit.
Some more PIZZA recipes ->>