Pizza with a delectable peanut sauce base topped with shredded chicken, carrots, broccoli and cheese for an Asian style twist.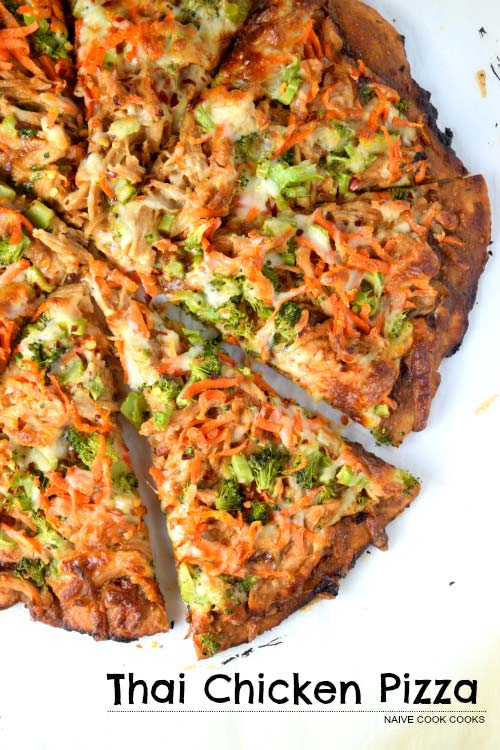 Thai food is one of my favorite cuisine and there is hardly a day when I don't crave thai food. Spicy curries, curry fried rice, pad thai, spicy broth based soups, iced tea, sticky rice with coconut ice cream – I mean there is nothing NOT to love about this food. Today's recipe is a new addition to my growing repertoire of pizza recipes on this blog.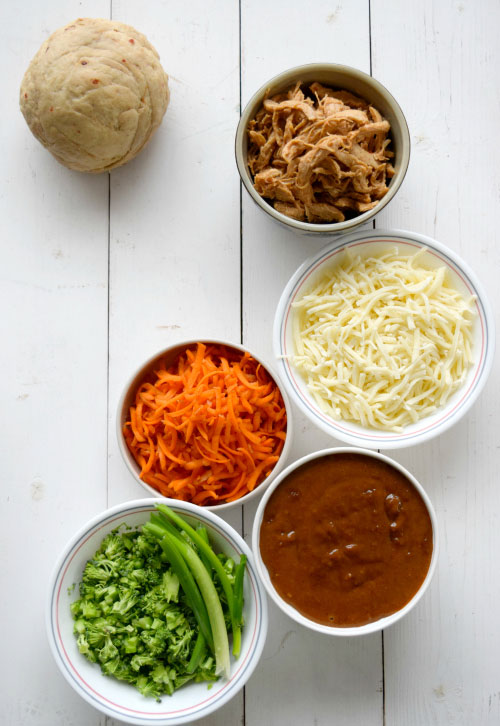 Some time ago I received an email forwarded by a friend with all sorts of pizza recipes on BetterRecipes.com . The first thing that caught my eye was this copycat CPK (California Pizza Kitchen) inspired Thai Chicken Pizza recipe. I enjoy going to this restaurant once in a while but sadly I have never had a chance to try this pizza recipe there. So since I am all about pizza lately, I had to try this recipe and I will admit it's delicious.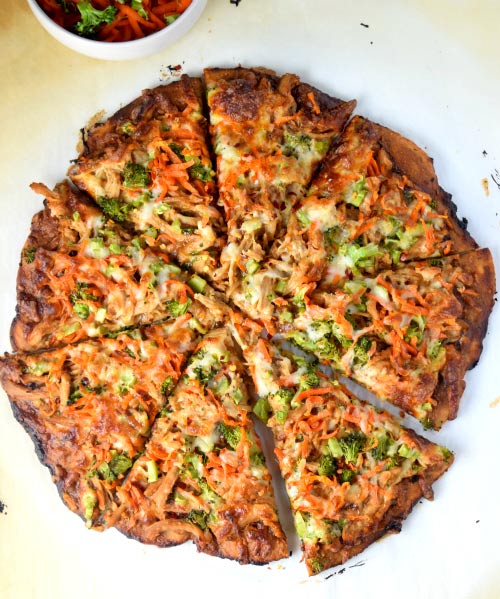 Homemade whole wheat pizza crust (I like using my favorite whole wheat pizza crust here but if you want you can totally use the crust suggested in the recipe here) topped with a delicious peanut butter based sauce and then topped with lots of marinated shredded chicken, carrots, broccoli, cilantro, peanuts and yes off course, cheese and baked to a melty perfection, this cpk thai chicken pizza recipe won't disappoint. Ohh and totally add loads of crushed chili flakes on top! It just brings a perfect balance to the sweet & salty sauce.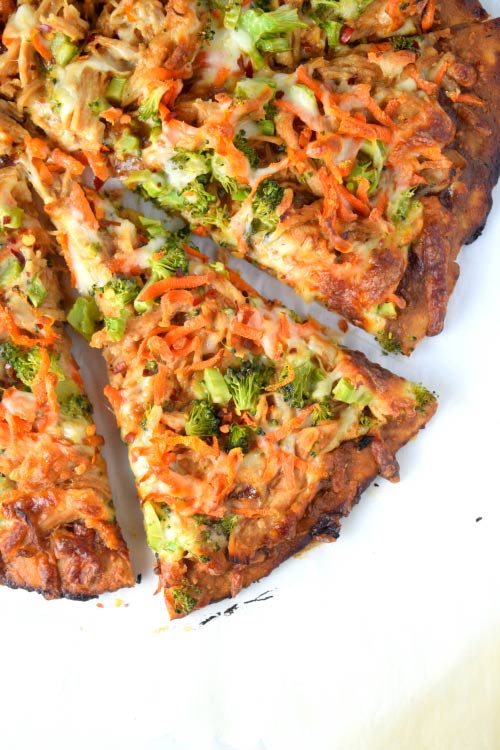 Every Hump day needs something extra special, right?
Sharing is Caring, remember those wise words?!! 
Follow along for lot more delicious treats and life happenings on INSTAGRAM || FACEBOOK || PINTEREST 

CPK Inspired Thai Chicken Pizza
Pizza with a delectable peanut sauce base topped with shredded chicken, carrots, broccoli and cheese for an Asian style twist.
Ingredients
Pizza crust
¼ teaspoons (1 packet) active dry yeast
¾ cup warm water
1 cup whole wheat flour
¾ cup all-purpose flour
1 tablespoon honey
½ tablespoon olive oil
½ teaspoon salt
1-2 tsp chili flakes (optional)
Peanut Sauce
½ cup Creamy Peanut Butter
4 Tbsp Teriyaki Sauce
4 Tbsp Hoisin Sauce
2 cloves Garlic
½ - 1 tsp Red Pepper Flakes
2 Tbsp Granulated Sugar
2 Tbsp Brown Sugar
4 Tbsp Water
4 tsp Sesame Oil
2 tsp Soy Sauce
3 Tbsp Minced Onion (I used 3 tbsp onion but the recipe used 3 tsp. Add according to your taste)
1 Tbsp Minced Ginger
Shredded Chicken
2 Boneless, skinless chicken breasts
Salted Water
Additional toppings
1 cup Shredded Mozzarella
4-6 Green Onions, chopped fine
1 cup broccoli, chopped fine or use bean sprouts
2 Carrots, julienned
3 Tbsp Roughly Chopped Cilantro
4 Tbsp Crushed Peanuts (optional, we don't like peanuts too much so I skipped these)
2 tsp Olive Oil
Instructions
Pizza crust
In a bowl, to warm water dissolve yeast and honey. Let it sit for few mins until it starts to foam. Add both flours,salt,olive oil and chili flakes. Knead until smooth. If it feels too dry, add little bit more water. Add little olive oil in a clean bowl and transfer the ball of dough in there. Wrap with a plastic wrap and let it sit in warm place for good 2-4 hours or until it doubles in size.
Shredded Chicken
Add chicken breasts to salted water and cook on med-low for good 30-40 minutes until fully cooked. Remove from the water. Once cool to handle, shred using forks or by hand.
Peanut Sauce
Add all the ingredients of the peanut sauce in a blender and blend until almost smooth. Taste and adjust if needed.
Assembly
Pre heat oven to 425F.
Divide pizza dough into 2 balls. Roll out first ball of dough on a floured surface as per desired thickness. Transfer it to a pizza baking sheet. To it apply 3 tbsp peanut sauce spreading evenly everywhere on the dough. To it add ¼ cup cheese, then green onions, chicken, carrots, broccoli, cilantro, peanuts (if using), remaining ¼ cup cheese and 1 tsp olive oil.
Bake for around 12-15 minutes.
Repeat the second ball of pizza dough in the same way.
Notes
This recipe is inspired by CPK copycat Thai Chicken Pizza recipe posted in BetterRecipes.com
More Pizza Recipes:
https://www.naivecookcooks.com/mm-pecan-pie-pizza/
https://www.naivecookcooks.com/samosa-french-bread-pizza/