Softest crumbliest  chocolate chip cookies made with almond milk and a no bake decadent cream cheese & sour cream cheesecake perfect for gatherings!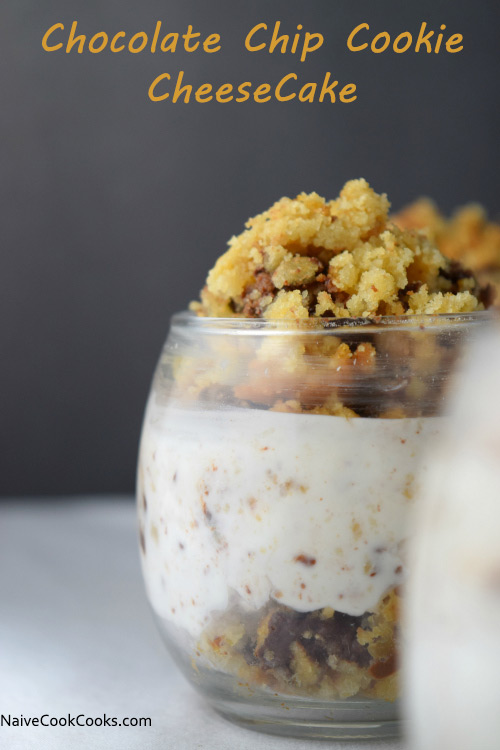 Hello Wednesday !
Today I got you something chocolaty and we all know anything chocolate makes dealing with Wednesday after a long weekend way way easier! Today I got you guys not one but TWO chocolate recipes in ONE post! Yes we are making this into an awesome Wednesday!
When the amazing people at #BlueDiamond sent me samples of their honey vanilla almond milk, all I wanted to do was drink it straight out of the container because it is DELICIOUS! Lately we sort of stopped drinking almond milk but there was a time, our breakfast used to be a big glass of chocolate almond milk. Have you tried it yet? Its crazy bonkers delicious!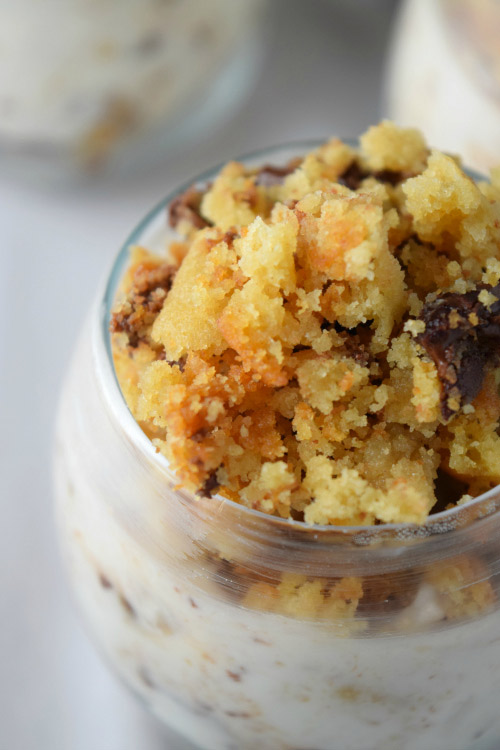 Well moving to today's post. So as I was saying I wanted to create something everybody loves and all I could think was cookies. I mean who doesn't love a good chocolate chip cookie?! But me and my crazy mind, it gets hard to stop at one idea sometimes so I went ahead and crumbled these cookies and made us a no bake cookie cheesecake! This recipe is specially for all you friends out there who don't eat eggs! It's EGGLESS and tastes amazing!
People who love love eggs, don't run away as it tastes exactly the same! You can't even tell that there is no egg in the recipe. Basically the only place I needed eggs was in making these cookies but I kept these cookies egg & dairy free so all you out there, this chocolate chip cookie is for you!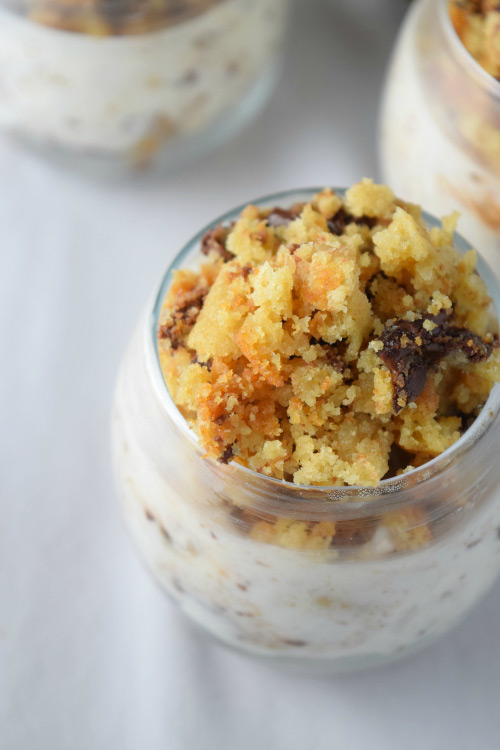 Since I didn't use any binding agent these are sort of crumbly but that's the fun part. They are perfect for this sort of cheesecake where I needed super soft crumbly cookies but if you are thinking of making the cookies alone, I suggest you bake them few minutes longer and may be add 1 flaxseed egg (I haven't tried it yet but I think it should work!). Though I will suggest to keep them the same and make smaller cookies and once completely cool devour them because chocolate chip cookies are great in every form – crumbly or no crumbly!
Help in spreading the word!
Follow along for lot more delicious treats and life happenings on INSTAGRAM || FACEBOOK || PINTEREST 

Chocolate Chip Cookie CheeseCake
Ingredients
Vegan Chocolate Chip Cookies
1 stick unsalted butter, softened to room temperature
¼ cup white sugar
⅛ cup brown sugar
2 tbsp Hint of Honey Vanilla Almond Breeze Almond Milk (Or use any animal milk you prefer but remember then they won't be dairy free)
2 tsp vanilla extract
1 cup all purpose flour
¼ tsp salt
¾ tsp baking soda
½ cup semi-sweet chocolate chips
No Bake Chocolate Chip Cookie CheeseCake
1 package full fat or low fat cream cheese (8oz)
2-3 Tbsp Hint of Honey Vanilla Almond Breeze Almond Milk
¼ cup white sugar
¼ cup light sour cream
1 tsp vanilla extract
1 tsp lime juice
Vegan Chocolate Chip Cookies (I used all the amount above recipe makes) (You can even use store bought cookies)
Instructions
Chocolate Chip Cookies
In the bowl of your kitchen aid mixer, cream butter and both sugars or you can also do this by hand.
Now to it add, almond milk & vanilla extract and mix again.
In separate bowl mix all the dry ingredients that is mix flour, salt and baking soda and stir.
Add the dry ingredients to the wet mix and mix until fully mixed. Fold in the chocolate chip cookies and chill the cookie dough for 15-30 mins.
Pre heat oven to 350F.
Roll out 9-10 balls from the cookie dough and bake for good 12-14 mins. Take them out and let them cool for 15 mins on the baking sheet. They might feel undercooked but they will keep cooking on the sheet.
Transfer them to a wire rack and cool further.
Meanwhile start assembling cheesecake.
In the bowl of standmixer, add cream cheese, almond milk, sour cream, sugar, vanilla extract and lime juice and mix until evenly mixed and smooth for good 5-10 mins. You can even do this with a hand held mixer. To it add 2 crumbled chocolate chip cookies and mix again.
Now take 6 mini dessert size cups. Crumble the remaining cookies too and layer bottom of each dessert cup with around 1-2 tbsp crumbled cookie. Now add few tbsps of cream filling and even it out.Top the cups with the remaining cookie crumbles and chill overnight or for few hours. I like putting the small cups in a big air tight container so they don't end up getting fridge food smell.
Serve chilled or bring to room temperature for 1-2 hours.
Notes
*** You can replace almond milk with normal milk easily.
More Dessert Recipes: