These melt-in-mouth Walnut Butter Cookies take just 30 mins start to finish. These are great as a tea time snack and so perfect for giving it to friends & family!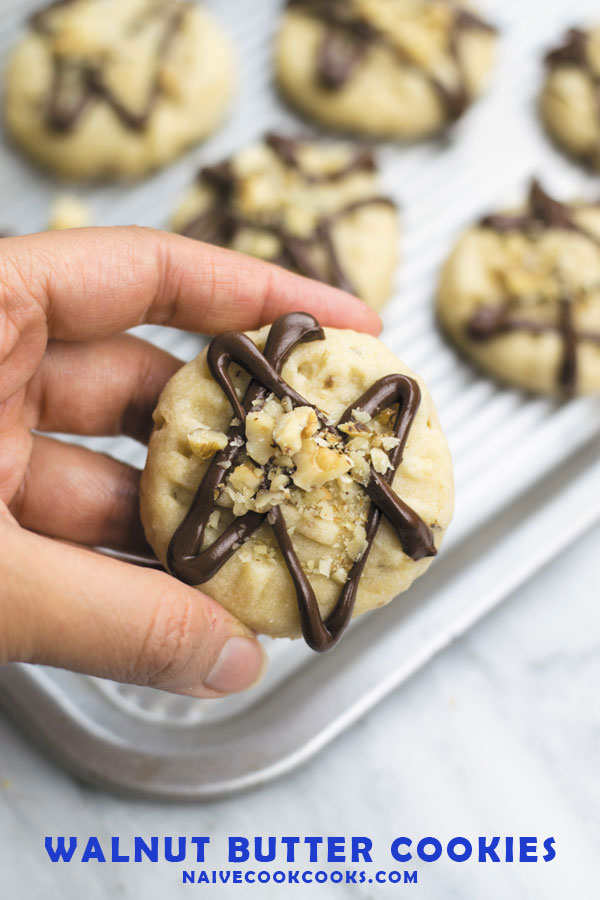 It's hump day so let's eat some cookies and call it a day! I have been slacking all day today and today it took me way more time than it usually does to finish a post. I had some errands to run today and after I came back home, all I wanted to do was sleep. Weather has been also gloomy here and it felt as if autumn is almost here but not really as weather outside is hot and there are way more kids in our pool today than any other day!
So I baked! Baking is like a therapy for me. Those days I have no intention of working, I bake. Even though it's part of my work, it always feel so much relaxing to bake. I found these cookies in an old magazine tucked away in one of my many boxes packed with cookbooks! In my first trial I wasn't all satisfies as they were lacking flavor. So in the next batch I increased little sugar, added little extra vanilla extract and increased the baking time.
The second batch turned out superb and we both couldn't resist but ate 2 each right after they were just cool enough to touch. Even though these butter cookies with finely chopped walnuts are great year around, I must say that they will make excellent gifts during holiday season! During holidays we mail out cookies to our cousins and this time I think these might be one of the many cookies to go in the boxes!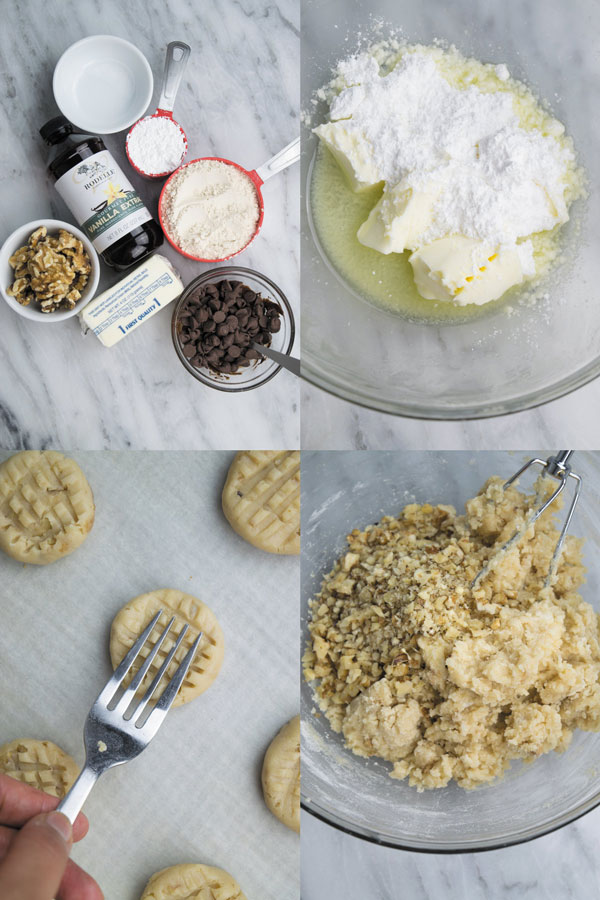 Just few basic ingredients and little effort gives you these bakery like soft melt-in-mouth cookies that are hard to resist. Once all the ingredients are mixed up, they are rolled into balls and baked.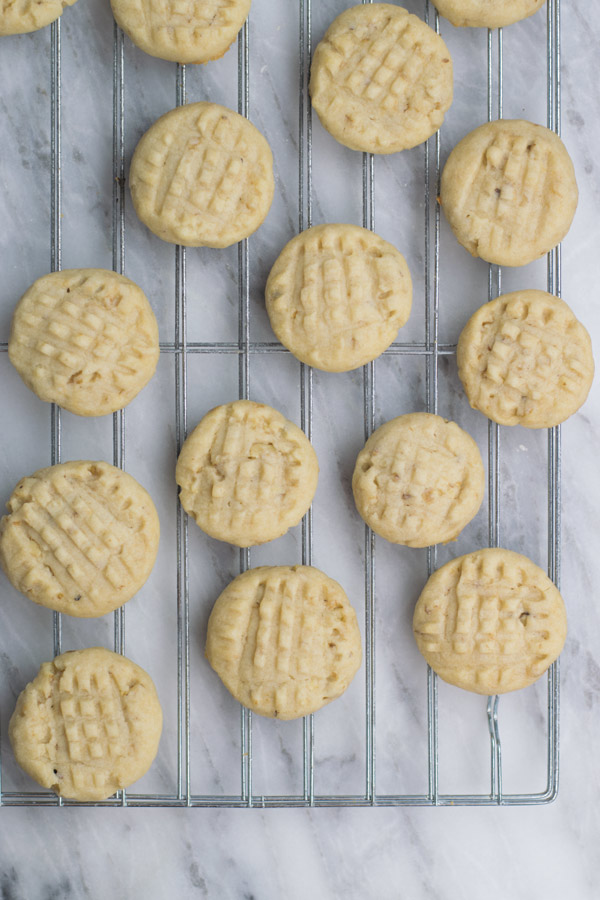 These taste amazing as they are but a drizzle of melted chocolate and a light sprinkle of crushed walnuts make these festive enough to serve for a gathering or just enjoy with a hot cup of tea.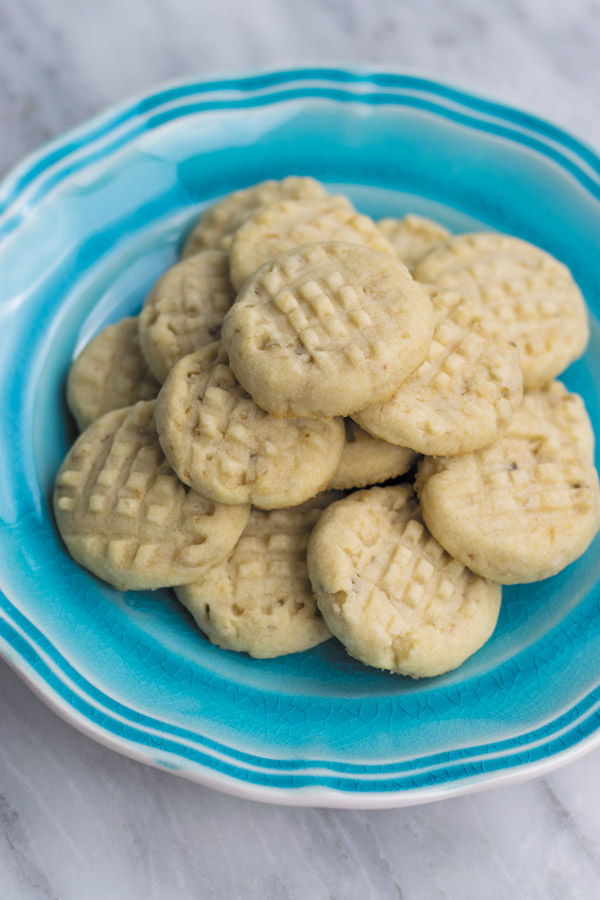 Make sure that once they are completely cooled, then store them in an airtight container without overlapping. They stay great sitting outside for up to a week easily but they never last that long at our place!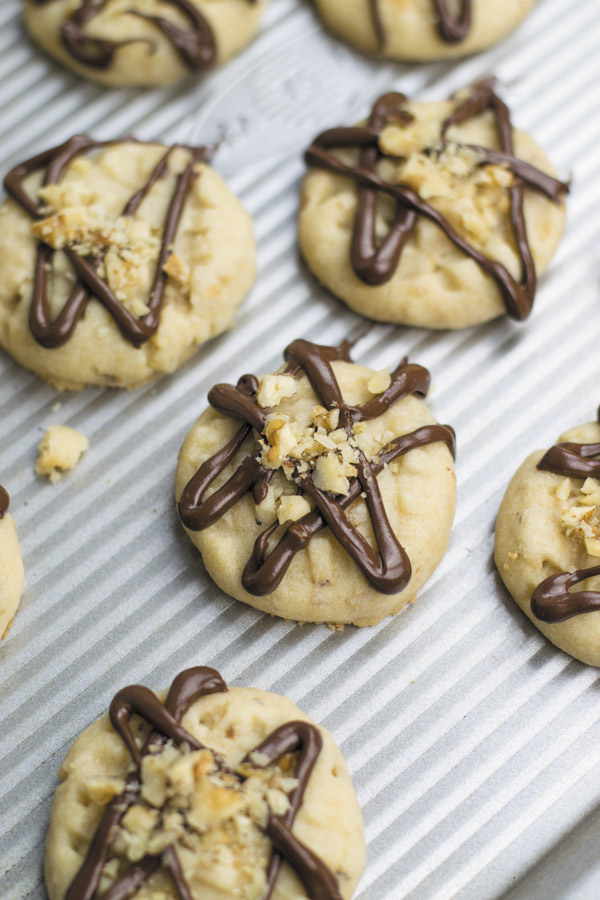 If  you enjoyed this recipe, don't forget to FOLLOW me on  INSTAGRAM ||FACEBOOK||PINTEREST ||TWITTER ||GOOGLE+ || BLOGLOVIN || YouTube
Walnut Butter Cookies
Ingredients
Walnut Butter Cookies -
½ cup (8 tbsp) butter,softened
6 tbsp powdered sugar
¾ tsp vanilla extract
Pinch of salt
1 cup + 2 tbsp all purpose flour
5 tbsp finely chopped walnuts
½ cup semi sweet chocolate chips, melted
Instructions
Walnut Butter Cookies
Pre heat oven to 375F.
In a bowl add softened butter and sugar. Using a hand blender, whisk until its creamy. To it add salt and vanilla extract. Add all purpose flour and stir until evenly mixed. Now add walnuts and mix. Transfer this bowl with cookie dough to fridge for 10 mins while you get your baking tray ready.
Place parchment paper on a baking tray or grease a baking tray with butter. Take out the cookie bowl from fridge and divide the dough into 16 equal pieces. Roll into balls and flatten each ball using your hand or a fork and place them on parchment paper keeping 2" distance between each cookie.
Bake for 11 minutes.
Take the baking tray out of the oven and immediately using a flat spatula, transfer the cookies to a cooling rack and let them cool for good 10-15 minutes.
Melt chocolate chips by placing bowl of chocolate chips in microwave for 30-35 seconds. Stir it using a spoon. Drizzle melted chocolate over the cookies using a spoon or for more even spreading you can fill up melted chocolate in a ziplock bag and then cut one end and drizzle. Sprinkle with some finely chopped walnuts.
 Some more delicious TREATS ->>