This shop has been compensated by Collective Bias, Inc. and its advertiser. All opinions are mine alone. #NaturallyCheesy #CollectiveBias
Delicious Pot Pie with a cheesy cheddar crust!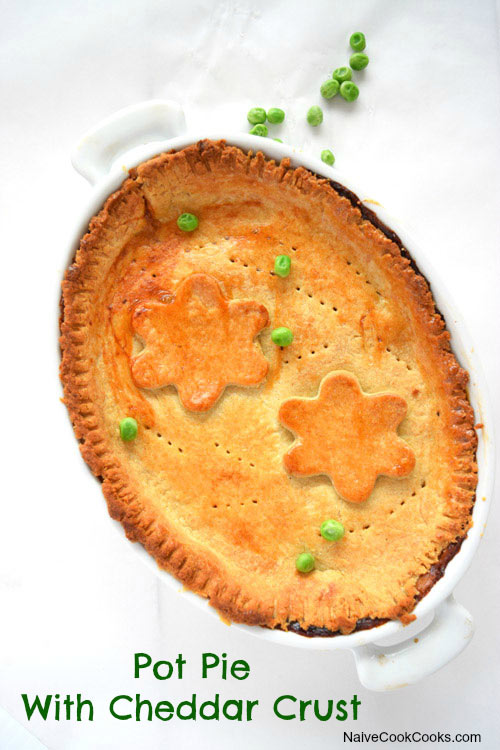 This ??
Perfect medley of vegetables in a creamy white sauce topped with a cheesy buttery crust. Yes this is comfort food at it's best. These days all I want to eat is cheesy, buttery comfort food and even though I had my fair share of comfort food during the few days in Chicago  – (see) the best tacos with paneer pieces in there, tater tots with a spicy aioli and a soft cooked egg on top, eggs with hashbrowns and pickled jalapenos, Chicago's famous deep dish pizza, one of the best red velvet cake with caramel and peri peri chicken. Chicago is one city where 9 out of 10 times you will end up in a restaurant with great food!
And even though we had all the resolutions of eating salads once back home, I couldn't resist but make this for dinner! This is one pot pie I make all the time as well this is the only one I have mastered for now ? but it's worth all the carbs!! This time I did something different and decided to spice up things by adding some KRAFT natural shredded cheddar cheese in the dough.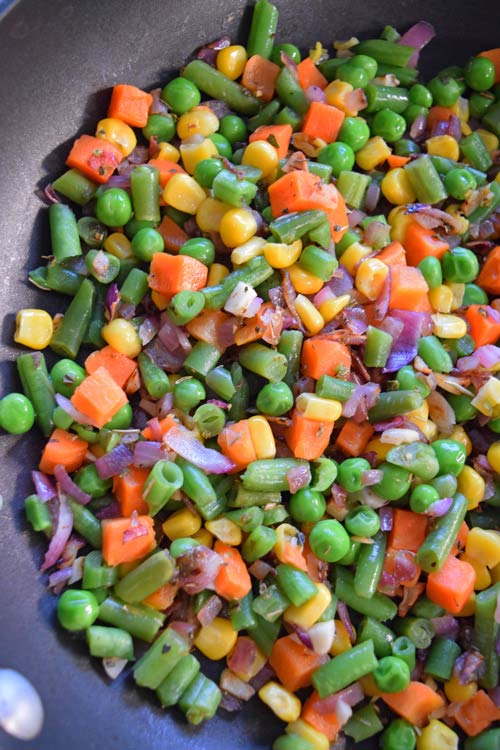 And now all I wish is that I would have done it sooner! It tastes so good and cheese made the already great tastes crust taste way better! This is one recipe I can make in my sleep, it's really simple so if you are like me who used to be scared of making my own pie dough – you can without any guilt use store bought puff pastry or pie crust but let me tell you that homemade tastes so much better!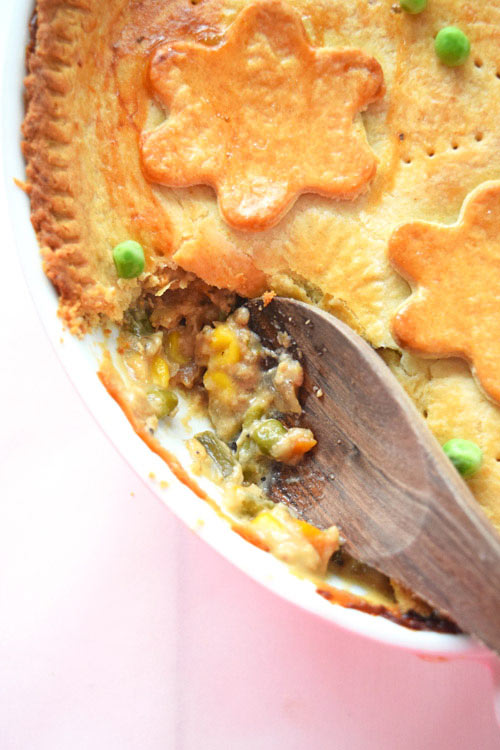 Follow along for a lot more delicious treats and life happenings on INSTAGRAM || FACEBOOK ||PINTEREST ||TWITTER ||GOOGLE+
Cheddar Crust Vegetable Pot Pie
Ingredients
For White sauce:
1 tbsp butter or olive oil
2 tbsp unbleached all purpose flour
1 cup 2% or any fat content milk
¼ tsp rosemary
Salt to taste
Black pepper to taste
2-3 tbsp shredded KRAFT cheddar cheese
Vegetables:
½ tsp olive oil
1 yellow onion, chopped
3-4 garlic cloves, chopped
¼ tsp rosemary
1 tsp oregano
1 cup chopped mushrooms ( button mushrooms)
⅛ cup marsala wine (optional but gives an amazing taste and aroma)
¾ cup mixed chopped vegetables. I used a mixture of carrots, green beans and corn.
Pastry dough :
1 cup all-purpose flour, plus more for dusting
¼ teaspoon baking powder
¼ teaspoon fine salt
4 tablespoons cold unsalted butter, cut into small pieces
1 large egg
2 tablespoons 2% milk or more as needed
½ cup shredded KRAFT cheddar cheese
1 egg white or milk for brushing
Instructions
Make the dough for crust first. In a bowl add flour, salt and baking powder and mix. To it add already mixed egg and milk and cheese. Using hands knead it into a dough only until it comes together. Wrap it in plastic wrap and keep it in fridge for an hour.
Preheat oven to 425F.
Heat up a skillet on med-high heat and add ½ tsp olive oil. To it add chopped onion. Cook until onions are translucent. Add garlic to it. Cook for a minute. Add rosemary, oregano. Add chopped mushrooms and let them sweat for few minutes. Add marsala wine to it and throw in the chopped mixed vegetables. Add salt and let it cook until vegetables are soft and cooked through. Turn off the gas and keep the mixture aside.
Heat up another deep pot over low-med heat and add 1 tbsp butter. Once it melts, add 2 tbsp flour and stir it until it becomes light golden brown. Add 1 cup milk along with rosemary and salt and keep it stirring to prevent lumps. It will start to thicken in 5-10 minutes. Add black pepper and cheddar. Turn off the gas and add the vegetable mixture. Fold the vegetables in the white sauce and taste. Adjust seasoning. Keep it aside.
Thaw the dough for 15-20 minutes. Roll it out on a floured surface.
Fill up indivisual ramekins or one big oven safe dish with the mix and cover them up with the rolled out dough. Place all the ramekins on a baking sheet to prevent overflowing inside the oven. Bake at 425F for 25-30 mins or until golden brown.
Serve and enjoy.
More Family Meals:
https://www.naivecookcooks.com/30-mins-cheesy-bacon-spinach-pasta/