Coconut Creme Brulee done S'more style with crushed graham crackers and soft fluffy marshmallows!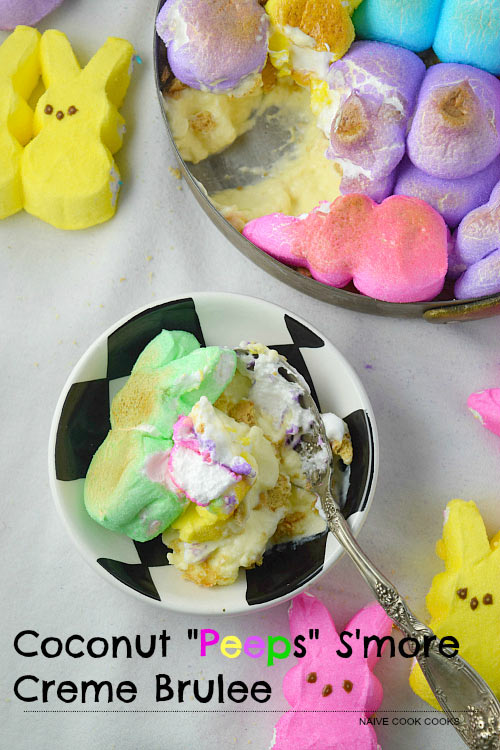 These PEEPS! I have never eaten peeps before. I know how pathetic does that sound! But seriously I remember last year, Jerry showing me these in the store and I was like yaaah (basically I don't care attitude!). Until now I had no idea what these are actually. To me they always looked like some kind of colored bunnies may some sort of hard candy.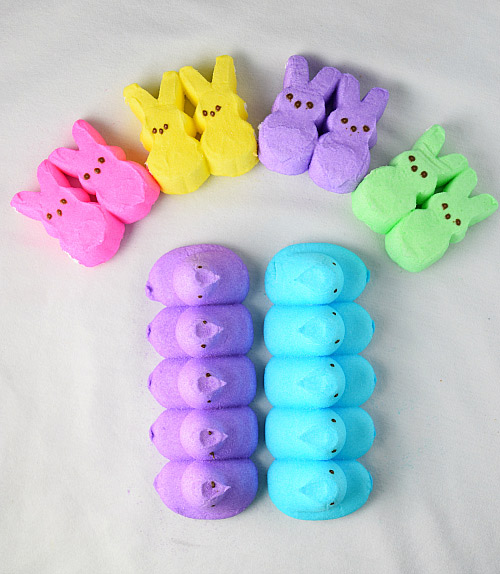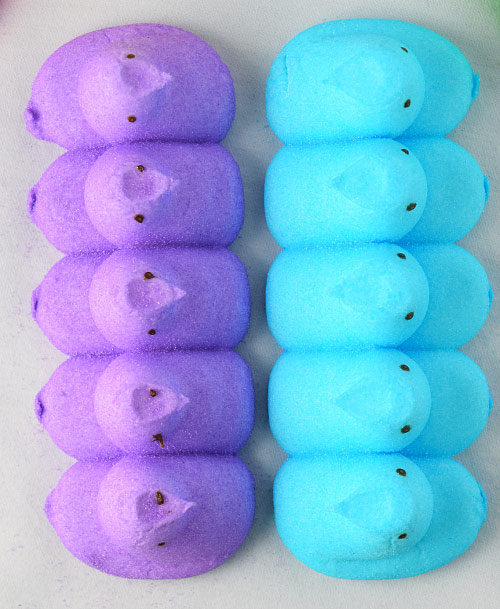 Then I saw them all over the internet but these two posts just blew my mind! This peeps skillet dip and this chocolate peanut butter peeps dip and I just had to create something using these fluffy colorful bunny and duck shaped marshmallows!! I mean can it get any CUTER??I have been drooling over these since I bought them and well as you can tell I got little carried away while buying these! I mean I just wanted to have them in every single color!!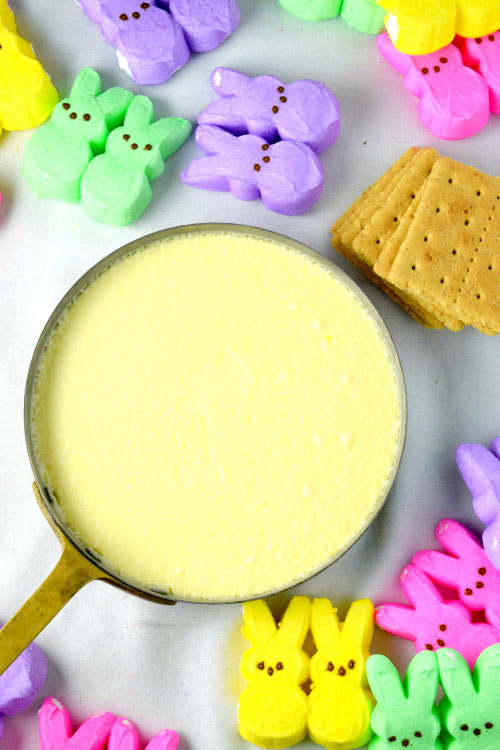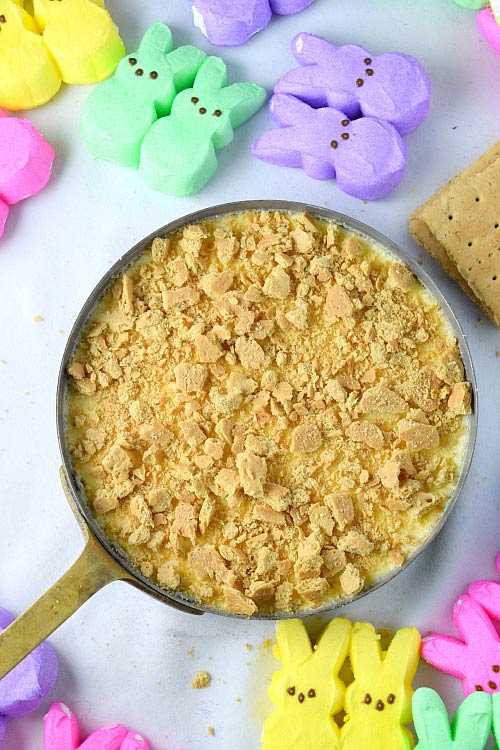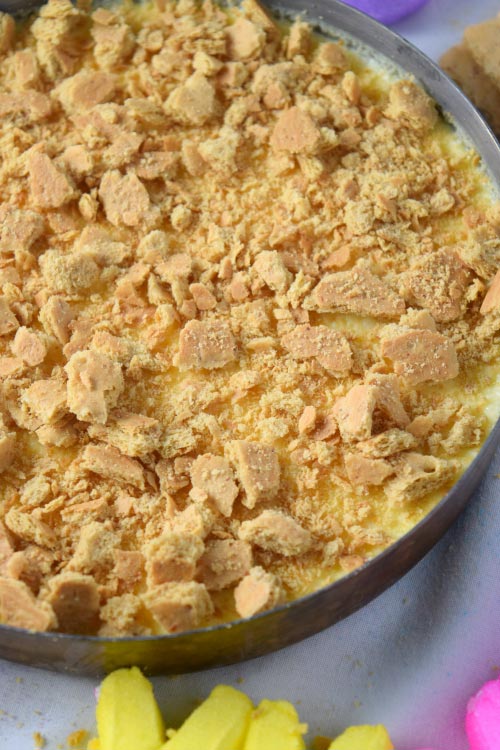 But I wanted to do something different. Not a dip and not a simple s'more which by the way I had for dinner (ahem!) the night I bought these! Telling you these peeps & almond chocolate bar stuffed in between 2 graham crackers makes the best dinner ever!!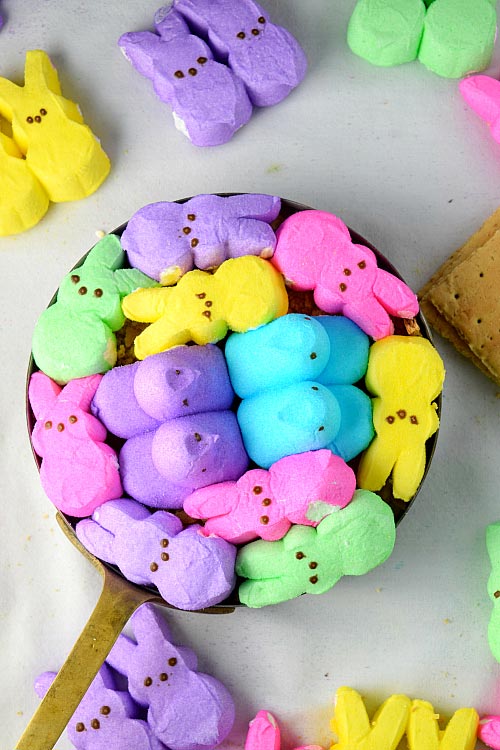 Well I love creme brulee and coconut is my favorite flavor, so I decided to go with coconut creme brulee in s'more style. Its one darn simple dessert to create and you can totally create this creme brulee in under an hour. Let it chill for few hours or overnight and then just before you are ready to serve, cover it with crushed graham crackers and cover with your favorite marshmallows. Then it goes in broiler for few mins and there you have the most delicious, indulging dessert of all times!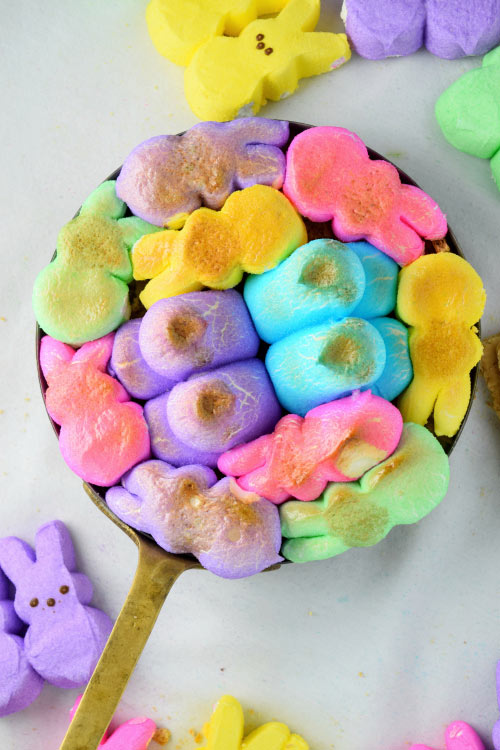 I mean LOOK at this picture!! How can marshmallows be so adorable!! Ohh and while chatting on instagram, I came to learn that you can freeze these marshmallows (peeps here) and whenever you want them, have them! Thanks @nasusvw for this tip!! I am definitely doing it as I have tons left!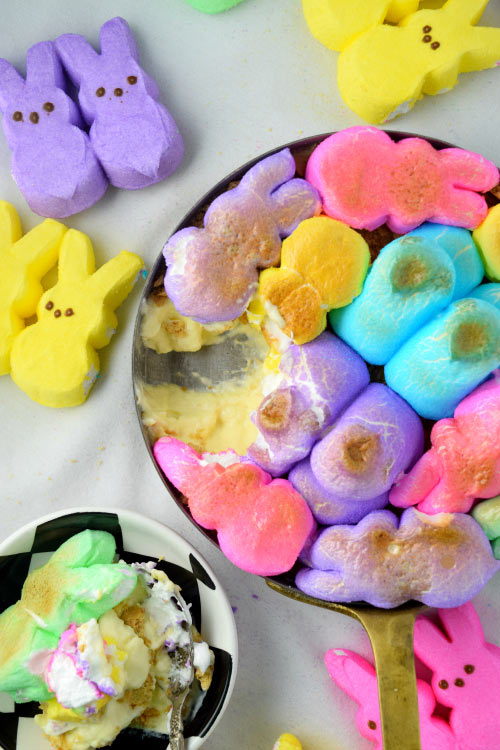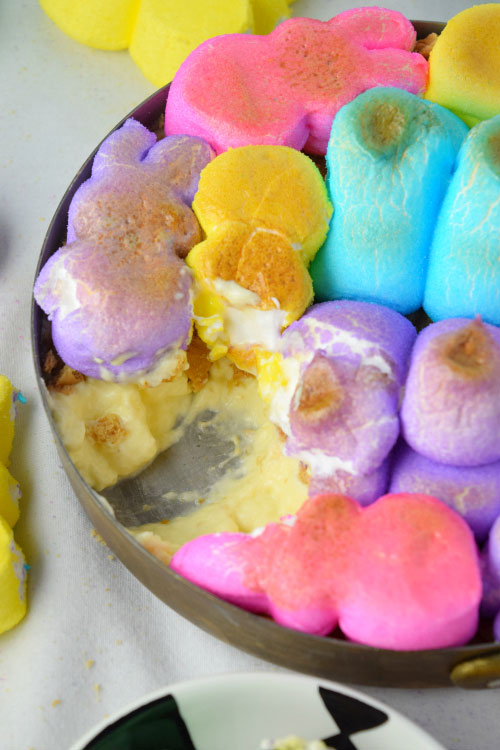 If you are wondering how this combination works?? Then let me tell you that it ROCKS! You get a super creamy coconut creme brulee custard and then slight crunch from graham crackers and then comes the melty gooey marshmallows! Kids and adults will go crazy for this dessert! It is perfect for your Easter brunch and you can always replace peeps with regular marshmallows to make it all year round.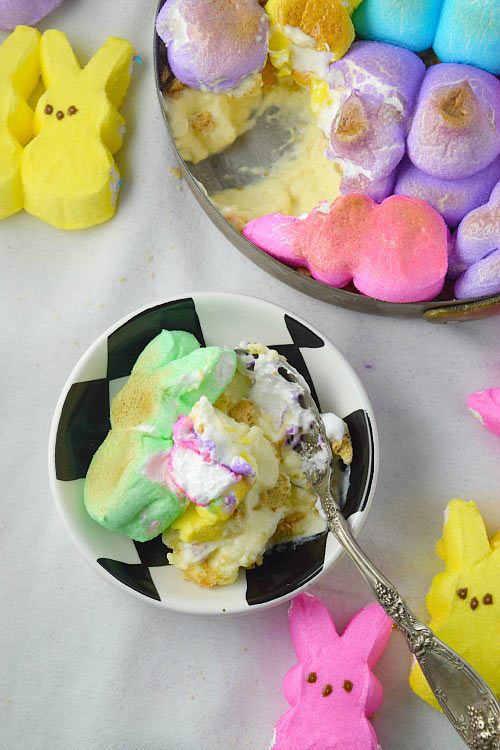 Help in spreading the word!
Follow along for lot more delicious treats and life happenings on INSTAGRAM || FACEBOOK || PINTEREST 
Coconut "Peeps" S'more Creme Brulee
Coconut Creme Brulee done S'more style with crushed graham crackers and soft fluffy marshmallows!
Ingredients
1 cup heavy cream
1 cup coconut milk
4 tbsp shredded coconut
4 egg yolks
4 tbsp sugar
1.5 tsp coconut extract
Crushed graham crackers
Peeps marshmallows
Instructions
Place heavy cream, coconut milk and shredded coconut in a pot and bring it to a boil on medium-low flame. As soon as it starts to come to boil turn off the gas.
Meanwhile, whisk egg yolks and sugar until pale and it starts to fall like a ribbon around 5-7 mins.
Keep whisking continuously and add the warmed up cream mixture into it slowly. Once all the warm cream mix is incorporated into the egg mix, add coconut extract and whisk to mix.
Preheat oven to 325F and heat some water in a separate pot.
Fill either indivisual ramekins or one big oven safe wide bowl with the creme brulee mix. Place that in another deep oven safe pan and fill the pan halfway with hot water.Cover loosely with aluinium foil.
Place it in the oven and cook for around 28-30 minutes or until the custard is set. You will see the edges set while the center not fully set.
Cool the ramekins on a wire rack and once cooled to room temperature, cover with plastic wrap and chill for few hours or overnight.
Just before serving, cover it with crushed graham crackers and marshmallows. Broil it for around 2-3 minutes ans serve immediately.
Notes
You can make the creme brulee ahead of time and just before serving, add graham crackers and marshmallows and broil.
Creme brulee recipe adapted from 5-ingredient-chocolate-creme-brulee.
I was inspired by "howsweeteats.com" chocolate peanut butter peeps recipe and skillet s'more recipe by "Foodnetwork.com"
Related marshmallows recipes:
https://www.naivecookcooks.com/pineapple-marshmallow-blondies/