No Bake Orange Eclair Cake for an easy, effortless holiday entertaining!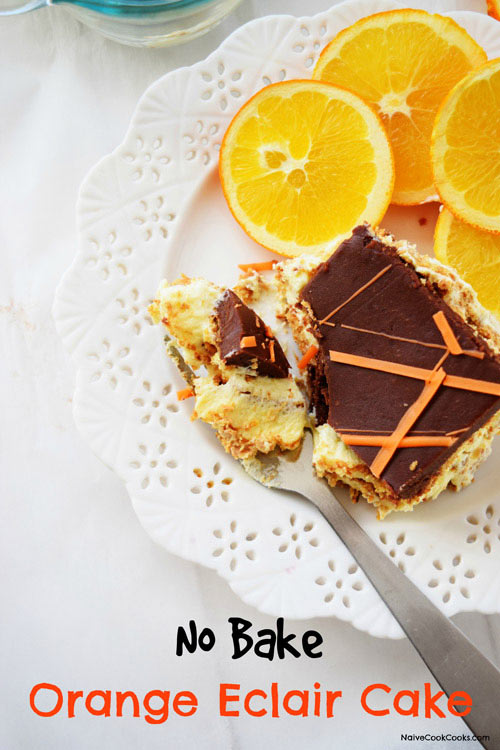 Friday & Cake!! ? And that too a no bake orange eclair cake, so you get to enjoy the weekend without spending a good chunk of time in kitchen! This is the perfectholiday entertaining dessert or even great for weekend brunch. You make it a night before and then next day, you will be rewarded with the most delicious no bake eclair cake ever!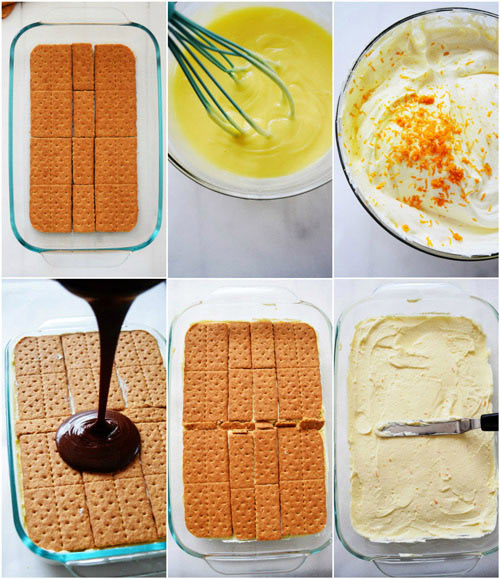 Even though I love cooking and baking from scratch most of the times, I know it's not possible for all of you to spend that much time in the kitchen so I decided to give you an easy option for your holiday entertaining! This would be great after a Thanksgiving dinner because let's be honest there can never be enough desserts! And Christmas!! It has orange zest which makes it smell so good and zest imparts a fresh flavor and balances the sweetness too.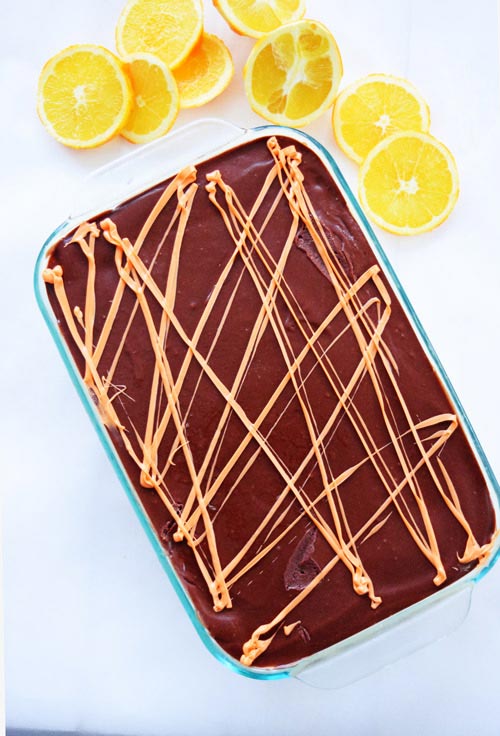 Today we are off to attend our friend's wedding in Austin and it being my first time ever visiting Austin, I can't be more excited!! I would love to know any good suggestions for where to eat in Austin friends! I have heard so much about good food in Austin that it's hard to pick a place! Though we are planning on totally going to Trudys.
Ok ok back to this cake. So as I was telling you there is not much to this cake. It is one of the most easiest cakes to make but the flavors!! And it keeps getting better with time. Make sure you let it sit for good 7-10 hours before serving so the graham crackers get all soft and absorb all those delicious flavors from orange zest scented pudding. So so good! I served this cake with this and everyone loved it.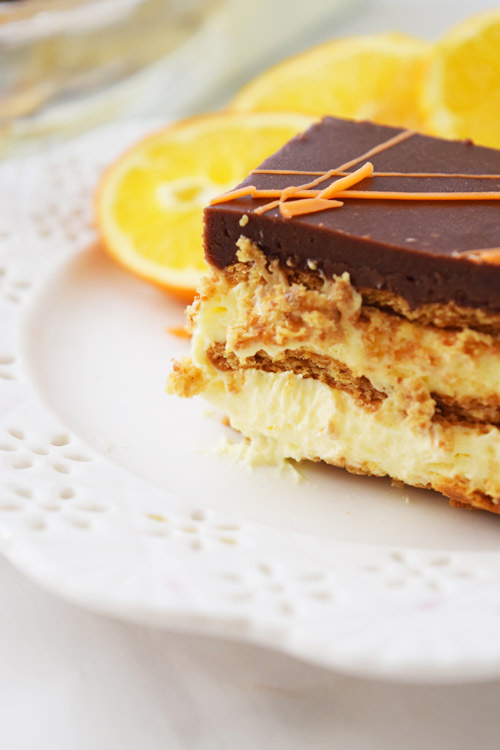 Follow along for a lot more delicious treats and life happenings on INSTAGRAM || FACEBOOK ||PINTEREST ||TWITTER ||GOOGLE+||BLOGLOVIN
No-Bake Orange Eclair Cake
Ingredients
1 packet vanilla pudding ( I used Jello brand vanilla pudding)
1 packet cheesecake pudding ( I used Jello brand cheesecake pudding)
1 tub (8 oz) cool whip (If you can't find cool whip where you live then you can make your own cool whip. There are tons of recipe for that online)
2 cups milk ( I used 2% but any fat content is ok)
Orange zest from 2 small oranges around 1 tbsp
19-20 graham crackers, enough for 3 layers in a rectangular glass dish (I used a 11" * 7.5" rectangular pyrex baking dish)
1 cup powdered sugar
½ stick or ¼ cup unsalted butter
1 cup semi sweet chocolate chips
¼ cup milk
¼ cup orange melting chocolate for drizzling, optional
Instructions
In rectangular dish, layer graham crackers evenly in a single layer. You can refer the collage I made with all the 6 pictures together.
Now in a bowl, add both vanilla and cheesecake pudding mix. To it add milk and keep whisking using a whisk until it starts to thicken. Once it reaches a thick pudding like consistency, add the cool whip along with orange zest and gently fold everything together.
Layer ½ of this mix over the graham crackers evenly. Now layer another layer of graham crackers on top making sure they are all in the same level. Now add the remaining cool whip mix over the graham cracker layer and smooth it out.Now add the final layer of graham crackers on top.
In a small bowl, melt butter and chocolate chips in microwave for a minute. Stir and microwave for another 30 seconds. Stir and repeat for another 30 seconds 2-3 times or until chocolate is all melted. Now add sugar and milk and stir until smooth.
Pour this melted chocolate mix over the graham crackers and smooth it out as much as possible.
Now cover and let it sit in refrigerator for 7-10 hours. If you want to drizzle that orange melted chocolate, then take it out after few hours and drizzle with melted orange candy and keep it bake in refrigerator!
After sitting for good 7-10 hours, the graham crackers would become soft and would absorb lot of the flavors. Cut and serve and keep the leftovers tightly covered in refrigerator for 2-3 days.
Notes
Ami says:
* If you can't find packets of vanilla and cheesecake pudding mix where you live, do not worry! You can just use VANILLA PUDDING instead. You can search for vanilla pudding recipes online or make my tried & tested,
POPCORN VANILLA PUDDING
. Just omit popcorn and increase amount of vanilla. You might want to make 4 times this pudding so you have enough for layering.
More sweets: 
https://www.naivecookcooks.com/chocolate-hazelnut-crepe-cake-no-baking-required/