Creamy chocolate pudding with a hidden gem which is so good for you but chocolate masks its flavor for picky eaters! Tastes like an indulgent chocolate pudding. Made using avocados, cocoa powder, almond milk & honey and bruleed to give that crispy sugar crust on top!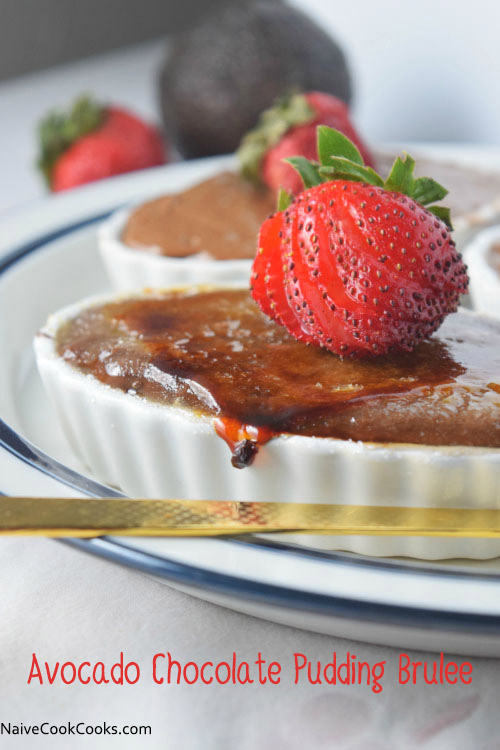 Helooo Tuesday. Hope you all had a super duper wonderful and relaxing independence day weekend. Well done with long weekends and back to the grind. Today I am sharing something which has been around the internet for sometime now but I recently tried it and we immediately feel in love. Yes AVOCADO CHOCOLATE PUDDING. I was never sure how it will taste and I have been wondering that since last year. Now that's one long time to  chase a recipe and still be hesitant to try it at home. Well that's me! But once I overcame my inhibitions and tried it, it was divine. Even Jerry who is sort of picky loved it and the best part : it's totally HEALTHY!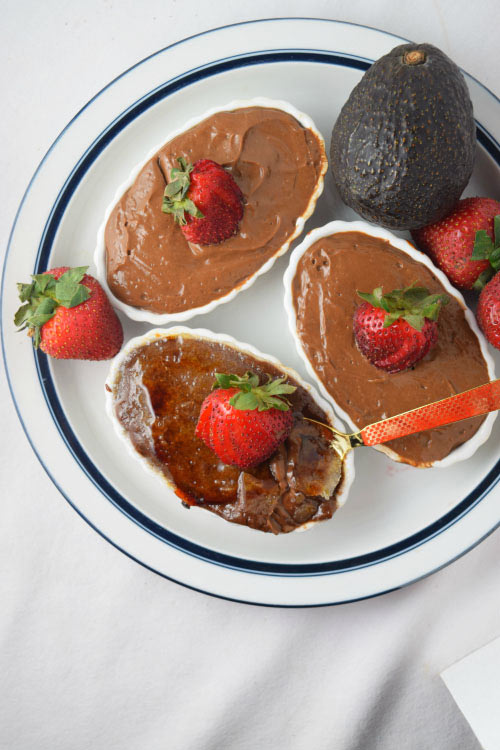 These days we are trying to adopt a healthier lifestyle but don't worry : we are still eating everything in moderation and still there is going to be those crepe cakes, those cheesy pastas around. This pudding fits the bill to eat healthier but since we both have a big sweet tooth, we are always craving for dessert after dinner and this chocolate pudding is simply perfect and filled with heart healthy ingredients.
It's made with avocados, almond milk or you can use any milk of your choice, honey or sweetener of your choice, cocoa powder and tadaa there you have a delicious and creamy pudding just like a real chocolate pudding. Few hours in the refrigerator and it turns into a smooth luscious chocolate pudding. But then I wanted to give it my own unique twist and I went ahead and bruleed the top for that crispy sugar crust we crave in creme brulees. It's like a dream dessert but if you on a total no sugar diet, you can leave out the bruleeing part and just enjoy the pudding.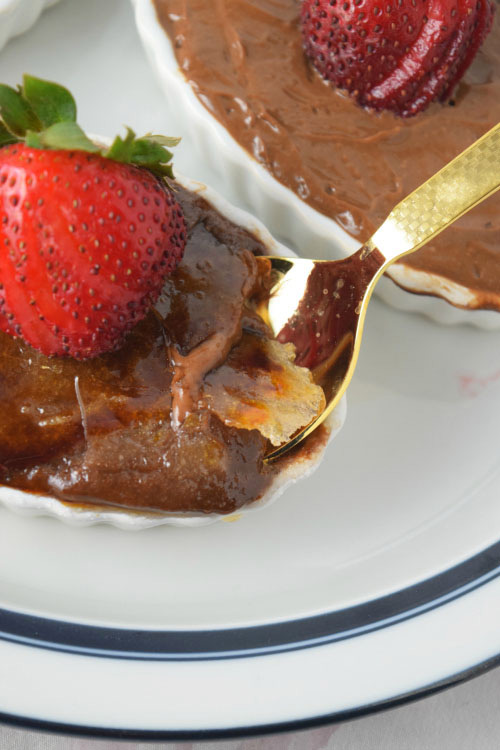 It's good both ways!
Help in spreading the word!
Follow along for a lot more delicious treats and life happenings on INSTAGRAM || FACEBOOK || PINTEREST || TWITTER ||GOOGLE+

Avocado Chocolate Pudding "Brulee"
Ingredients
2 ripe avocados
1 cup unsweetened almond milk, any non dairy milk or any milk of your choice
6-8 tbsp honey or sweetener of your choice (Make sure not to use any sugar crystals though as they won't be able to dissolve completely)(In place of honey use maple syrup, agave, splenda, or white powdered sugar)
⅓ cup unsweetened cocoa powder
Pinch of sea salt
2-3 tsp vanilla extract
1 tsp cinnamon
White Sugar Crystals for sprinkling on top to brulee
Instructions
Add all the ingredients EXCEPT white sugar crystals in a high speed blender and blend until smooth. Taste and adjust coca powder, vanilla extract or sweetener to taste.
Transfer it to clean bowls and cover with plastic wrap. Let it sit in refrigerator for around 6-8 hours. Just before ready to eat, sprinkle it with white crystal sugars and using a brulee torch, brulee it. Tranfer it to freezer for 10-15 mins and then EAT!
Notes
You can make the chocolate pudding ahead of time and keep covered in refrigerator for around 2-3 days.
Some more recipe ideas: 
https://www.naivecookcooks.com/spicy-mayo-vegetable-sushi