This shop has been compensated by Collective Bias and its advertiser. All opinions are mine alone. #SnackAndGo #CollectiveBias
Easy 5 Min snack for days when you need just that extra boost!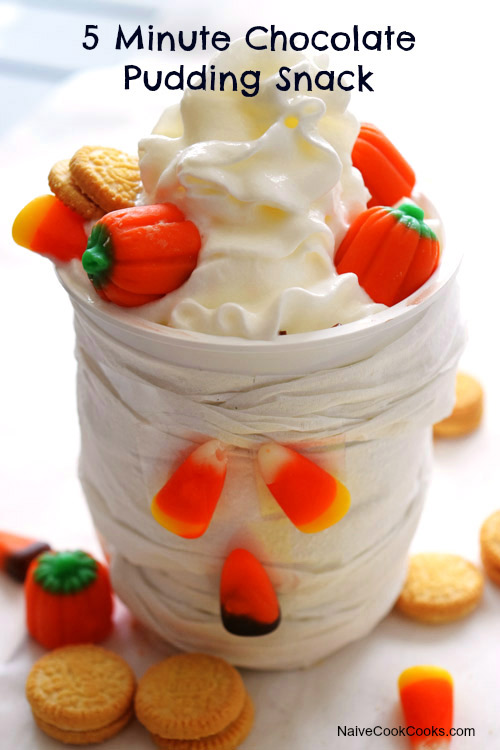 Today's recipe, well to be honest is not really a recipe as compared to more of a put together little snack tutorial. You know there are days when you reach for those pudding cups sitting in your grocery store because well to be honest life takes over and those days all you want is something comforting, something you probably don't have to make yourself and even though you know you have an equally delicious pudding recipe sitting in your archives, all you want is comfort of store bought food! Yes, been there, done that and enjoyed it to the fullest!??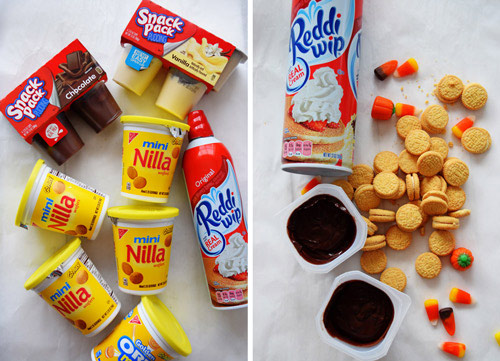 So during this weekend I made these as I am not at all inspired to cook from scratch during weekends and with all 3 of these products being our favorite, I decided to create a little fun Halloween treat for us. Now we are not kids but we still love these sort of silly fun treats so I decided to go all out and decorated these!
These are super fun to create, takes basically only 5 minutes and all you need is few ingredients. For these I bought our favorite : Snack Pack® puddings in chocolate & vanilla flavor but they have tons of other flavors so you can pick as per your taste, Go-Paks! with Mini Golden OREOS & Mini Nilla Wafers & Reddi-Wip.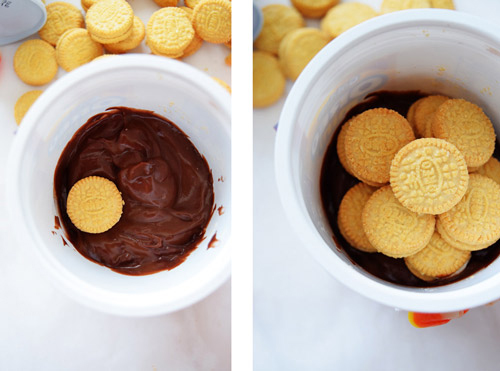 And now all it takes is opening and assembling! I emptied the Go-Packs!  & wrapped tissue paper around because I was going for a spooky looking Halloween look. I taped them in place and used candy for making eyes and mouth. Hehe it's not really spooky looking but it was cute enough to cheer us up! I then filled them up with chocolate pudding filling. Then I topped them with my favorite Mini OREOS and then added another layer of chocolate pudding. Then just before eating, I decorated them with whipped cream and lots of cute looking chocolate pumpkins because it's October and Pumpkin is mandatory everywhere (atleast in my world!?)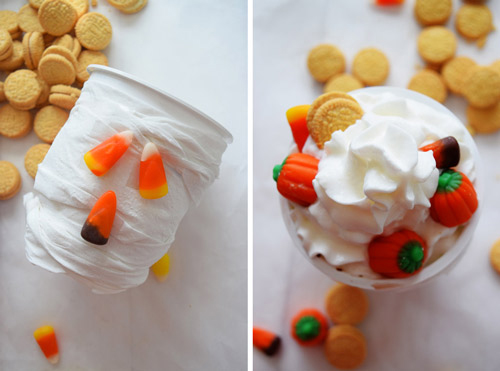 See how cute these look! Even after we finished eating them, I couldn't bring myself to throw away the containers so cleaned them and kept them at least until Halloween! I know I am crazy!
But the best part about these quick snack is you can create a lot of them in no time. And if you are planning on hosting a Halloween party, it will be so much fun to make these and to see the looks on people's faces! And probably you will do way better job at decorating these too 😛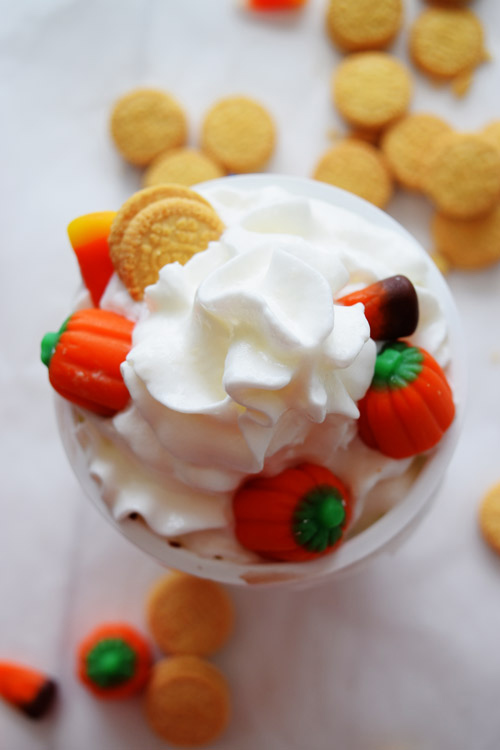 Don't forget to check out many more fun ideas here.
Follow along for a lot more delicious treats and life happenings on INSTAGRAM || FACEBOOK ||PINTEREST ||TWITTER ||GOOGLE+
5 Minute Chocolate Pudding Snack
Ingredients
NABISCO Go-Paks! Mini OREO Golden Sandwich Cookies - 3 packs
NABISCO Go-Paks! Mini NILLA Wafers - 3 packs
Snack Pack® Pudding Cups (for Size: 3.25 oz) - I bought 2 packs of Chocolate & 2 packs of Vanilla flavored pudding
Reddi Wip Original
Halloween Candy for decoration
Tissue paper roll for giving it a spooky mummy look
Candy for using as eyes & mouth
Tape
Double sided tape
Instructions
Open a NABISCO GO-Paks (either one). Empty the contents on a clean plate. Wrap the tissue around to cover it up completely and tape it in place. Now put Double sided tape where you are going to place eyes & mouth and stick your candy or whatever you are using on there.
Now start assembling the inside. Open a pudding cup and add the ingredients into NABISCO GO-Paks. Smooth it out and then add few cookies (In some I added OREOS and in some I used Nilla wafers).
Now add another layer of pudding on top : you can keep the same pudding flavor or you can use a different flavor. It's upto your taste. Now just before serving add whipped cream and top with some more cookies & halloween candy!

Quick Snacks: