These Nutella Rolls are a perfect tea time snack!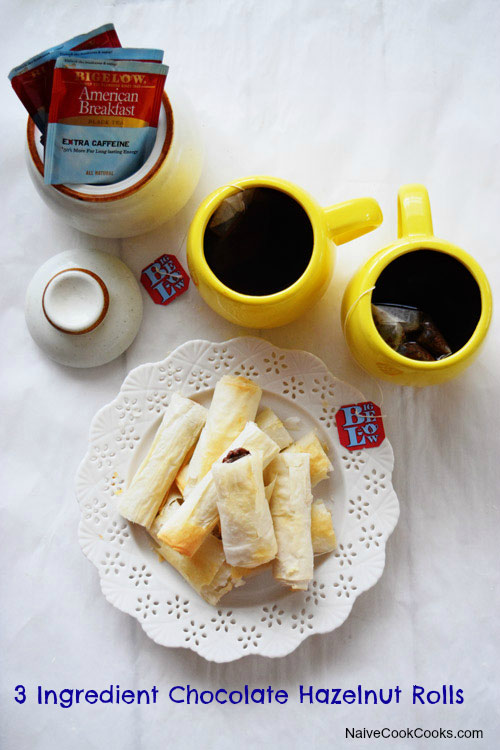 Best time of the year you guys!! I always get so excited come October and since this whole week it was so chilly here, I am simply embracing these cooler months. Until December, I love everything about the weather, stores all decorated with holiday gifts and decorations and what not?! And usually these 3 months is the time around which my caffeine consumption goes to a new high. Yes I am an avid tea drinker and I love it!
Actually truth be told, I grew up hating tea. All I used to love drinking for my breakfast was milk and even though I still love milk, tea helps me get through the day these days. Well just few months back I switched from drinking coffee to tea and I must say I have been enjoying it way more. I realized when I used to have a big mug of coffee first thing in the morning, I would feel sort of tired & sluggish as soon as I was done with it but with tea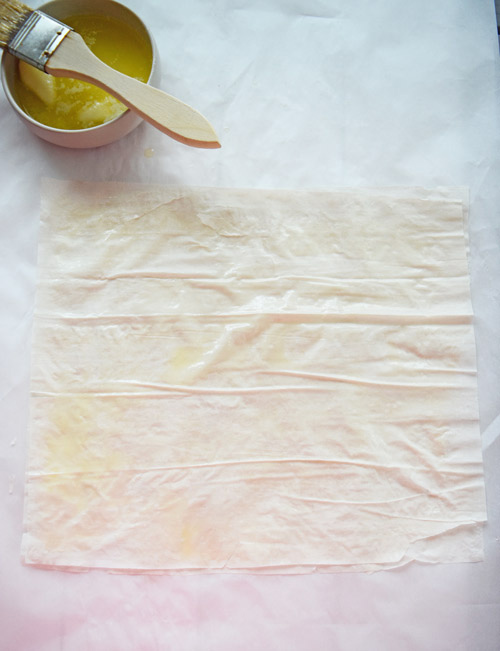 I have not felt that way and the funny part is that I had no idea why this was happening. But recently when I got the opportunity to work with my favorite Bigelow tea (yes I have tried almost all the tea varieties they sell and I must say I love them all! Just so you know 😛) and learnt how it makes tea better than coffee, I was surprised because I have gone through that phase! Nowadays I am all over these new Bigelow tea which has 50% more caffeine than regular tea but you don't crash like you do when you drink coffee. I like to drink it plain and somedays with little milk & sugar!☕  ?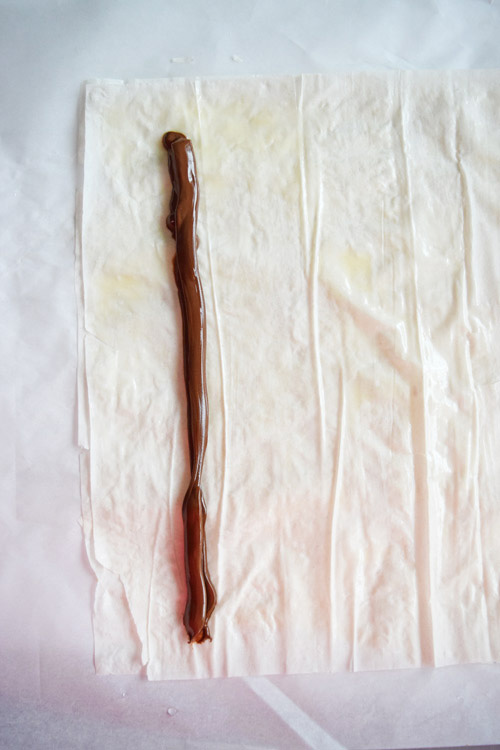 And if you can relate with loving caffeine as much as I do, you will agree how comforting it feels to grab a nice snack with a hot cup of your choice of tea during evenings when I feel so sleepy that all I can think of is nap time! And since it's holiday season, I know how much we all look forward to making easy, simple meals that taste delicious but are super low maintenance! So presenting you my recent favorite : just 3 INGREDIENTS, nutella or any chocolate hazelnut spread stuffed in filo pastry to make the most awesome and simplest dessert rolls you can feed your guests in no time!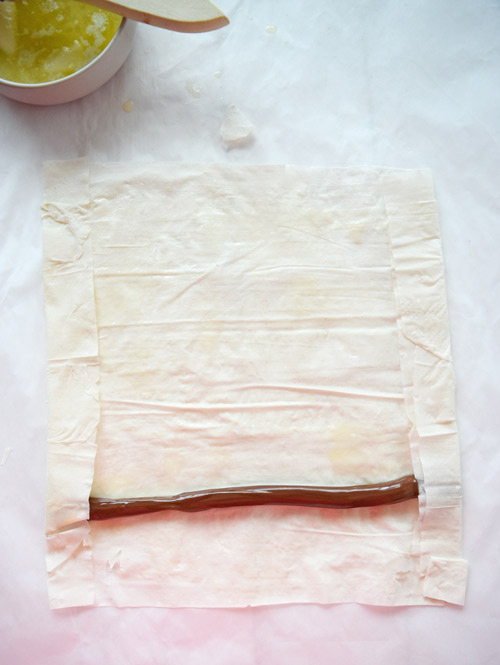 Yes, you heard me right! All you need is your favorite Chocolate Hazelnut spread, melted butter & filo pastry and a hot oven!! Now if you are not used to using filo pastry or you can't find it where you live, I will suggest replacing it with either puff pastry sheets or croissant rolls but remember the time to cook will change.
I made these yesterday for tea time snack and while photographing I ended up eating 2 of these! So so good. Another thing to remember while making these is that do not over cook them as you do want them to be crispy but not too crispy. I like to cook them for around 5 minutes in a 400F oven so the top is crispy yet inside is soft with hot melted chocolate! It's dessert heaven and is perfect when you are craving sweets or expecting a guest.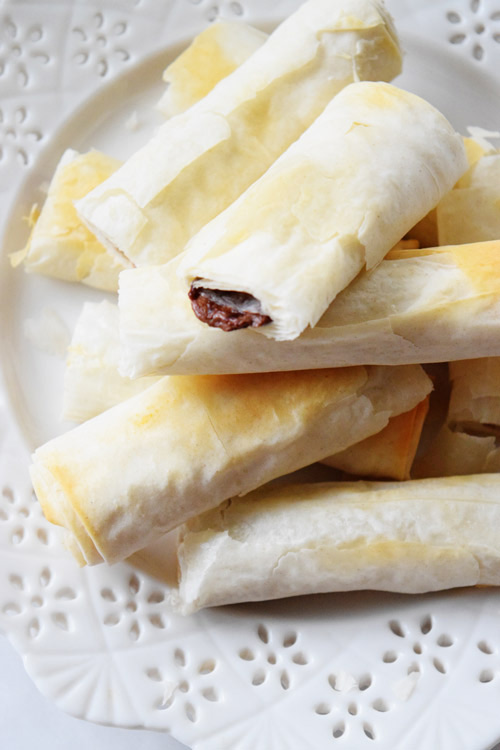 And here is a cool video Bigelow tea made!
And do enter to get a chance to win a $250 Walmart gift card!
 Enter to WIN 1 of 5 $250 Walmart Gift Cards for the #SwapYourCup Sweepstakes
Follow along for a lot more delicious treats and life happenings on INSTAGRAM || FACEBOOK ||PINTEREST ||TWITTER ||GOOGLE+
3 Ingredient Nutella Rolls
Ingredients
Chocolate Hazelnut spread such as Nutella
Melted butter, around ¼ cup
Filo pastry sheets
Instructions
If your filo pastry sheets are frozen, thaw them at room temperature for good 3-5 hours.
Meanwhile take a pastry bag or a zip lock and fill it up with chocolate hazelnut spread such as nutella or any other kind you like.
Once filo sheets are thawed, open them from packaging. Remember to keep them covered with moist paper towel or cloth while working as they dry very quickly.
Open one sheet on a clean surface. Using a pastry brush, brush melted butter all over it. Now place another sheet over it and again brush melted butter.
Now as you can see in the pictures above, using your pastry bag or ziplock bag, pipe a thick line of spread leaving little gap on the sides.
Now seal the filo sheets from the two sides and then start folding it starting from the side towards you and moving towards the opposite end tightly so the spread stays inside.
Brush with some more melted butter and place them on a parchment paper lined baking sheet.
Repeat and finish the rest.
Bake in a preheated oven at 400F for 4-6 minutes but no longer or they will get super crispy and hard.
Enjoy with a hot cup of Bigelow tea!

Tea Time Snacks:
https://www.naivecookcooks.com/bhakarwadi/