These Fudgy Chocolate Crinkle Cookies are one of the Best Cookies I have made so far! And making them is so easy!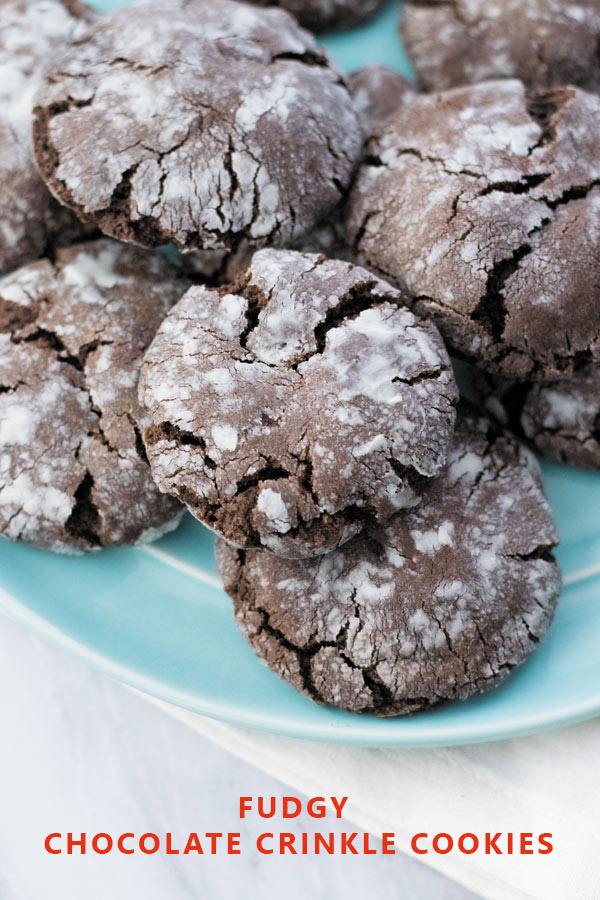 Fudgy Chocolate Crinkle Cookies. This is the first time we ever had a crinkle cookie in our entire life and WE ARE CHANGED PEOPLE!
These cookies have been declared the BEST COOKIES I  have ever made by Ronak. So you ask what is so special about these cookies?!
These cookies are ->>
EASIEST cookies you can make with just very few basic ingredients!
EGGLESS so if are out of eggs then no last minute store trip.
Crunchy outside, super fudgy interior.
ADDICTIVE, you won't be able to stop at just ONE!!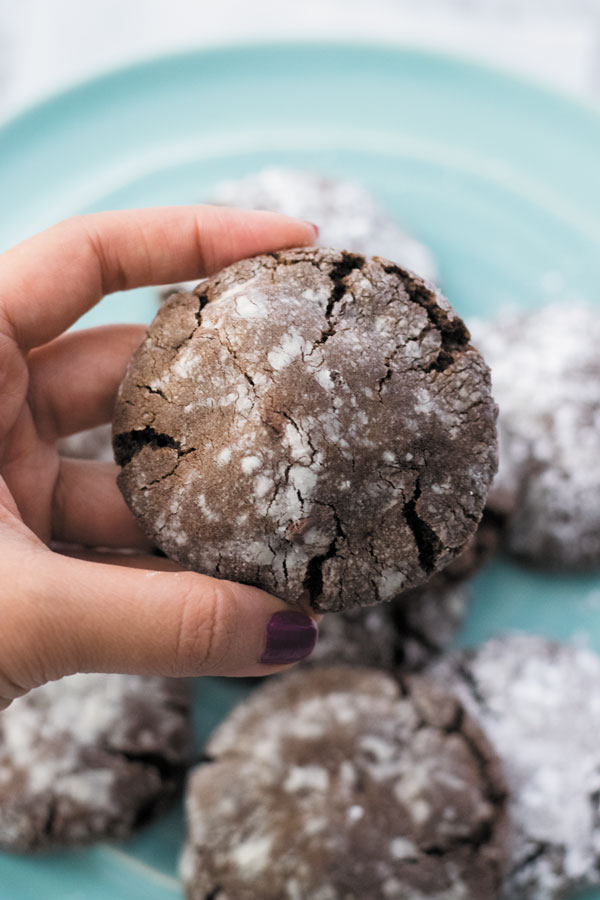 Since the first time I baked these, we have already made them quite a few times more – sometimes just for us, sometimes for friends & family. Even though we are super addicted to our CHOCOLATE CHIP COOKIES, lately I have realised that we crave these way more than those! 😛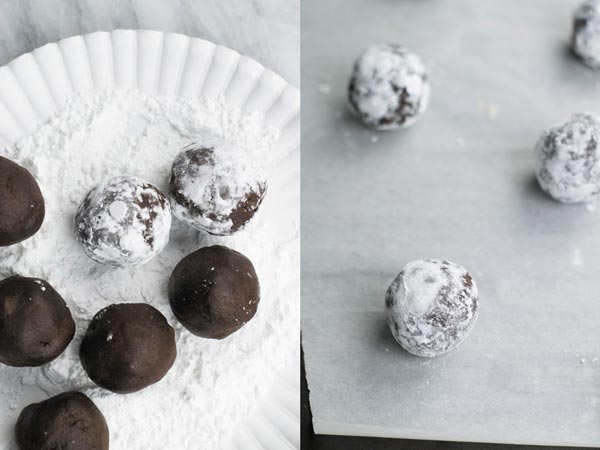 I saw these cookies for the first time doing the rounds on Pinterest and when I saw the ingredient list, I was like that's pretty easy! Just mix the ingredients and let the dough chill in refrigerator for few hours. Then bake whenever you want to! See how easy this is!
I was fascinated with how stunning these cookies looked, you know dark crinkles with white sugar covering the rest.It reminded me of holidays and beautiful snow and Christmas and that's one feeling I want to feel all the time (read I am obsessed with everything Christmas!) so I knew these needed to happen.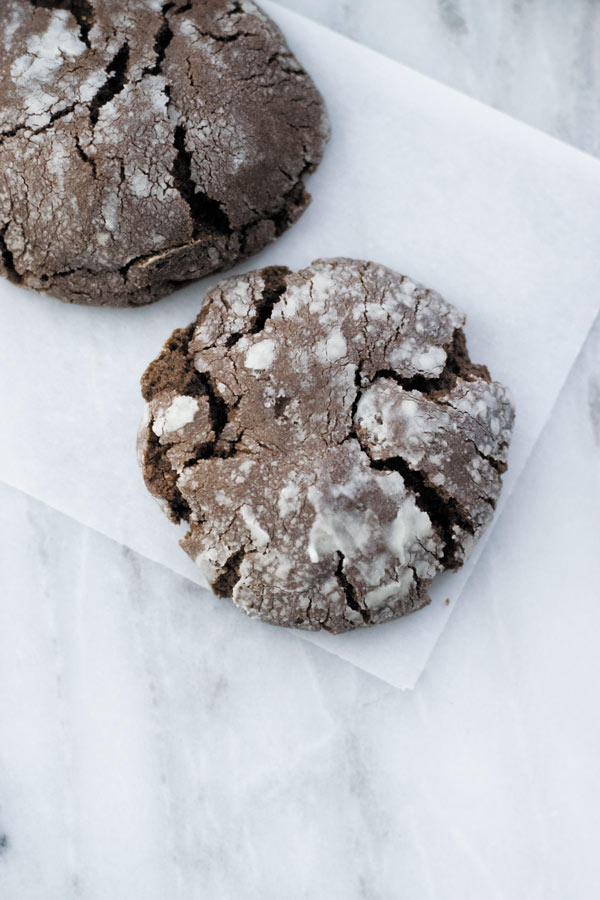 If you make these which btw YOU TOTALLY SHOULD, then PIN THIS IMAGE & share the cookie love!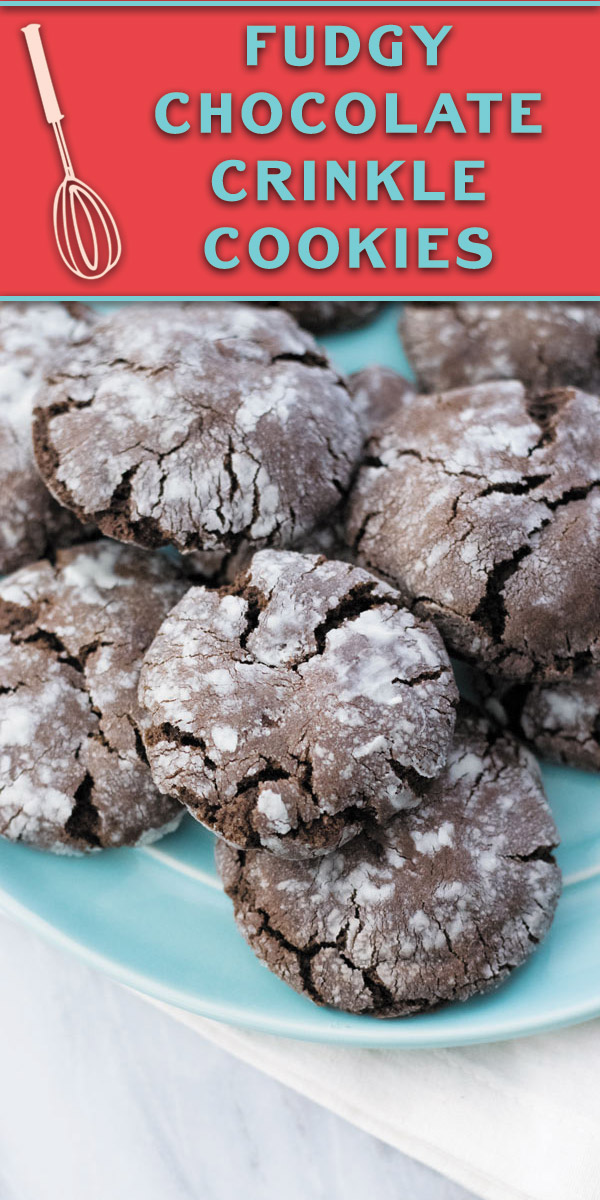 If  you enjoyed this recipe, don't forget to FOLLOW me on  INSTAGRAM ||FACEBOOK||PINTEREST ||TWITTER ||GOOGLE+ || BLOGLOVIN || YouTube
Fudgy Chocolate Crinkle Cookies
Serves:
About a dozen cookies
Ingredients
1 stick (1/2 cup) (113 gms) unsalted butter, softened to room temperature
¾ cup (~ 6 oz) ( 165 gms) white granulated sugar
1 Flax Egg or 1 Egg (For flax egg, in a bowl mix 2.5 tbsp water with 1 tbsp powdered flaxseeds. Let it sit for 10-15 minutes until it thickens)
2 tsp vanilla extract
1 cup (~ 5 oz) (140 gms) all purpose flour or white whole wheat flour
¼ tsp salt
1 tsp baking soda
¼ cup cocoa (~ 1 oz) ( 25 gms)
½ cup semi sweet chocolate chips ( ~ 3 oz) (100 gms)
About ¾ cup - 1 cup confectioners sugar (powdered sugar)
Instructions
In a bowl cream softened butter until creamy. To it add sugar and mix until fully incorporated. Add flax egg (or regular egg if using) and vanilla extract and mix.
Add flour, salt, cocoa powder, baking soda and mix.Add chocolate chips and fold into the dough. The dough is going to be thick.
Cover the bowl tightly with plastic wrap and let it sit in fridge for 3 hours or overnight.
When ready to bake, pre heat oven to 350F.
Take out the chilled dough from fridge and let it sit on the counter for 20-30 minutes so it's easy to roll it. Roll it into balls (for medium sized cookies, I used about 1.5 - 2 tbsp of dough).
Line a baking sheet with parchment paper or aluminium foil.
Roll dough balls into confectioner's sugar generously and place them on baking sheet about 1-2 inches apart.
Bake for about 9-10 minutes by rotating the cookie sheet halfway.
When you take out the cookies from oven, they will be soft in middle but they will harden upon sitting.
Let them sit on baking sheet for few minutes before transferring them onto a wire rack to cool.
The cookies will flatten a bit and always try to use a large flat spatula to transfer them from baking sheet to cooling rack as it ensures that cookies don't break.
Once completely cool, store in airtight container for upto a week.
 Some more COOKIE recipes ->>