Zucchini Handvo ( Spiced Lentil & Rice Savory Cake)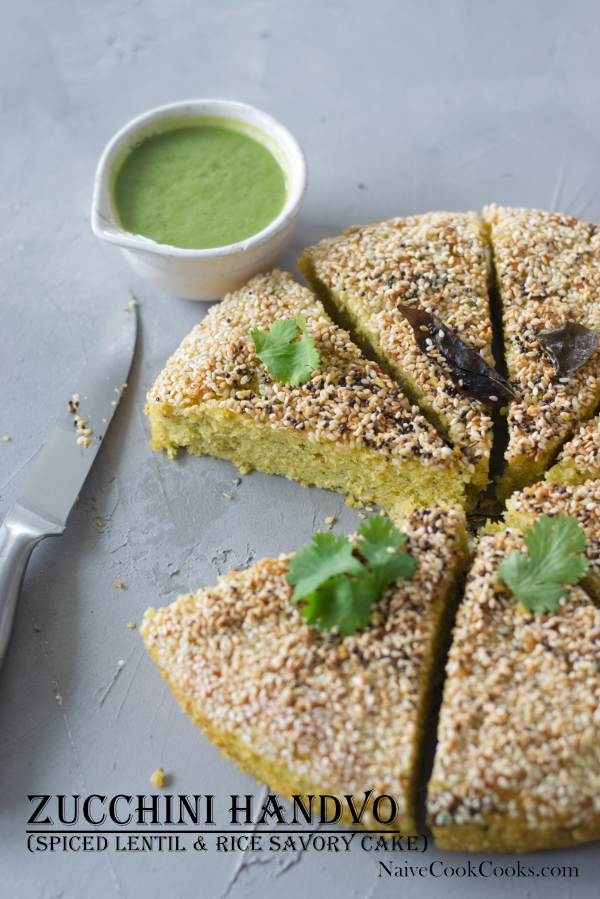 Recipe type:
Breakfast, Snack
2 cups Handvo (Ondhawa) flour (358 gms) (12.6 oz)
3 tbsp yogurt ( any fat content is fine)
½ tsp baking soda
1 tsp instant dry yeast
1 cup water
1.5 cups finely shredded Zucchini
1 tbsp + 1 tsp ginger paste
Green chili paste to taste
¼ tsp turmeric powder
Handful fresh curry leaves ( meethi neem), chopped fine
⅓ cup raw peanuts, crushed
5 tbsp oil, divided
Few drops of lime juice (optional)
2 tsp mustard seeds
3-4 Tbsp sesame seeds
3-4 tbsp unsweetened finely shredded dry coconut (optional)
8-10 fresh curry leaves
I a bowl, take handvo flour. To it add 1 Tbsp oil and mix so oil is properly mixed with handvo flour. I like to do it using my hands.
Next to this add yogurt, baking soda, yeas and 1 cup warm water and mix everything together, Cover and place it in a draft free warm area for overnight or for atleast 6 hours.
When ready to bake, preheat oven to 350 F.
To the above batter add shredded zucchini, ginger paste, green chili paste, salt to taste, turmeric powder, crushed peanuts, curry leaves chopped and mix. Taste and adjust if you need to any salt, ginger or green chili. If the batter is not tangy at all you can add few drops of lime/lemon juice and mix again.
Now take a baking pan. I used a circular 9" pan but if you like thin and crispy slices split the batter into 2 of these pans or bake one half first and then another half.
Now warm up 1 tbsp oil and use it to grease the bottom and sides of baking pan. You can also use parchment paper if you want to.
Pour the batter.
In a small pot ( chaunk pot), heat 3 tbsp oil. Once hot, add mustard seeds and curry leaves. Let it splutter. Pour this hot oil mix all over the batter. Now sprinkle sesame seeds all over the batter an d if you like coconut, also sprinkle dry finely shredded coconut all over.
Place it in 350F oven and bake for 20 minutes. Lower the temperature to 200F and bake for 30 mins, then broil for 5 minutes.
Once done, let it cool completely in the pan. Release the edges and then cover it with a plate or chopping board. Flip it gently so it will slide onto the plate. But it will be upside down, so flip it back onto another plate. Cut into slices and enjoy with chai!
Ami says:
Once completely cool, store in an airtight container in fridge. Just pop it in oven to enjoy a fresh warm slice of handvo!
Recipe by
Naive Cook Cooks
at https://www.naivecookcooks.com/zucchini-handvo-spiced-lentil-rice-savory-cake/