Easy Soft Pretzel Knots with mustard are a perfect game day food and they taste way better than any bakery bought pretzels! Trust me on this!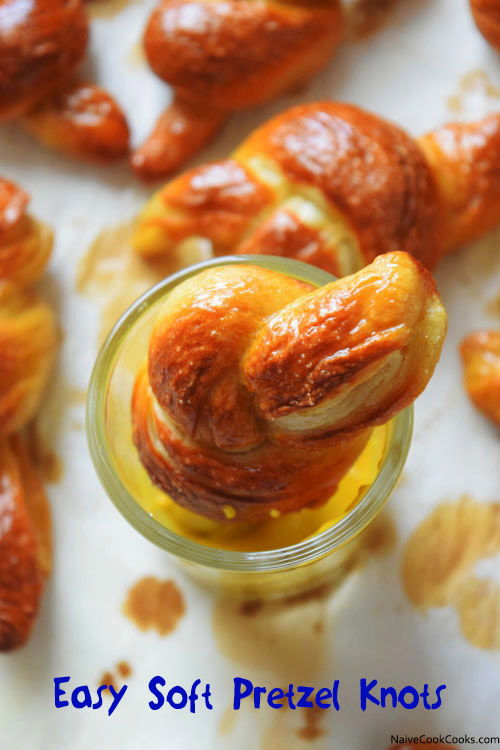 These pretzels are my new favorite snack!! And they are SO EASY! Previously I tried making soft pretzels few times but never got them right! But this time they were declared better than Auntie Anne's pretzel by Jerry! I was so happy and there was no way that I wasn't going to share these with you!These pretzels are everything soft pretzels are supposed to be. Little chewy, nicely browned surface, dipped in butter/olive oil ( I went with olive oil to keep them on the healthier side but if you want to go the real route – I suggest melted butter is the way to go!), lots of salt and yes even more yellow mustard!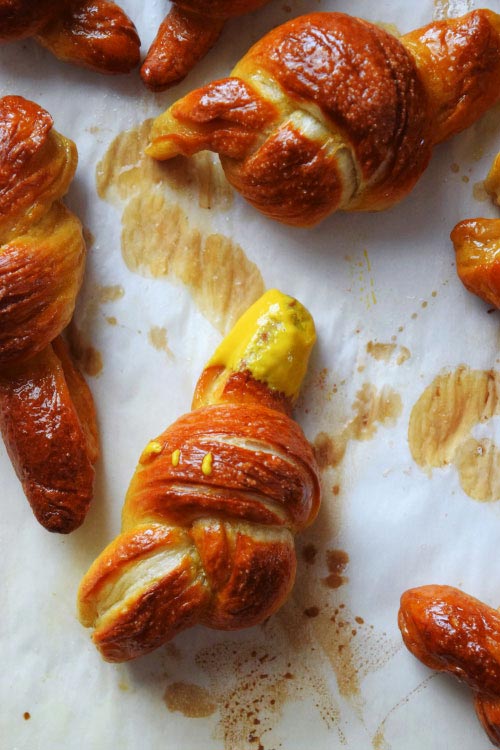 Having homemade fresh soft pretzels with lots of yellow mustard makes weekends so so much better! And if you are like me then they should be eaten on Mondays just so Monday doesn't feel this bad!! Why can't weekends be longer? They come and go in a blink and I am still tired from all the weekend running around!
This weekend was particularly loong for us as one day we were stuck for a good whole day at car dealers place and next day we were taking care of personal stuff. I am already waiting for the next weekend so I can bake a huge batch of these and just sit on couch all day long!!
Easy Soft Pretzel Knots
Ingredients
2.5 cups all purpose flour
1 tsp salt
1 tsp white sugar
(2+1/4) tsp INSTANT yeast ( DO NOT USE ACTIVE YEAST) (If you decide to use active yeast, then you will need more rising time!)
1 cup + 1 tbsp warm tap water
5 cups boiling ater
10 tbsp baking soda
Olive Oil or Melted butter for coating
Instructions
In the bowl of your stand mixer or if mixing by hands in a bowl, add flour, salt, sugar, yeast & warm tap water and mix until it's combined. Take it out on a very lightly floured surface and knead by hands for good 5-7 minutes until dough is soft & supple. It should bounce back if you poke it.
Keep it in a clean bowl covered for 30 mins or until doubled in size in a warm place.
Now take it out and keep it aside. Pre heat oven to 400F.
Bring water to boil in a deep pot.
Meanwhile, take the dough out of the bowl on a lightly greased surface. Cut it into 6 vertical pieces. Take one piece at a time, and roll it into a thin rope. Not cut this rope in to 4 inch long pieces. If the 4 inch long pieces are too wide, roll them into around 1" wide rope. Make a knot and keep them aside. Repeat with all the remaining pieces.
Now to the boiling water, add baking soda carefully as it will make it come to a roaring boil. Keep a parchment lined baking sheet ready. Add few pretzel knots in the boiling water and cook for 20 seconds. Flip them and cook for another 10 seconds. Take them out, making sure you strain all the water and place them on the baking sheet. Do with all the knots. Sprinkle the knots with salt and place them in the preheated oven for 12-13 mins or until golden brown.
Take them out and brush olive oil or melted butter and sprinkle more salt if needed.
Serve immediately with mustard!
Follow along for a lot more delicious treats and life happenings on 
INSTAGRAM || FACEBOOK ||PINTEREST ||TWITTER ||GOOGLE+
I clicked step by step pictures of the process so you know your way around. But this dough is really amazing to work with and it takes start to finish around 2 hours to make these and they are well just the best!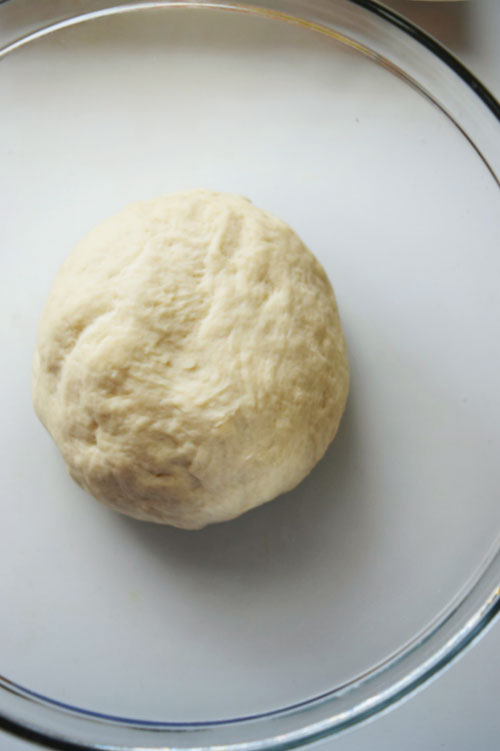 As you can see above, this is how dough looks before rising.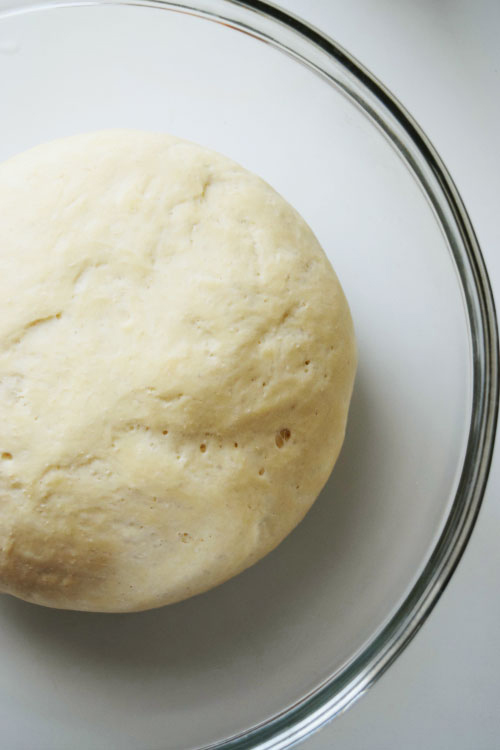 In 30 mins, dough almost doubles-triples!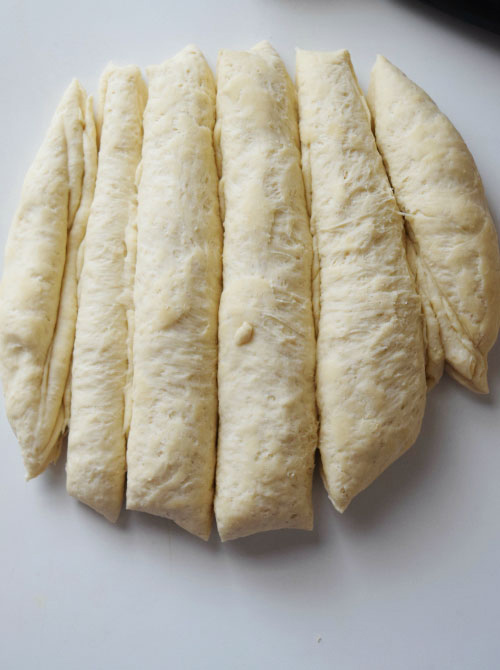 Then the dough is simply cut into 6 vertical pieces and the pieces are rolled into long thin ropes.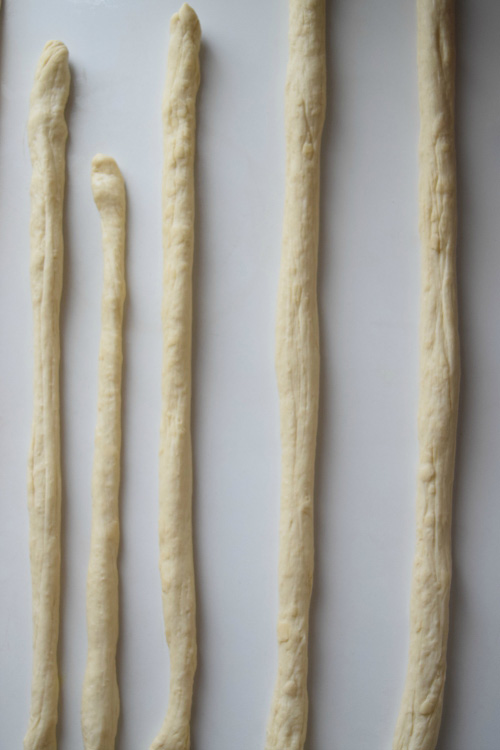 Then these ropes are cut into 4 inch long pieces and those pieces are rolled one by one into thin ropes around 1/2″ wide and 4″-5″ long.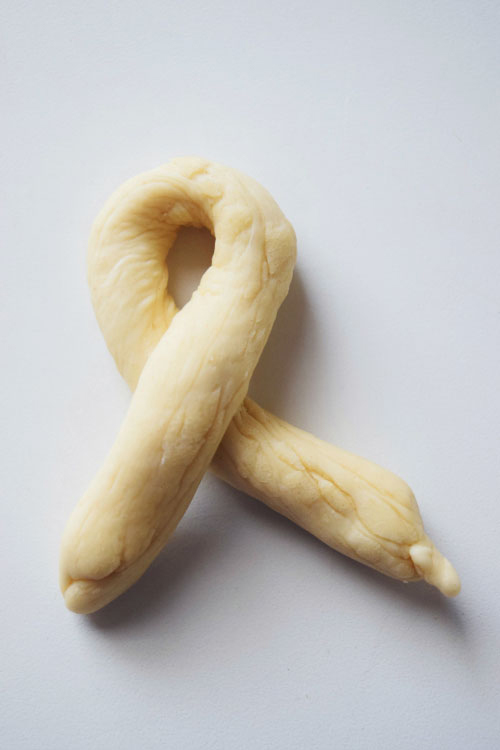 Then you simply knot them by first placing them in an inverted U shape and then placing the right foot on the left foot.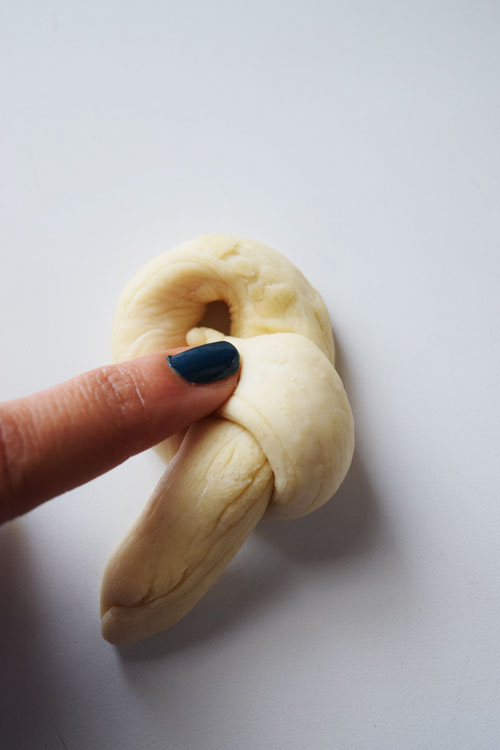 Then take the left foot inside the opening and bring it out from the other side. It is exactly like making a knot.
There you have your soft pretzel knots. But if you want a simpler option, just roll out the 6 vertical pieces into 1-2 inch wide long rope and cut in pieces. That way you can have soft pretzel bites. Same thing just different shape!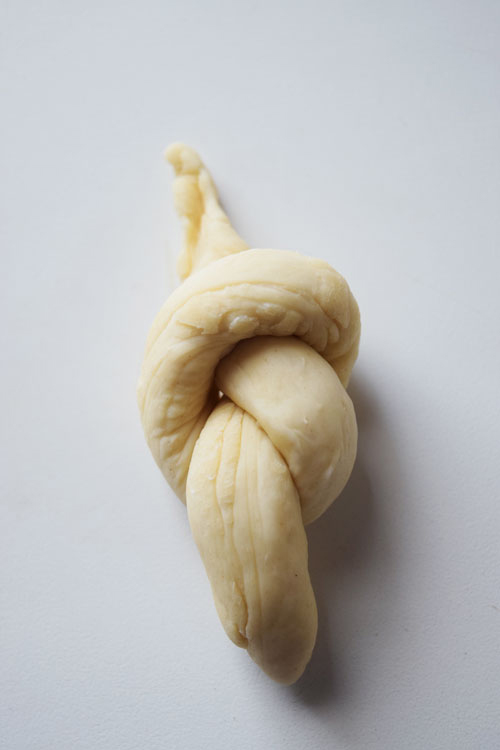 Then they go in boiling water and then they are placed on a baking sheet and generously sprinkled with salt. Then baked until golden brown for good 12-13 mins!Then they are dipped in olive oil or melted butter and they are ready to be eaten! Easy-peasy!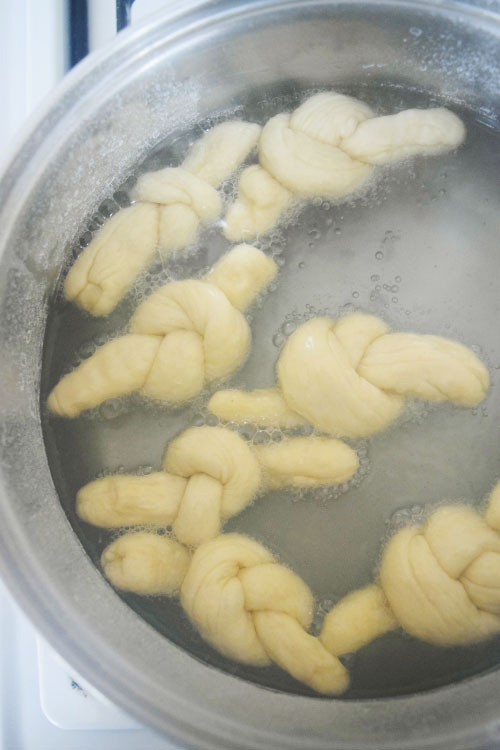 I suggest you also try my other easy step by step recipes: