Zero Oil Vegetarian Spaghetti Bolognese for a delicious healthy & comforting meal! So good that even meat eaters loved this!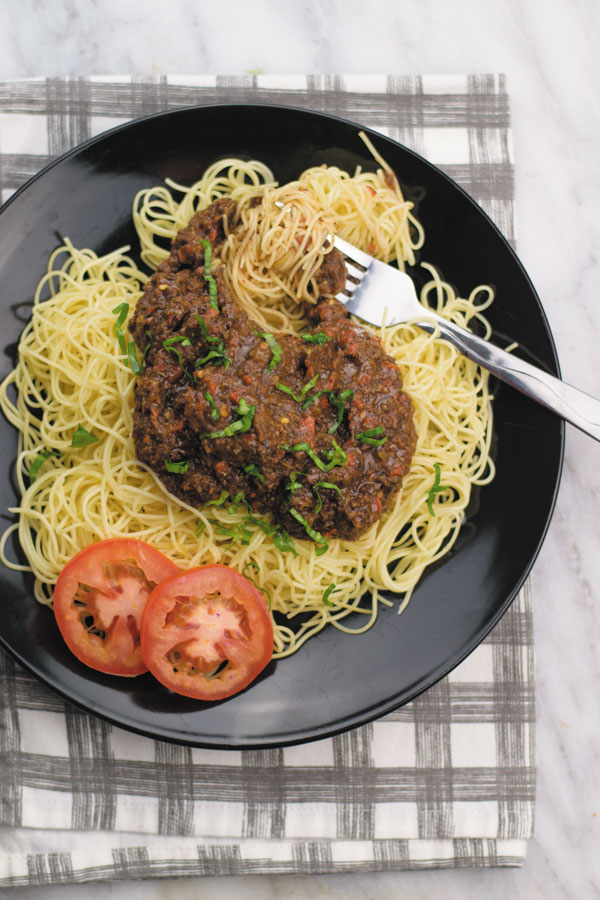 SO as I promised yesterday, we are back with regular posting routine! It has been such a relaxing long holiday that it feels so different to be back at work but so amazing. I love having a sense of routine and since last few months were really rough, it feels much better to be able to get some work done now.
So I thought since it's first Wednesday of 2017 and first recipe of 2017, I knew it had to be something healthy but extremely delicious. It's been snowing here and I have been craving warm cozy meals. This pasta sauce is everything you would like to have in a good classic bolognese – it's HEARTY, super FLAVORFUL, really HEALTHY (ZERO-OIL used), freezes beautifully (ALWAYS A PLUS!), and meat eaters equally love this! Even my husband who I believe is really picky with his pasta sauces, inhaled the sauce and LOVED it!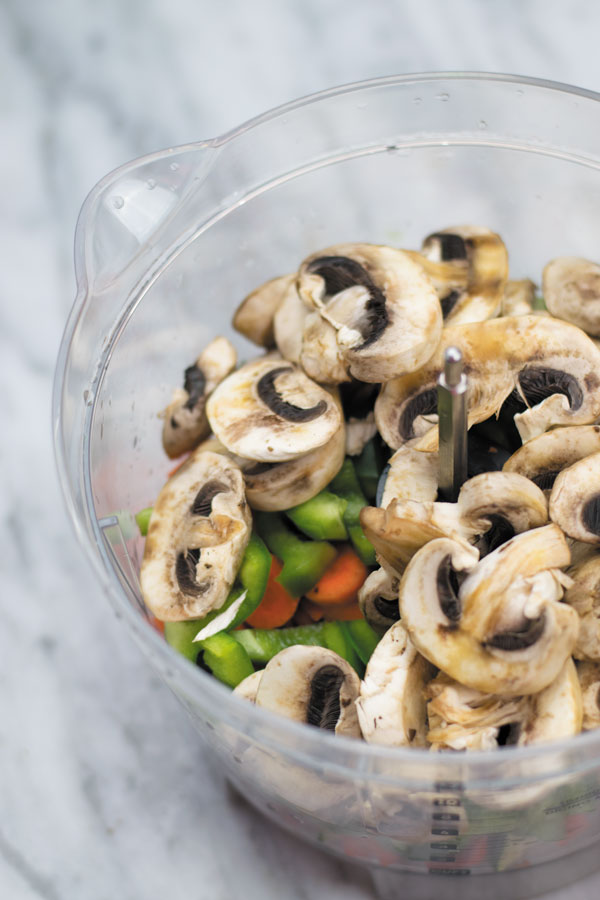 This says something! I made a big batch and now I have it sitting in fridge ready to be eaten one of these nights when it's freezing outside and all I want to do is be a couch potato, watch Gilmore Girls and eat bowls full of Spaghetti bolognese.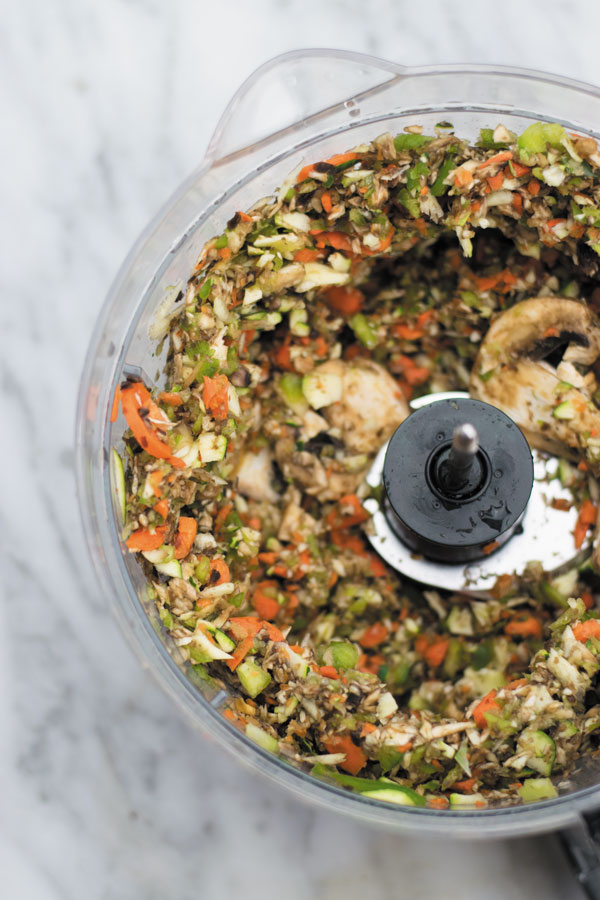 This sauce is really easy to make once you have all your veggies chopped up and for that I strongly suggest to use your food processor as it will take just 5 minutes and then all you have left is cooking these vegetables with tomato sauce and spices. There is so much flavor in this sauce that it's great served over any kind of pasta such as spaghetti, penne or over creamy polenta or enjoyed over thick toasted french bread. It also tastes great served over zucchini or squash noodles!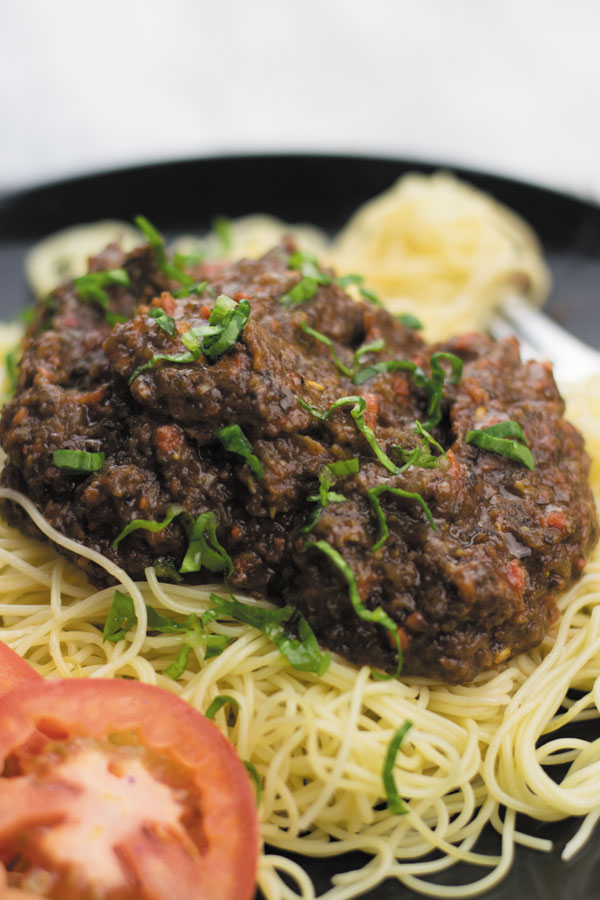 So many possibilities.
So go ahead and give this a try! If you make these or any other recipe from our blog, do tag us by using#naivecookcooks on social media channels.
If you enjoyed this recipe, don't forget to FOLLOW me on INSTAGRAM||FACEBOOK||PINTEREST||TWITTER ||GOOGLE+ || BLOGLOVIN || YouTube

Zero Oil Vegetarian Spaghetti Bolognese
Recipe type:
Pasta, Dinner, Meatless
Ingredients
Zero Oil Vegetarian Spaghetti Bolognese:
2 large carrots or 4 small-medium carrots
1 zucchini
1 green bell pepper
1 onion
4 garlic cloves
8 oz white button mushrooms
Salt to taste
⅛ tsp thyme powder
2.5 tsp basil powder
½ tsp oregano powder
¾ tsp black pepper
2 tsp red chili flakes
1 - 2 tbsp white granulated sugar (Start by adding 1 tbsp sugar and taste. If you want less acidic taste then add more sugar.)
2 cans (15 ounce each) tomato sauce, no salt added
3 tbsp mascarpone cheese
Any shape of pasta or polenta for serving
Instructions
Zero Oil Vegetarian Spaghetti Bolognese:
Roughly chop carrots, zucchini, onion, bell pepper, garlic and mushrooms. Add all this veggie mix to food processor and process using PULSE option on our food processor so you have a chunky coarse vegetable mix but not a paste.
In a deep pan add all this vegetable mix and cook for about 5 minutes. To it add all the spices and tomato sauce. Cook on low-medium for about 30 minutes or so until the sauce becomes fragrant and vegetables are cooked. Taste and adjust any seasoning if need to. Add mascarpone cheese and mix.
Meanwhile get your pasta/polenta/rice or whatever you are serving the sauce with ready.
Serve with some shredded parmesan and chopped basil.
Some more easy weeknight MEATLESS meals ->>