Breakfast pizza with health boosting kale & pistachio pesto, homemade quick hash browns with a creamy egg on top. Breakfast just got better!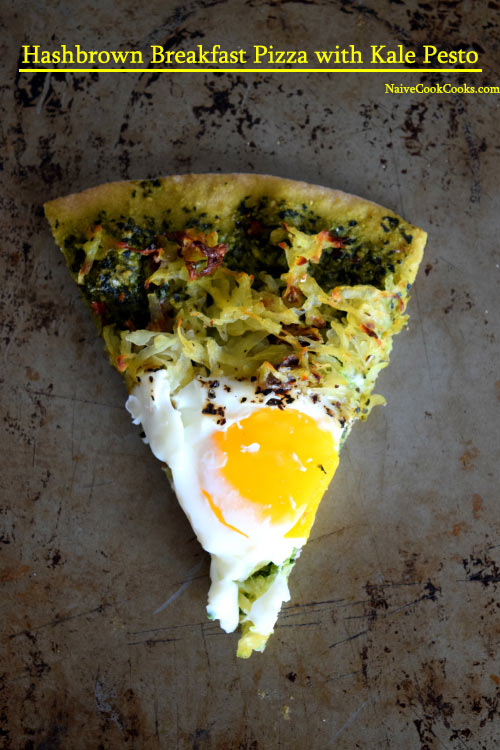 You know it's going to be a good day when you are having PIZZA FOR BREAKFAST ?!
I know in the food world it's no news and just like Breakfast-For-Dinner being a thing, Dinner-For-Breakfast is another of our favorite ways to make breakfast more delicious and something we wake up looking forward to rather than the regular boring egg & toast. Though I have found myself going through egg & toast phase for way longer than I want to remember.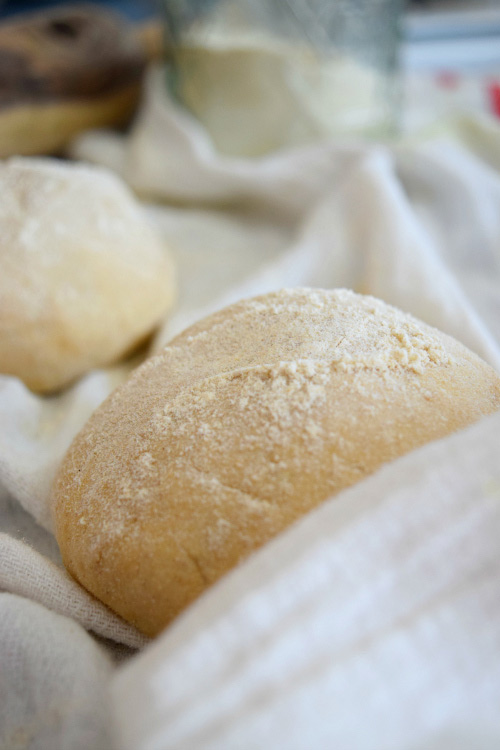 Pizza is something people of all age groups like and sadly most of the time pizza always means extra cheesy with very few veggies. I have been playing around with the idea of breakfast pizza for sometime now. There are thousand of recipes online for breakfast pizzas where leftover pizza dough is decked up the same way dinner pizza is done just with some additional eggs on top.
I, on the contrary, look forward to a healthier start to my day so it's been really hard to accept the real pizza for breakfast concept for me. But not anymore. After  brainstorming and after 3 failed recipes later (yes I had to make a whole set of fresh dough again as my leftovers were finished in the failed recipe attempts! #foodbloggerproblems), I found a winner…. Kale, Hashbrowns & Pistachio Pesto Breakfast Pizza.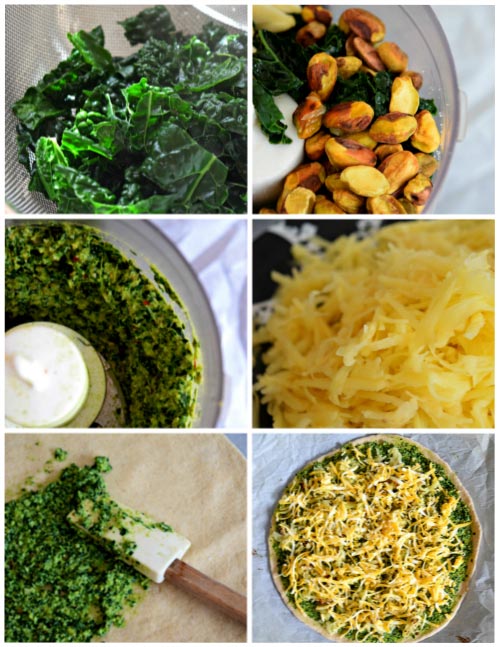 This pizza is something I woke up dreaming about. Thin crust pizza (as you don't want too many carbs but you can totally do a thick crust if that's what you like or if it's one of those indulging-days) topped with fresh homemade kale-pistachio pesto with red chili flakes, shredded potatoes crisped in a skillet for a quick minute with very little oil, some amount of your very favorite cheese and to finish of the things, an egg on top. Voila! We have a winner breakfast recipe.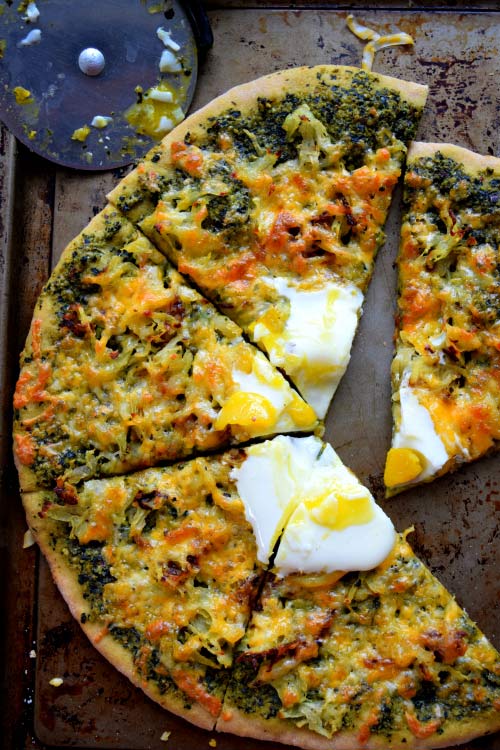 I ate it whole day yesterday for all my meals and I was so happy because 1. It tastes GREAT, 2. It's way healthier than normal pizza, 3. Getting my GREENS too and 4. Yay for breakfast all day as I look forward to a nice delicious breakfast everyday but sadly due to shortage of time, we end up with egg & toast most days.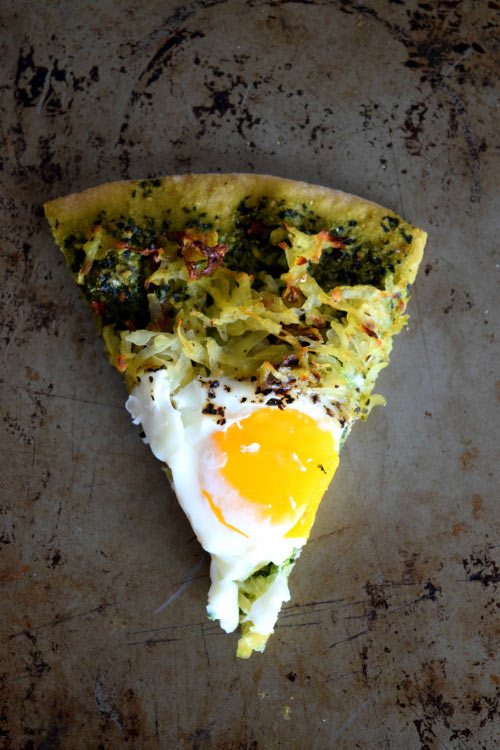 So if you are planning on doing Friday pizza night, I suggest you to make extra dough and next day for brunch whip up this easy delicious and even healthy breakfast pizza! You can even make pesto and hash browns night before to save time and then it's only assembling part left.
Kale & Pistachio Pesto "Breakfast Pizza" With HashBrowns
Breakfast pizza with health boosting kale & pistachio pesto, homemade quick hash browns with a creamy egg on top. Breakfast just got better!
Ingredients
Leftover Pizza dough (I use this recipe. It makes 2 10" thin crust pizzas or 1 thick crust pizza)
2¼ teaspoons (1 packet) active dry yeast
¾ cup warm water
1 cup whole wheat flour
¾ cup all-purpose flour
1 tablespoon honey
½ tablespoon olive oil
½ teaspoon salt
1-2 tsp chili flakes (optional)
Kale & Pistachio Pesto
2 cups organic tuscan kale or any kale, chopped
¼ cup pistachios, roasted
2 garlic cloves
Salt & Black Pepper to taste
¼ cup olive oil
¼ cup parmesan cheese
2-3 tbsp water
Red chili flakes (optional)
Juice of lemon to taste
Homemade Hash Browns (OR You can buy frozen ones or even fresh from stores and use those)
6 smallish size potatoes, peeled and shredded (~2.25 cups packed shredded and squeezed potatoes)
1 tsp oil
Salt & Black Pepper to taste
2-4 eggs
Colby jack cheese, shredded (1-2 cups), divided
Instructions
Pizza Dough
In a bowl, to warm water dissolve yeast and honey. Let it sit for few mins until it starts to foam. Add both flours,salt,olive oil and chili flakes. Knead until smooth. If it feels too dry, add little bit more water. Add little olive oil in a clean bowl and transfer the ball of dough in there. Wrap with a plastic wrap and let it sit in warm place for good 2-4 hours or until it doubles in size.
Pesto
Blanch kale in hot water for 2 mins. Strain and rinse with cold water. Squeeze out additional water from kale and set aside. Add all the pesto ingredients in a high speed blender and blend until smooth.
Hash Browns
Squeeze all water from shredded potatoes. Heat oil in a skillet and add shredded potatoes. Add salt and pepper. Let them cook on med-high for 2-3 mins. Stir around and keep on the side. We just want some potatoes to get really crispy but even if all potatoes are not cooked it's ok as they will get cooked with pizza.
Assembling pizza
Roll out your first pizza dough (if making 2 thin crust ones otherwise you will have 1 thick crust pizza). Spread half of the pesto. Top it with half of the hash browns, cheese and some more salt & pepper. Cook at 400F for 8 minutes. Now break 1-2 eggs gently on top of the pizza and cook for another 4-6 minutes or until eggs are set to your preference.
Serve with your favorite hot sauce.
More Breakfast Recipes: