Decadent white chocolate truffles with tropical flavors will make you dream of your next vacation! Lime zest infused white chocolate truffles rolled in coconut to make the most delicious creamy truffles!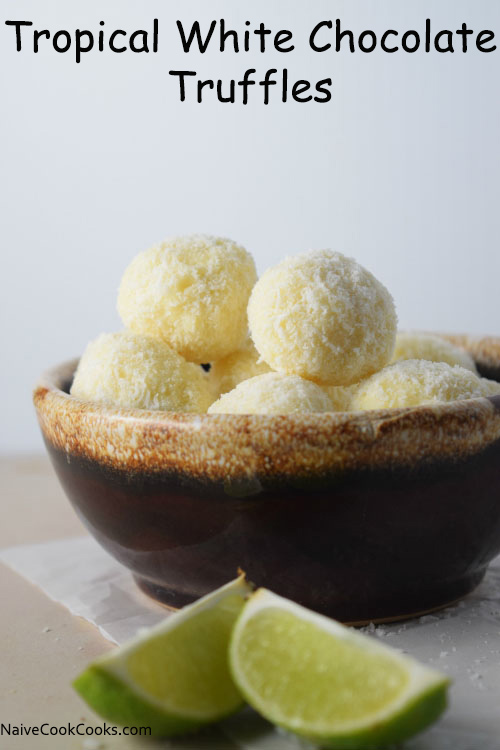 Monday needs these truffles.
With temps soaring to 100 degrees, weekends here are spent mostly hanging in the pool with chilled beer and music blasting. Yestreday it felt like e were living in 90's! I know we are finally doing summer things and it feels so so good! Last night I made my WHITE CHICKEN CHILI for dinner and it was amazing with lots of rice and yes these truffles followed shortly!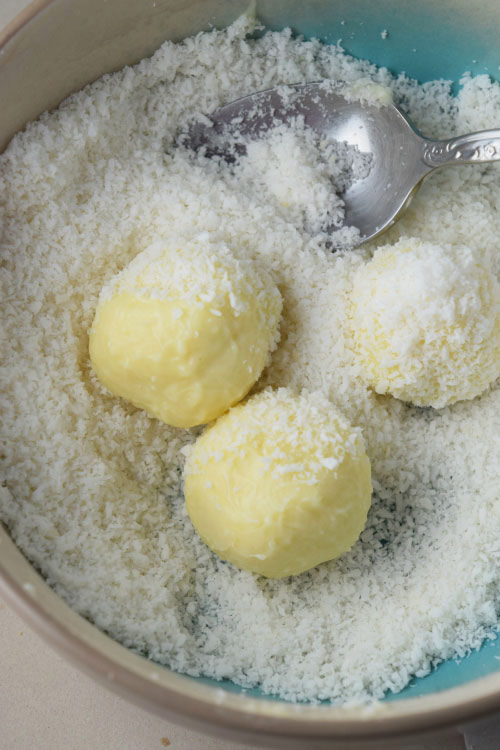 Lets me start by confessing that making truffles is so so easy! I am not kidding. I always used to feel it will be so hard to learn to get the right texture and taste but was I wrong. Good quality ingredients and lots of patience is what you need to make store bought quality truffles at home.
 Now you won't need to shell out those ridiculous prices for "A" piece of truffle anymore since you can have them in your refrigerator ALL THE TIME . This recipe is an addition to my ongoing Lime obsession and after that LIME CRACKER ICE CREAM , all I could think was how to incorporate lime in another dessert, as well if given an option to choose between sweet & savory, I will definitely pick sweet like always!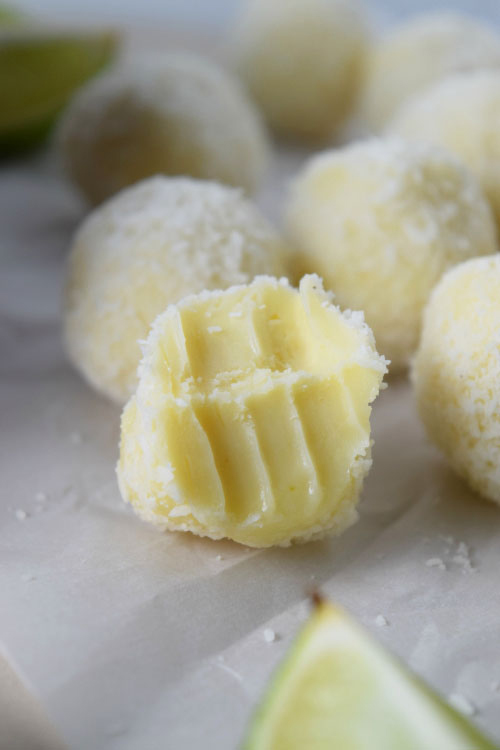 Lately I am having truffles with my black coffee for breakfast/evenings like regularly and with down to only one truffle, I need to make more of these! So so good. Try them with your coffee!
Help in spreading the word!
Follow along for a lot more delicious treats and life happenings on INSTAGRAM || FACEBOOK ||PINTEREST ||TWITTER ||GOOGLE+

Tropical White Chocolate Truffles
Ingredients
⅓ cup plus 1 tbsp heavy cream
Zest of one lime
1 tbsp freshly squeezed lime juice
1.25 cups chopped white chocolate
Pinch of salt
½ stick butter, cut into small pieces
1 cup unsweetened shredded coconut powder (If you cant find shredded coconut powder, chop it by hand or in a blender so it's fine)
Instructions
In a pot, combine heavy cream & lime zest and bring it to a light simmer around the edges by heating it gently on medium flame. Turn off the gas and cover and let it sit for around 20 mins.
In another bowl, combine chocolate, salt & butter & microwave for 45 seconds and keep aside.
Afetr 20 mins are up, reheat the cream mixture bringing it again to a simmer. Turn off the heat and stir in the fresh lime juice.
Place a strainer over the bowl of chocolate and strain the heavy cream mixture by pressing on the zest so all juices are extracted.
Whisk it so all the chocolate and heavy cream mixture is mixed evenly. Cover with a plastic wrap and chill in refrigerator for 4 hours to overnight.
Once chilled and manageable, roll into small size balls and then coat them with finely shredded coconut. Transfer to an airtight container and store covered in refrigerator! Enjoy.
Notes
P.S Truffle recipe adapted from
HERE
.
More recipes??
https://www.naivecookcooks.com/lemon-bar-muffin/
https://www.naivecookcooks.com/quinoa-oat-summer-tarts/