Creamy Yogurt based potato salad with fresh green chilies, potatoes and simple spices makes for an elegant potato salad!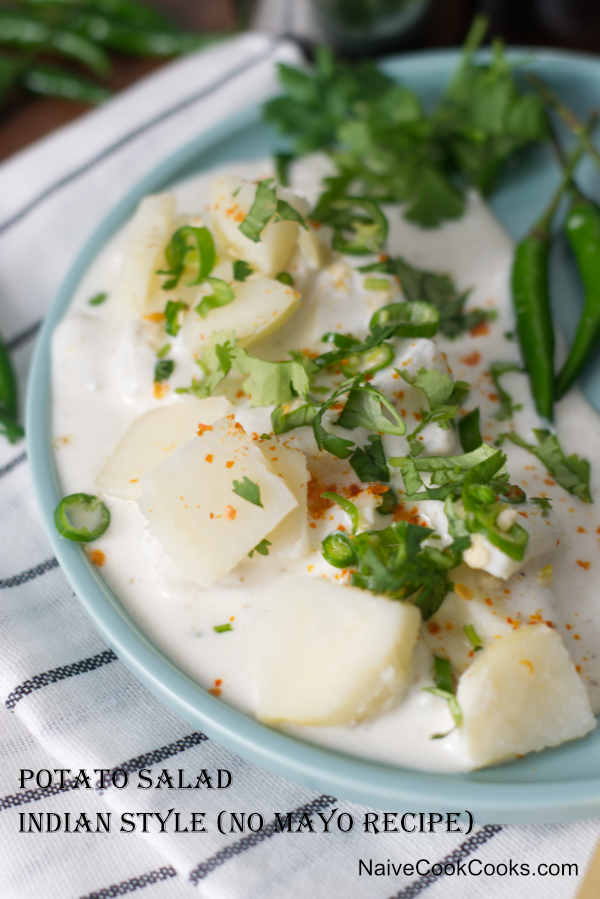 Are you still eating potato salads??
I mean I know it's all the rage around 4th of July when you are doing tons of BBQ, hanging out with your friends or simply cooking outdoors. It's still hot so most of the time I don't really like cooking elaborate meals and that's when meals like these come to existence. This potato salad is my all time favorite! And when I say that I mean like serious all-time-favorite since I have been eating this since I was a kid. It was sort of a summer ritual at our home.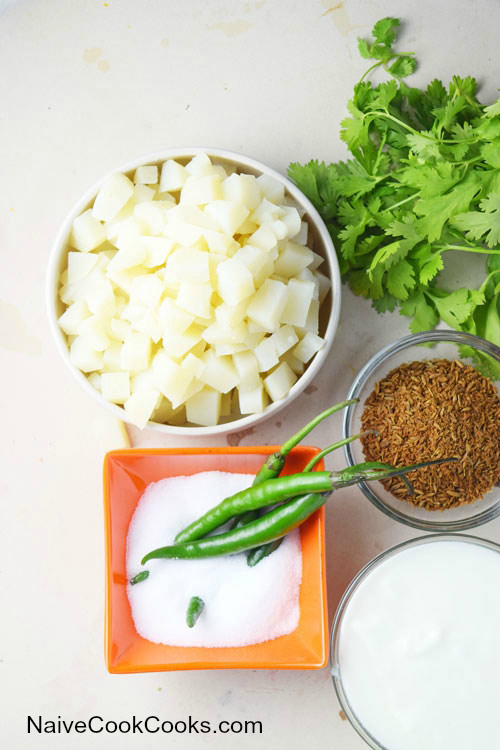 My mother would make this creamy cilantro potato salad at least one day of the week during hot Indian summer and I would lick my bowl clean. The FLAVORS! Super simple yet the taste rocks. Green chilies imparts heat while yogurt & cilantro keeps it cool making it an ideal or should I say a must summer salad! And ROASTED CUMIN SEEDS!! Do not skip those. I mean seriously they are like minute flavor packed seeds and once you roast them, the flavor intensifies and let me warn you that your kitchen & house will smell amazing! Trust me.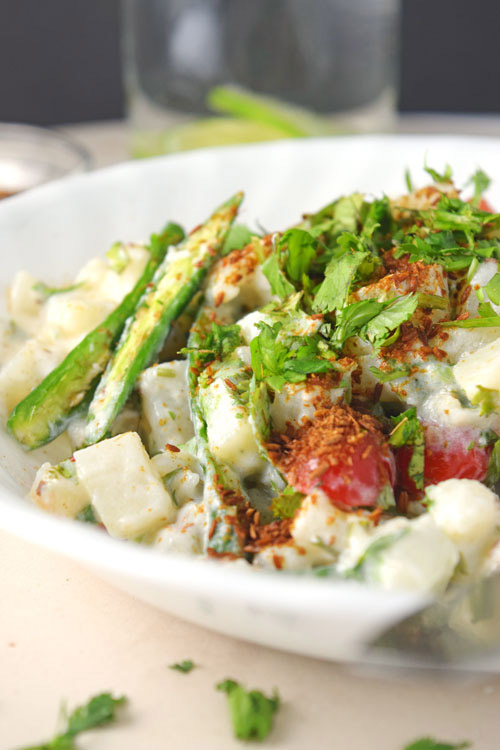 If you want to get extra fancy, you can certainly add boiled egg slices, may be some roasted greens like asparagus on the side but I must say it's GREAT as it is. Just go with what I say and make it exactly the way it's described here. You will love it, guaranteed. And and it stores well too! So you can take the leftovers to work! Your work friends will be jealous (I wish I had work friends but working from home means my only work friend is my laptop and well, kitchen!)
Colors!!
Help in spreading the word!
Follow along for a lot more delicious treats and life happenings on INSTAGRAM || FACEBOOK ||PINTEREST ||TWITTER ||GOOGLE+

Creamy Yogurt Cilantro Potato Salad
Creamy yogurt potato salad!
Ingredients
2 potatoes, boiled, peeled & chopped finely
¾ cup thick yogurt, plain or greek
Salt to taste
1-2 tsp roasted & crushed cumin seeds (as per taste)
1-2 green chilies, chopped fine
¼ cup fresh cilantro, finely chopped
Few grape tomatoes, chopped in half (optional)
Instructions
In a bowl, add yogurt, salt, green chilies & cumin. Stir it all together. To it add chopped potatoes and cilantro and mix again. Taste and adjust salt, cumin seeds, green chilies or cilantro as per you taste. You can at the end add some grape tomatoes for a nice color.
Chill before serving or serve at room temperature.
It stays good covered in refrigerator for 1-2 days.
More recipes??