Triple Fun Coconut Chocolate Bars is loaded chocolate and coconut bars stuffed with crispy toasted almonds. Perfect treat for any time of the day!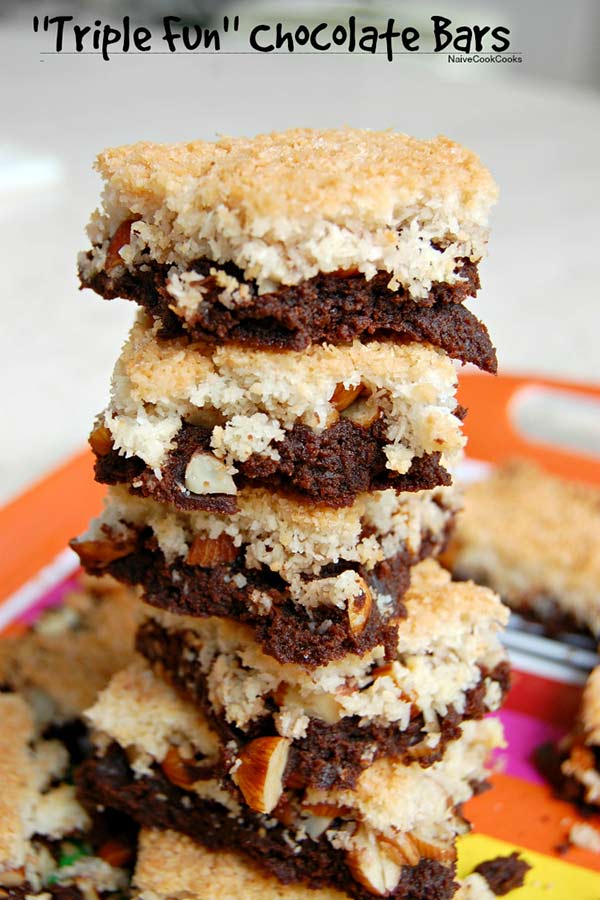 These bars. I can't even talk about these without stuffing myself with one of these. These are perfect breakfast bars to be eaten with a cup of black coffee. If you know me by now, you know how much I love coffee. So I am always on the lookout for snacks or goodies to go with my coffee. This chocolaty coconut almond bars are perfect coffee accompaniments. But worry not! These taste equally good without coffee too. Don't worry you coffee and tea haters! You will love these no matter what, coffee or no coffee!
I like to call them triple fun chocolate bars. Well, why not?! The base or the bottom layer is made up of dense and fudgy chocolate goodness. Topped with toasted crispy chopped almonds, we make a coconut batter and add it on top as the final layer. The combination of chocolate-crispy toasted almonds & coconut makes it one of a bar. The tastes complement each other very well and it is one power-packed little-indulging mood-booster bars. What better way to boost your mood than chocolate coated delicious fudgy bars.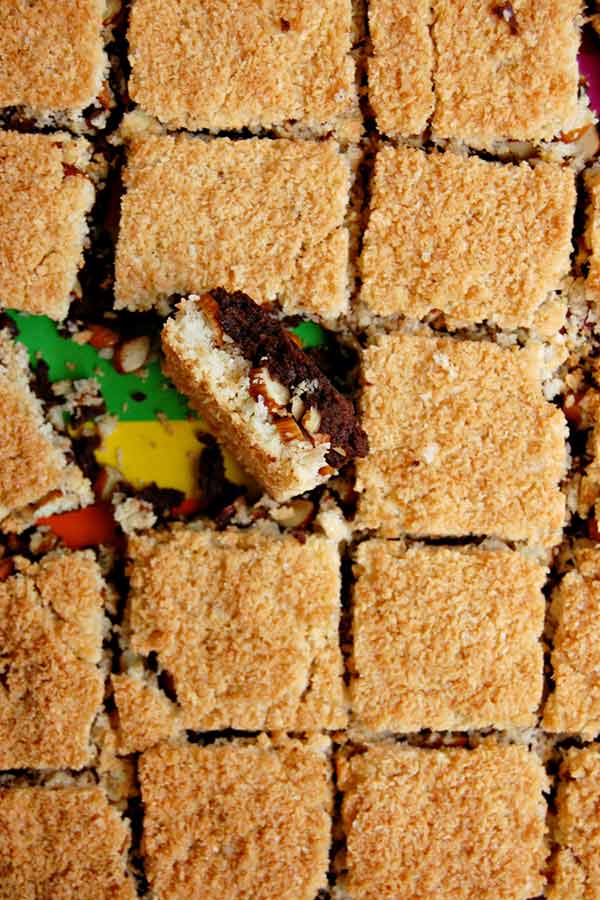 I have been on a breakfast kick lately. Remember those sweet potato waffles which I posted recently and I ended up eating them few days in a row. Now it's these bars. Being consumed here on a dangerous level, they are a sure winner.
On another note, can you even believe that fall is upon us. I can not believe it seriously. Summer went by too fast and I feel I couldn't make proper use of all the summer bounty. But better late than never. So I am gearing up for utilizing fall weather produce to its fullest and creating healthy, indulgent and mostly a balance of healthy & comfort food recipes for you all. This week I have been totally in the fall mood and as you can tell from what I posted last two days : sweet potato waffles with vodka sauce and asparagus-pea grilled cheese and now comforting chocolate coconut bars. Fellas, gear up. Fall is hear and so is tons and tons of good healthy comfort food.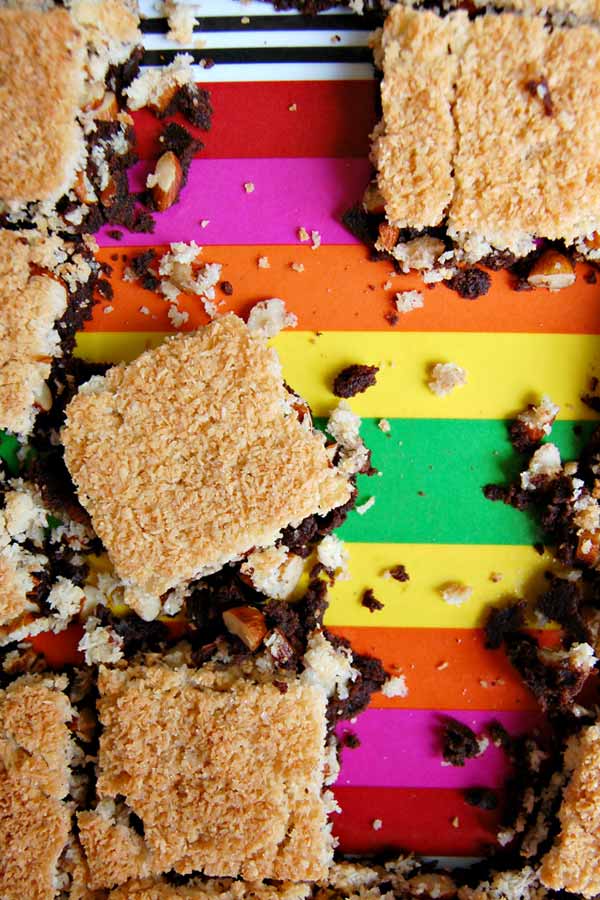 I got so consumed with these bars that I ended up photographing them for a good 30 mins and you can see the result here. I hope you don't mind this picture madness?!
So these bars, make them now!!
Triple Fun Coconut Chocolate Bars
Delicious fudgy triple layer chocolate coconut bars with toasted almonds sandwiched between chocolate and coconut layers! Breakfast on the go or treat perfect for anytime of the day!
Ingredients
Chocolate Layer
4 oz unsweetened chocolate, chopped in small pieces
8 Tbsp unsalted butter (1 stick)
2 tbsp olive oil
¾ cup granulated sugar
½ cup firmly packed brown sugar
2 large eggs
½ tsp vanilla extract
1 cup unable ached all purpose flour
Pinch of salt
1 cup whole natural almonds, toasted and chopped
Coconut Topping
½ cup granulated sugar
1 large egg
1 tbsp all purpose flour
½ tsp baking powder
½ tsp vanilla extract
2 cups shredded coconut
Instructions
Preheat oven to 325F. Line a 13*9" baking pan with foil or parchment paper. Grease it lightly and sprinkle with flour.
In a microwave safe bowl, add chocolate, butter and olive oil and melt on. High for good 1.5 minutes until almost melted. Stir with a wooden spatula until smooth. Beat in eggs,sugar and vanilla until smooth. Beat in flour and salt and stir until smooth. Spread in an even layer on the lined baking sheet.
Toast the almonds (if not already toasted) on skillet for 5-7 mins until toasted. Let them cool. Chop and sprinkle evenly on top of the chocolate layer.
In the same bowl, add sugar, egg, flour, baking powder and vanilla in a bowl. Whisk until smooth. Stir in coconut. Spread evenly on top of the almonds. Bake for good 25-35 minutes until golden and just set to touch. I found mine done in around 32 minutes. But keep an eye and keep your nose open as it tends to get burnt very easily!
Cool completely in the pan on a wire rack.
Once cooled, lift the foil or parchment paper along with the cooked bars. Cut in desired shapes and sizes. Store in an airtight container.
Notes
Ami says
Recipe adapted from " Ladies home journal" book.
I feel you can easily swap unsweetened chocolate for sweetened chocolate. Just remembered to adjust sugar accordingly.
More Fun Bar Recipes: 
https://www.naivecookcooks.com/no-bake-oreo-nutella-bars/