Asparagus green pea salad stuffed grilled cheese made in french bread with fontina cheese to make it the most amazing grilled cheese sandwich of all times!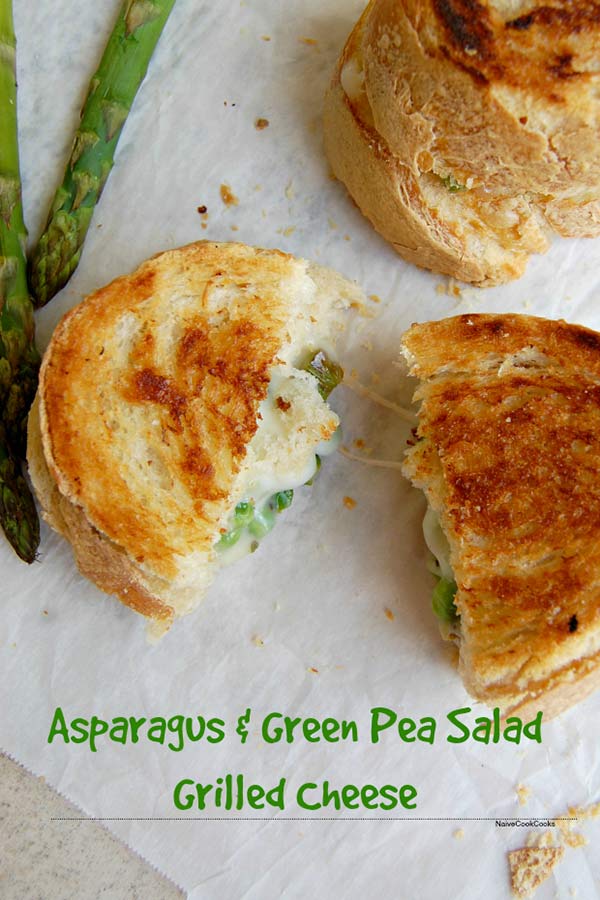 This grilled cheese!!
I absolutely love grilled cheese sandwiches and over and over, I find myself creating the same kinds with cheese, chips and lots of my favorite hot sauce. I must tell you that nowhere this old favorite of mine is a common grilled cheese. It deserves it's own post one day.someday.may be soon!
This current favorite of mine on the other hand is equally good though I won't lie I still have soft spot for those just cheese based grilled cheese sandwiches. While in NY, we grabbed lunch from a sandwich shop and I felt that all those long walks in NY deserved a hearty grilled cheese sandwich for lunch. So I settled for an asparagus green pea salad grilled cheese. It sounded intriguing and I had to get it. You know, try it and if I like it recreate it for this space so you guys can have it as well. Best part of this job  if I say so!
It was a very good combination together and I never thought of putting green peas in my grilled cheese before. Who puts green peas in grilled cheese anyways?! But I am glad that I tried it and after returning I recreated it and I am glad that green peas didn't stop me from trying this amazing cheesy gooey sandwich! I am telling you it is super simple and even picky eaters in your family will enjoy this. You won't expect this combination to work but boy, it does work. The tang from green pea – asparagus salad along with amazing melted fontina cheese makes it a classy grilled cheese. Grilled cheese gone modern!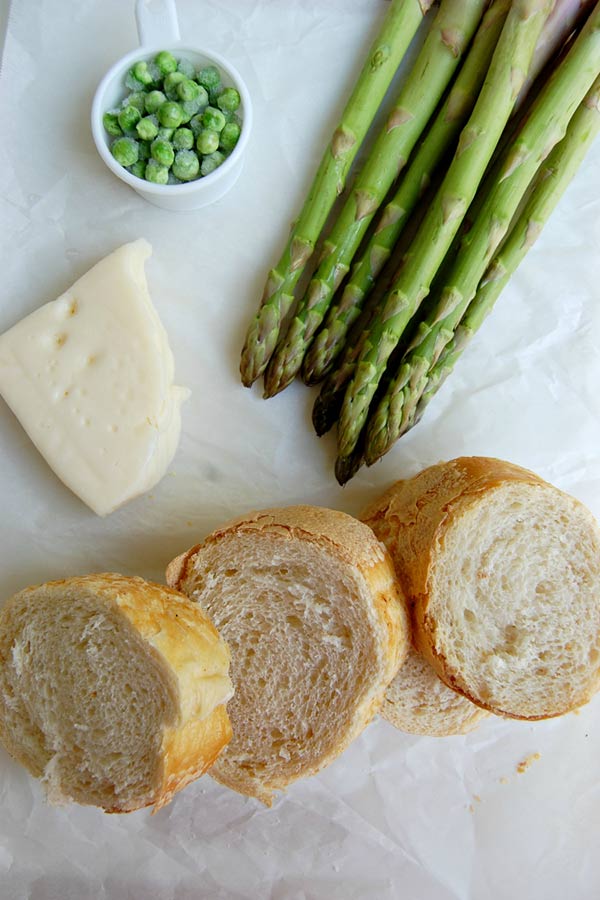 I know, it's not asparagus season but you don't have to have super thin asparagus stalks. I was able to find thick asparagus stalks at local grocery store. Just chop the ends and roast them either in oven or on your grill or even on your skillet. Once they are soft to touch, take them off the heat. Chop in small pieces. Just a quick asparagus and pea salad and then stuffed into bread with lots of cheese. It is grilled cheese anyways, so don't be afraid of cheese!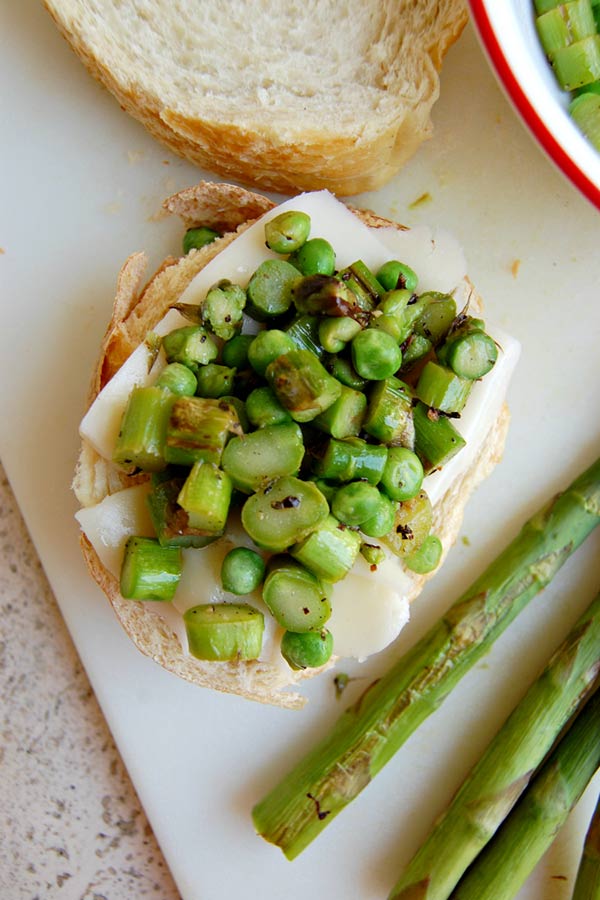 I call it grilled cheese without guilt. You get your comfort food plus greens too!
I am planning on making it again and serving for dinner with some soup like split pea or spinach-feta or my other favorite thai acorn squash soup. My mouth is watering just thinking about this future-meal!
 Do you see that gooey cheese popping out of the sandwich. It is that good. Eaten by itself or with some hot sauce on the side or dipped in hot soup, it is a complete meal in itself. You need to make this tonight!! Pick your ingredients on the home from work and you will thanks your lucky stars!! It will make even tough day seem bearable.
Can't even stop staring at this cheese!
Asparagus Green Pea Salad Grilled Cheese
Delicious Cheesy Grilled Cheese sandwich stuffed with asparagus & green pea salad and lots of fontina cheese! Must try!
Ingredients
4 thick slices good quality french bread or any other bread
2 Tbsp butter
1 tsp olive oil
Salt to taste
Black pepper to taste
Juice of lime as per taste
4 asparagus stalks with ends cut and grilled or roasted until soft
¼ cup green peas, fresh or frozen
4 ounces fontina cheese
Instructions
In a bowl, add green peas, small chopped pieces of grilled or roasted asparagus, salt, black pepper, lime juice and olive oil. Stir and adjust as per taste.
Smear butter on one side of all the breads. Lay buttered side down on a skillet for few minutes. Pile on two slices, cheese then asparagus-pea salad then more cheese. Cover them with the other two slices. Cook the sandwiches by pressing down. You may also cover the sandwiches with a large deep skillet or bowl so cheese melts faster.
Serve immediately.
Notes
These sandwiches taste best eaten once done. But you can make them ahead and just warm them again on skillet or panini maker when eating later.
Looking for a GOOD bread Recipe for the Grilled Cheese?:
https://www.naivecookcooks.com/stout-beer-multi-grain-bread/