Triple Fun Coconut Chocolate Bars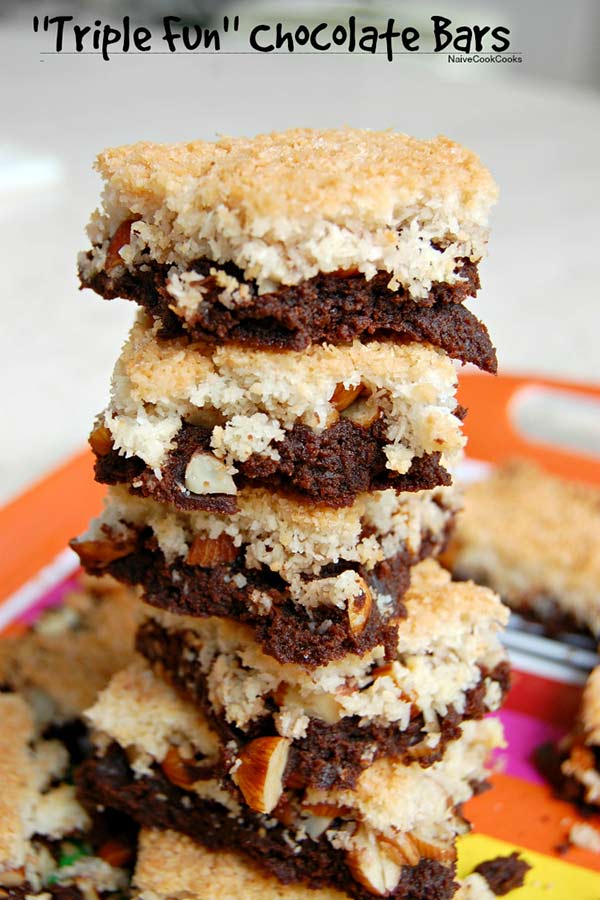 4 oz unsweetened chocolate, chopped in small pieces
8 Tbsp unsalted butter (1 stick)
2 tbsp olive oil
¾ cup granulated sugar
½ cup firmly packed brown sugar
2 large eggs
½ tsp vanilla extract
1 cup unable ached all purpose flour
Pinch of salt
1 cup whole natural almonds, toasted and chopped
½ cup granulated sugar
1 large egg
1 tbsp all purpose flour
½ tsp baking powder
½ tsp vanilla extract
2 cups shredded coconut
Preheat oven to 325F. Line a 13*9" baking pan with foil or parchment paper. Grease it lightly and sprinkle with flour.
In a microwave safe bowl, add chocolate, butter and olive oil and melt on. High for good 1.5 minutes until almost melted. Stir with a wooden spatula until smooth. Beat in eggs,sugar and vanilla until smooth. Beat in flour and salt and stir until smooth. Spread in an even layer on the lined baking sheet.
Toast the almonds (if not already toasted) on skillet for 5-7 mins until toasted. Let them cool. Chop and sprinkle evenly on top of the chocolate layer.
In the same bowl, add sugar, egg, flour, baking powder and vanilla in a bowl. Whisk until smooth. Stir in coconut. Spread evenly on top of the almonds. Bake for good 25-35 minutes until golden and just set to touch. I found mine done in around 32 minutes. But keep an eye and keep your nose open as it tends to get burnt very easily!
Cool completely in the pan on a wire rack.
Once cooled, lift the foil or parchment paper along with the cooked bars. Cut in desired shapes and sizes. Store in an airtight container.
Ami says
Recipe adapted from " Ladies home journal" book.
I feel you can easily swap unsweetened chocolate for sweetened chocolate. Just remembered to adjust sugar accordingly.
Recipe by
Naive Cook Cooks
at https://www.naivecookcooks.com/triple-fun-coconut-chocolate-bars/