Tex Mex style Deviled eggs are perfect for brunch, breakfast, evening snack or a quick & easy party option.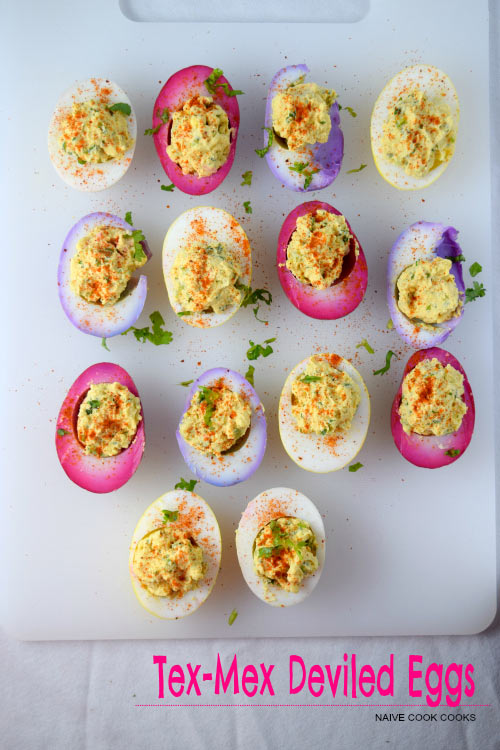 I like to call these "CRAZY" deviled eggs. The bright colors (all natural dyes: post here) make them look like sort of crazy minions. I seriously don't know why, you might thing that sounds so childish but telling you to me they sort of remind of those cutesy minions when they turn into crazy goofballs.
Since I tried my hands at these naturally colored eggs, My mind has been exploding with ideas. The first which was so obvious after you have tons of hard boiled eggs sitting is to make deviled eggs. I have never been a deviled eggs person but once Jerry made me try these, I was changed. But these new spicy deviled eggs with tex mex style filling and a little kick are totally my cup of tea now.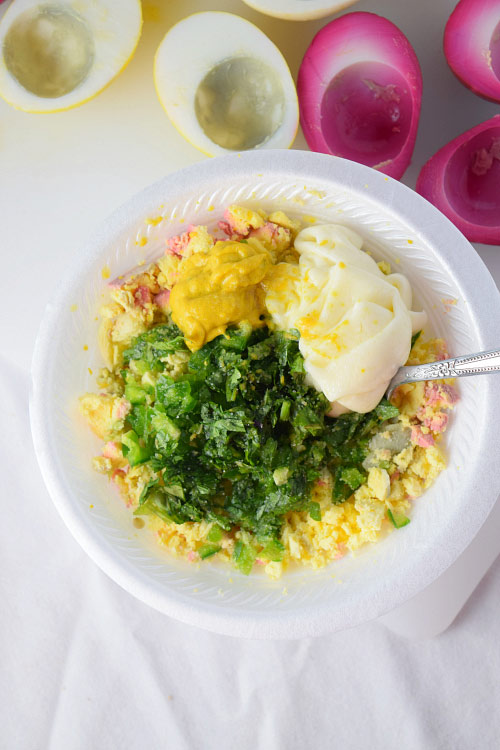 I mean they are almost healthy so there is no worries and with these colors they look almost too irresistible. If you have kids, these colored eggs are perfect to make with them and you can let them eat them without any worries of artificial colors and as for this filling, for kids you can just go the classic deviled egg route. For adults these jazzed up deviled eggs will steal your next show for sure.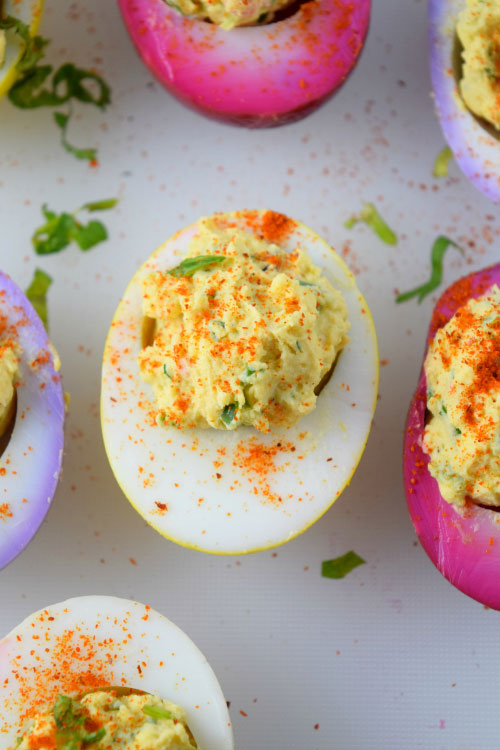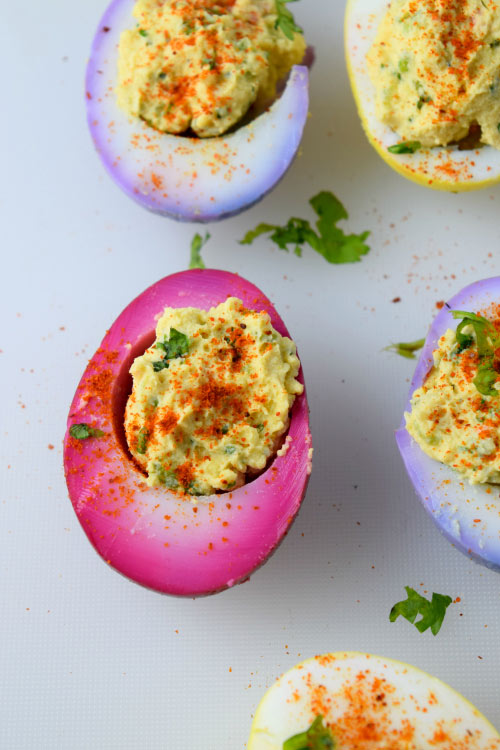 Apart from boiling, start to finish they take 10-15 minutes max to make and are perfect for your upcoming Easter brunch. I was so impressed at how these turned out and I think you will love them too. On a little different note, how far are you in season 3 House of Cards?? I am half way and loving it but I must say season 1 & 2 were so much better than season 3, atleast I like to think that. Any other good shows or movies you have been into lately?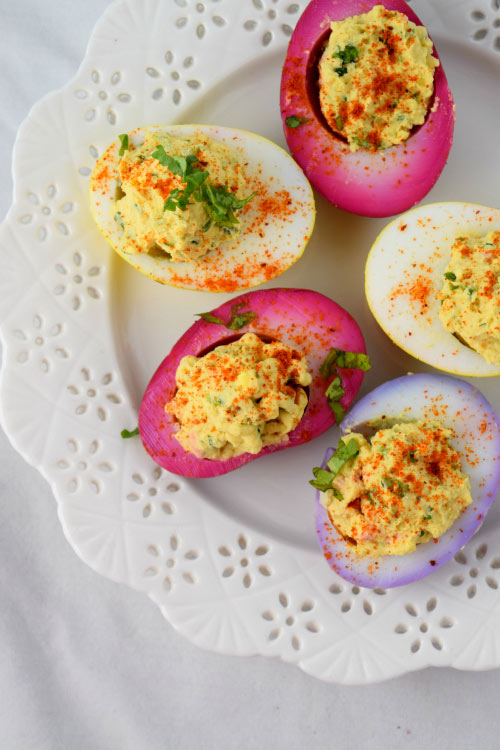 This reminds me that they are an awesome healthy snack for a movie night too!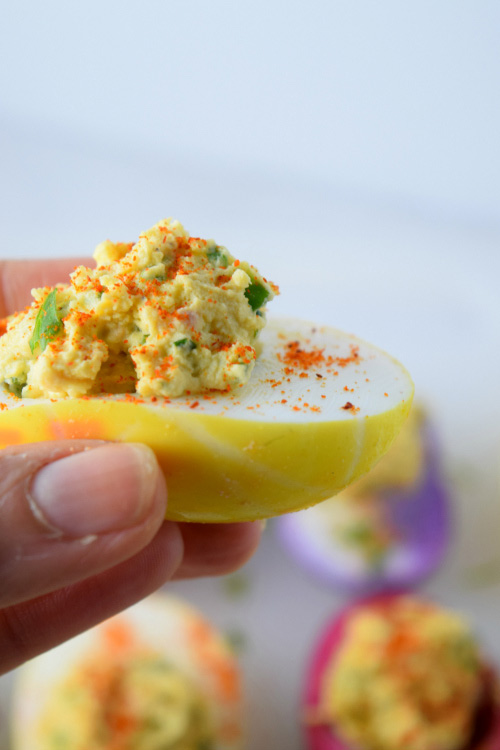 Sharing is Caring, remember those wise words?!! 
Follow along for lot more delicious treats and life happenings on INSTAGRAM || FACEBOOK || PINTEREST 

Tex Mex Deviled Eggs
Ingredients
7 hard boiled eggs (If you want them naturally colored, you can check out the previous post)
1 tbsp finely chopped cilantro plus additional for sprinkling
½ jalapeno, chopped fine
Salt to taste
5 tbsp low fat olive oil based mayonnaise ( OR simply use the one you like)
1-2 tsp jalapeno mustard (OR your favorite mustard)
Salt to taste
Black pepper to taste
Chili Powder for sprinkling on top
Instructions
Cut the hard boiled eggs in half lengthwise. Carefully take out the yolks and transfer to a bowl. Smash them using a fork. To them add rest of the ingredients except chili powder. Mix it all real nice until everything combines evenly. Taste and adjust. Dollop the filling in the yolk holes in eggs. Sprinkle with chili powder and chopped cilantro.
Serve.
Notes
These can be made few hours in advance. Just cover with a plastic wrap and keep either refrigerated or outside depending on the weather. I personally like eating them at room temperature.
Recipe adapted from MyRecipes.com
More Appetizer Recipes for Parties: