These baked chicken wings are super crispy on the outside while the meat inside is soft & tender. Dipped in a sweet & spicy ginger-garlic dressing (inspired by Momofuku Bar in New York) these make for a delicious snack or dinner!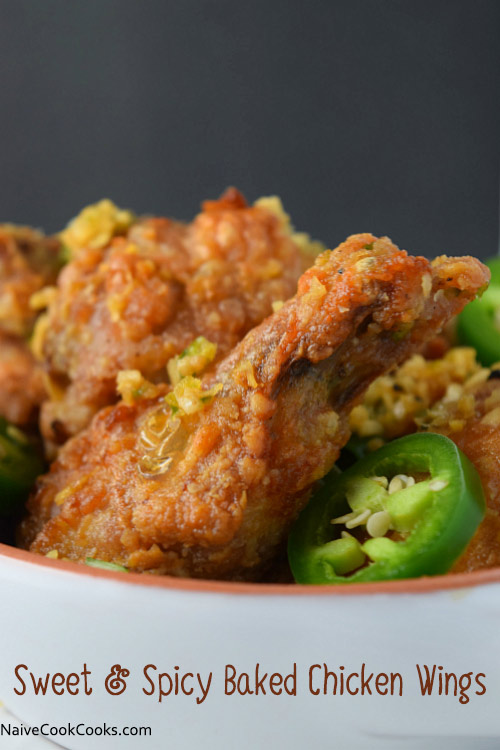 These Wings!
There are times when I get in cooking rut and make same thing over and over again and that's what was happening with my chicken wings. Everytime I would make them the exact same way and even though these baked buffalo wings taste always great, we wanted something new & exciting.
I have heard so much about Momofuku bar and their amazing food that when I came across their version of fried chicken wings in a Asian sweet & spicy dressing, I simply couldn't look away.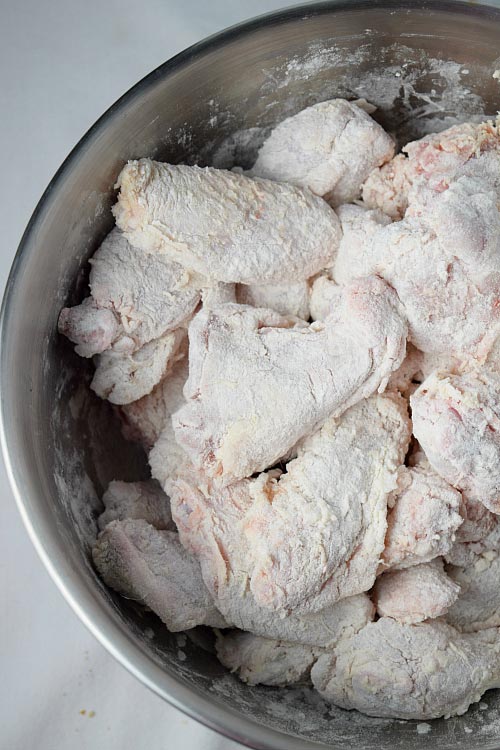 I don't own their cookbook yet but I have already added it on my amazon list. They are known for their creative recipes and this recipe is one of those. I adapted the dressing recipe as per our taste and even though I was hesitant when I saw the amount of ginger-garlic that I was needed to chop for this dressing, it was delicious. If you love the sweet & spicy combo of Asian dressings, these wings are for you.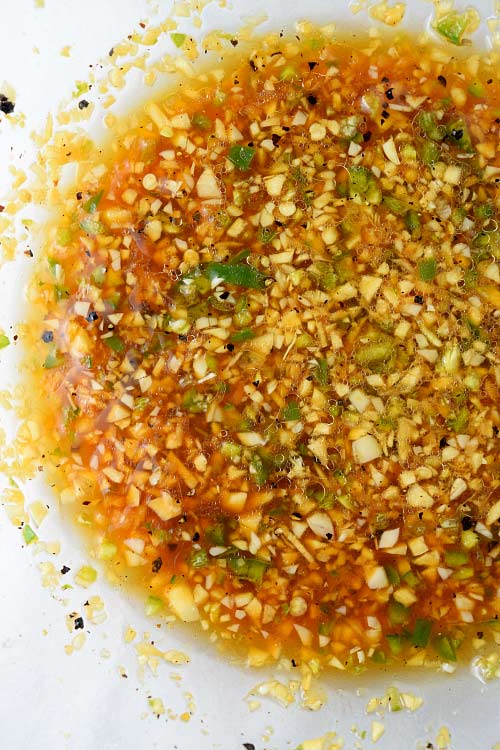 The best part about baking chicken wings is that they are almost as crispy as their fried version but comes with a lesser guilt. After you have baked your chicken wings to crisp perfection, drench them in this dressing and SERVE IMMEDIATELY (that's very important here or you will end up with soggy wings which are a huge turn off for crispy wing lover like me!)
Ohh and something completely out of topic! Orange is the new black season3 is going to be out soon and even though I have met both haters/lovers of this show, I have no guilt in admitting my love for this show. I am thinking of keeping june 12th completely free so I can binge watch! Ahh that reminds me how much I miss having summer vacations as a kid.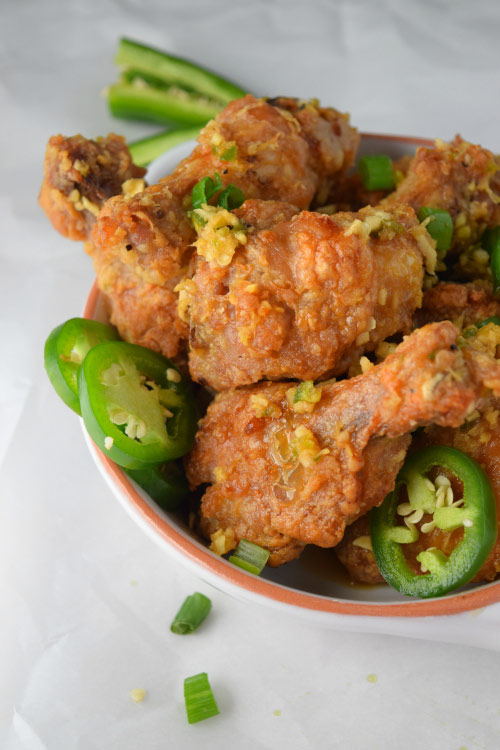 Well eat these SWEET & SPICY BAKED CHICKEN WINGS and all your sorrows will disappear! 😉
Help in spreading the word!
Follow along for lot more delicious treats and life happenings on INSTAGRAM || FACEBOOK || PINTEREST 

Sweet & Spicy Baked Chicken Wings
Ingredients
Baked Crispy Chicken Wings:
Sweet & Spicy Dressing ( Momofuku Bar Inspired):
2 pounds crispy baked chicken wings (as per the instructions above)
2.5 tbsp finely chopped ginger
2.5 tbsp finely chopped garlic
1 jalapeno finely chopped ( Adjust as per your taste)
¼ cup rice wine vinegar
3 tbsp low sodium soy sauce
2 tbsp olive oil
¼ tsp sesame seed oil
Salt to taste
1 tbsp honey
1 tsp black pepper
1.5 tbsp sugar
Instructions
Crispy Baked Chicken Wings:
Cook them to crisp perfection by following steps 1 - 7 as described in my recipe for skinny baked chicken wings.
Sweet & Spicy Dressing ( Momofuku Bar Inspired):
Mix all the dressing ingredient except wings in a bowl and taste and adjust. Add dressing to the fresh piping hot crispy wings and serve immediately.
Notes
The recipe link for my crispy baked chicken wings is at the bottom.
The Momofuku bar dressing recipe is adapted from
SteamyKitchen.com
More Chicken Recipes?
https://www.naivecookcooks.com/chicken-kebab-patties/