Double tone mint spiked mango & watermelon popsicles needs only very little hands on time and the rest is done by your freezer! Super easy to make but totally delicious! Made with all natural fruits.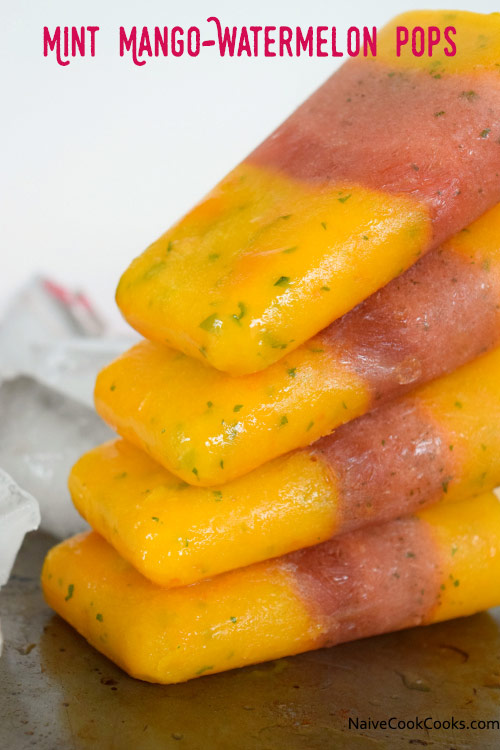 Happy Saturday friends!
Did you guys get a good nights sleep? For those of you who love watching Bollywood movies, we watched super hilarious movie "Piku" last night and we were laughing all through the movie. So funny! I am usually picky about movies but this is one relaxing fun movie and I can so watch it again.
As for these popsicles. I am in love with this combo. Even though it it sort of unique as it's not the regular and everybody's favorite mango raspberry or mango strawberry, I must tell you that I like watermelon in here as when things get really sweet while eating the mango part, watermelon part with a little less sweetness and more water content makes it more fun.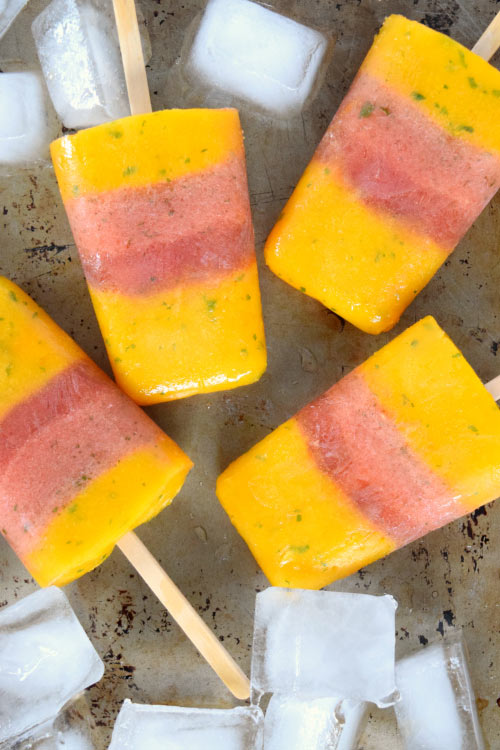 The combo rocks together as the creamy sweet mango puree against more watery less sweetened watermelon puree just works together against all odds! These are perfect summer treats and you can make them today and have them by evening or for the week. Totally kid friendly and made with all fresh and natural ingredients, you can eat them without any guilt!
So pretty!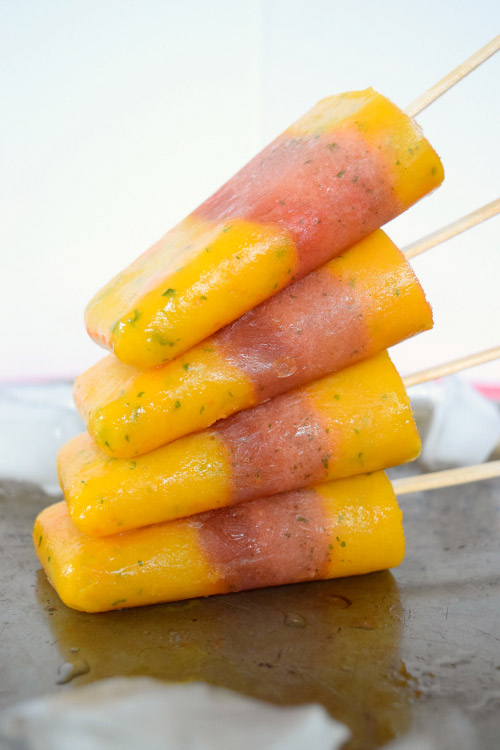 Help in spreading the word!
Follow along for lot more delicious treats and life happenings on INSTAGRAM || FACEBOOK || PINTEREST || TWITTER
*PS NaiveCookCooks is on twitter now and I am so twitter illiterate! Would love to know the ins & outs of twitter!

Mint Mango Watermelon Popsicles
Ingredients
4-6 Tbsp brown sugar
1 cup water
2 mangoes, chopped ~ 2 cups chopped
12 fresh mint leaves, divided
2 cups chopped watermelon, fresh or frozen
Instructions
In a pot boil water & sugar until sugar is all melted. Keep it on the side until it cools.
Puree mango, 6 mint leaves and ½ of the sugar mixture in blender until smooth. Take it out in a bowl and keep aside.
Now rinse the blender and puree watermelon, 6 mint leaves and rest of the sugar mixture in blender until smooth.
Now fill ¼th of the popsicle molds with mango mixture and freeze them for 10 mins. Now slowly fill another ½ of the molds with watermelon mix and freeze for 10 mins. Next repeat with mango mix and freeze for an hour. Now you can insert the wooden sticks if using in the centre of the popsicles and freeze them for good 5-6 hours or overnight. I basically did 3 layers but if you have leftover watermelon puree you can add an additional layer. You can even do only half mango and the rest watermelon. It's all upto you!
Before eating simply run them through warm water so they are easier to pull out.
Looking for more ice cream recipes?
https://www.naivecookcooks.com/chocolate-chip-cookie-ice-cream/
https://www.naivecookcooks.com/mint-chocolate-ice-cream/