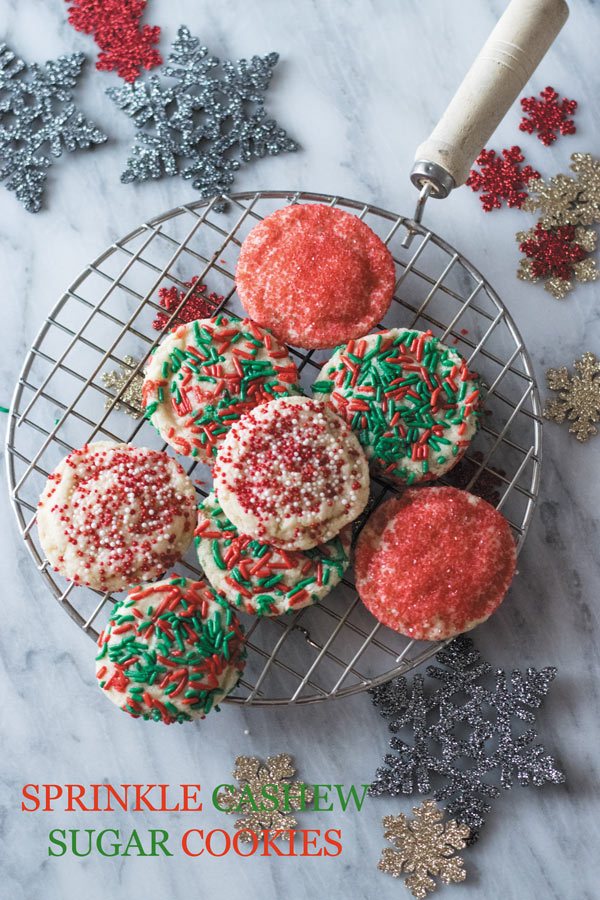 Back with Day#2 Christmas Cookie Box Marathon recipe. Today we are making these super delicious, soft, chewy SPRINKLE CASHEW SUGAR COOKIES. If you want a recap, go check out these 2 posts before reading this one ->>
2018 CHRISTMAS COOKIE BOX MARATHON
Excited to share Day#2 recipe of these amazing cookies. It's an old recipe that's already on the blog but I added sprinkle to these and let the dough chill before baking which made them super festive and extra chewy! So so good.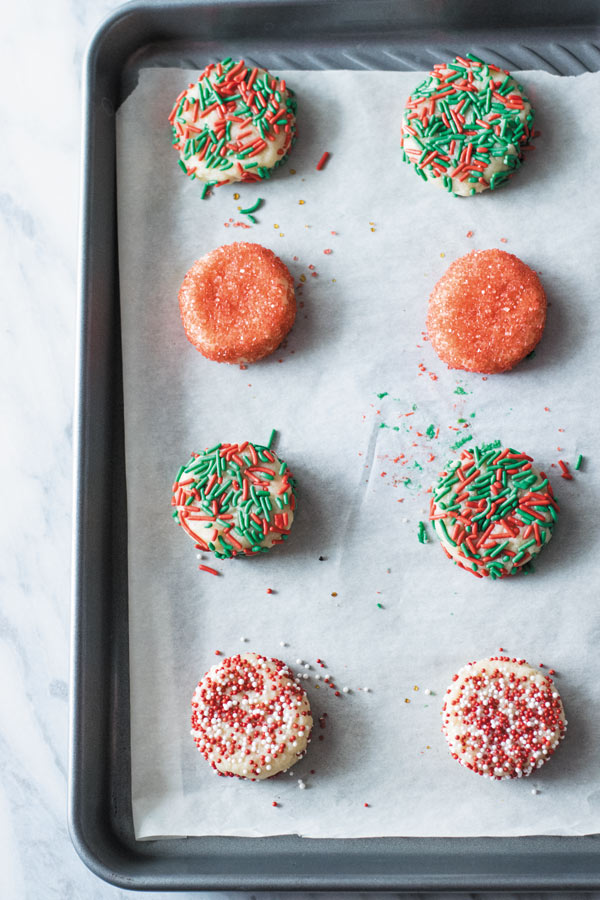 Adding cashew powder gives a kind of richness to these cookies which makes them super good. Something a little different from your regular sugar cookies! I wasn't sure which sprinkle to go with so instead I went with 3 different kind of holiday sprinkles.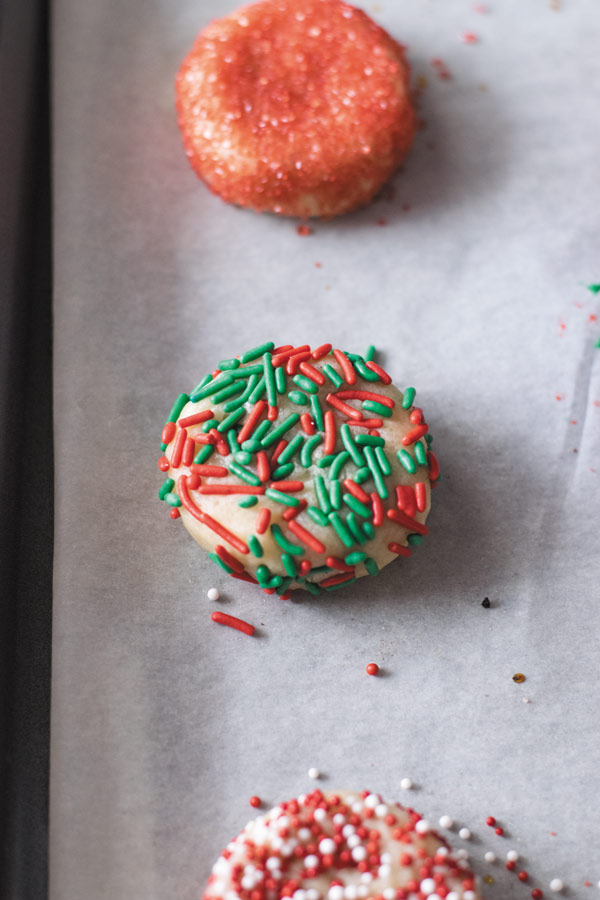 Making these is super easy. You make the dough and let it chill in refrigerator. When ready to bake, roll out the dough into balls, roll the balls into sprinkles by pressing them slightly into the dough and tada. Ready for baking!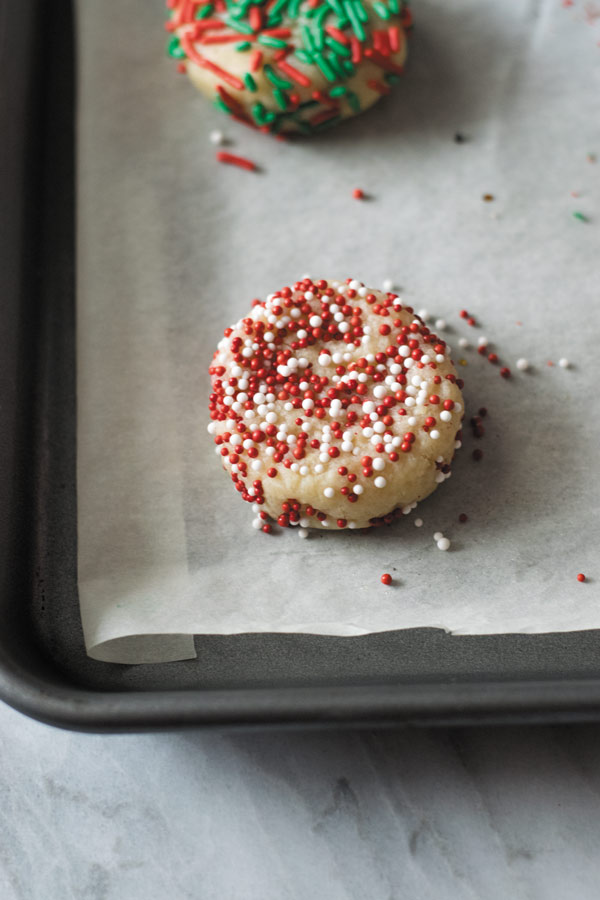 One trick I do is I flatten the dough balls a bit first, then roll just the top and sides into sprinkles because I am just not too crazy about having whole lot of sprinkles in my cookie. BUT by all means roll the whole dough ball into sprinkles before pressing the sprinkles into dough if you love sprinkles a lot! Your call 🙂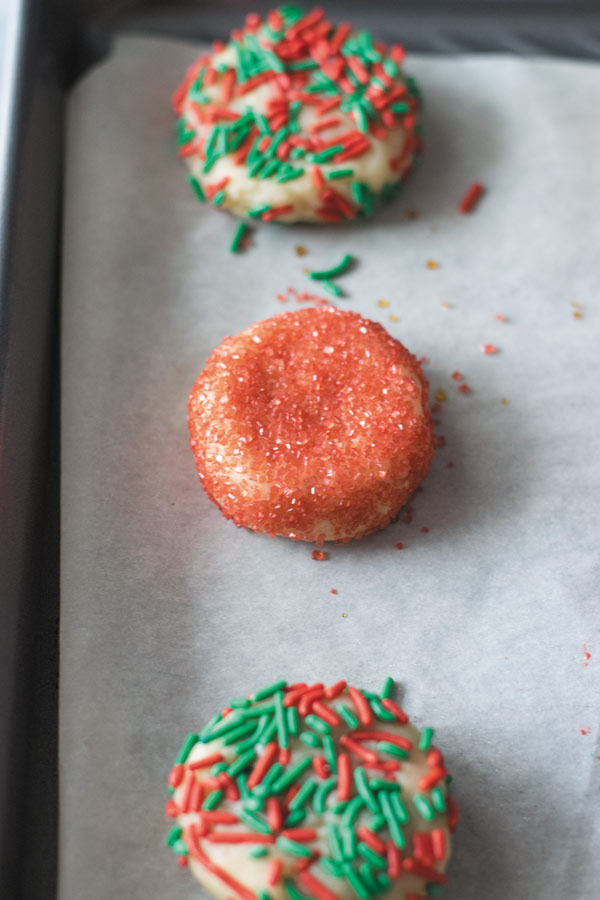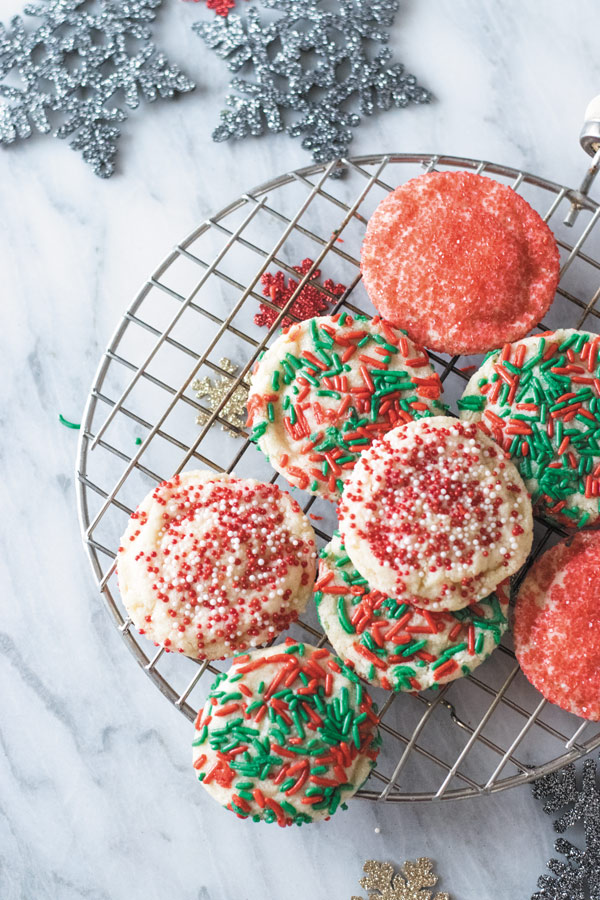 So go ahead and make these. So good for entertaining this holiday season or for adding in Cookie boxes as they are super festive and screams CHRISTMAS!!
If you make these or any other recipe from the blog, do tag us by using #naivecookcooks on social media so I can feature you!

Sprinkle Cashew Sugar Cookies
Ingredients
1 cup all purpose flour (139 gm) (4.9 oz)
½ cup cashews (74 gm) (2.6 oz) (grind them to powder consistency)
⅛ tsp baking soda
¼ tsp baking powder
¾ cup sugar (163 gm) (5.8 oz)
1 stick (1/2 cup) unsalted butter, room temperature
1 tsp vanilla extract
1 tbsp regular milk
Sprinkles of your choice
Instructions
Grind cashews to a powder like consistency. In a bowl mix cashew powder, all purpose flour, baking soda and baking powder and stir.
Cream butter and sugar until mixed. Add vanilla extract and mix. Now add dry ingredients to wet ingredients and mix. To it add 1 tbsp milk and stir until a soft dough forms.
Place dough ball onto a plastic wrap, flatten the dough a bit and tightly wrap it with plastic wrap. Let it chill in refrigerator for around 30 minutes or so.
When ready for baking, preheat oven to 375F.
Place sprinkles on a plate. If your dough has been chilled for longer and is super hard on touching, let it sit on counter for 15-30 minutes until it's still little hard but rolls easily.
I made each ball weigh around 31-34 gm but it's upto you what size cookies you want.
Line a baking sheet with parchment paper. Roll dough into balls and roll these balls into sprinkles.
See in post where I tell you how I like to roll them into sprinkles.
Place them on baking sheet and bake for around 6-8 minutes. Let them cool completely . Once completely cool, store in airtight container.