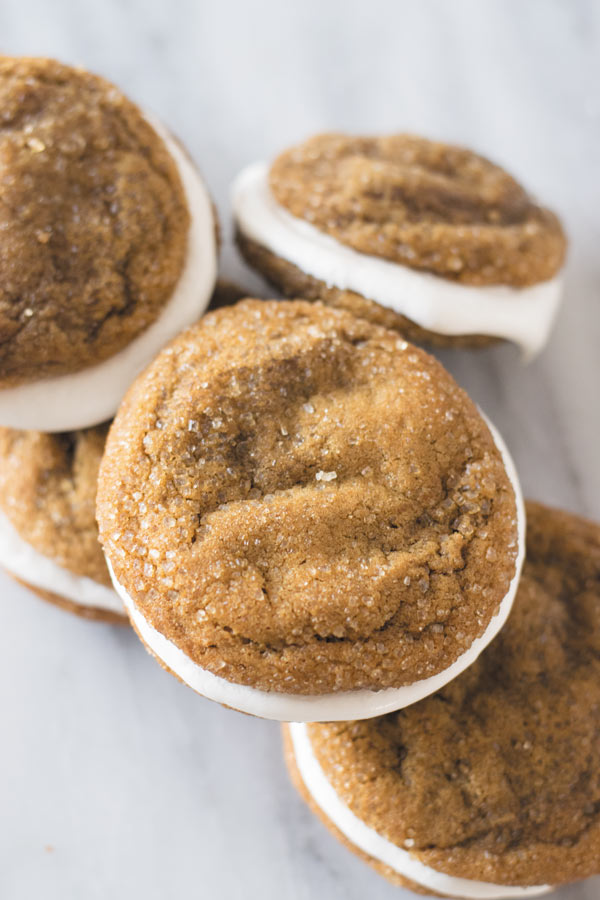 Welcome to Day#3 of our 2018 Christmas Cookie Box Marathon, you guys!! If you are unaware of what's happening here, here are the last 3 posts ->>>
#1 2018 CHRISTMAS COOKIE BOX MARATHON
#3 SPRINKLE CASHEW SUGAR COOKIES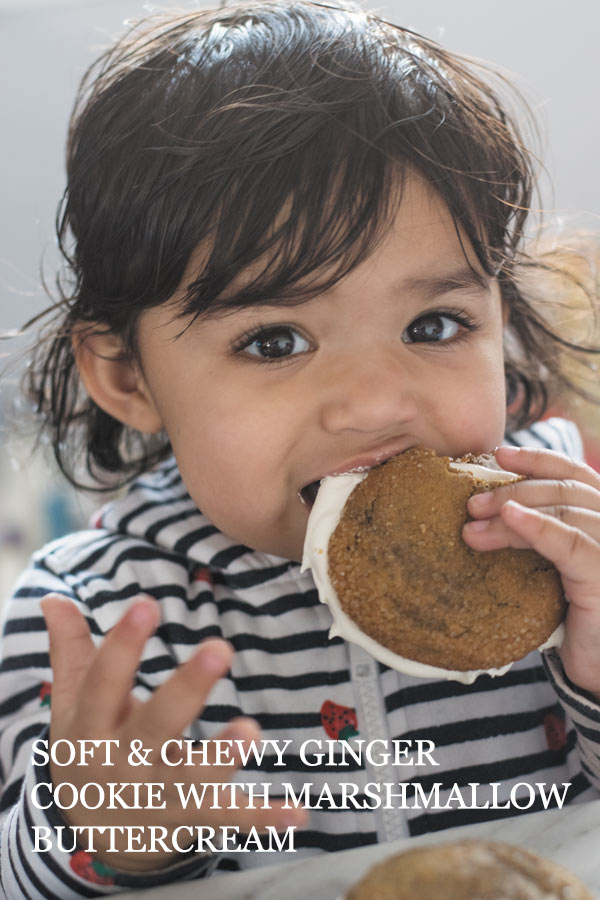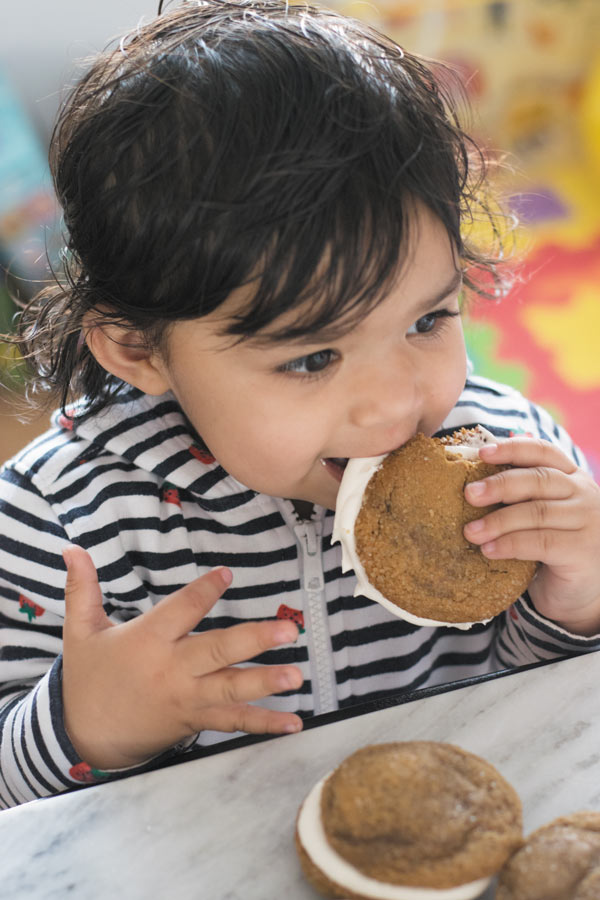 You might wonder why it took me almost 8 days to post day#3 recipe? Well some procrastination on my part but majorly life came in the way. Hoping to get back to it and hoping to finish it on time before Christmas. Lets see how well it goes. Until then enjoy looking at pictures of Aria eating these delicious soft & chewy ginger cookies with marshmallow buttercream.
This last week has been crazy busy for us. We have been juggling bunch of responsibilities some of them which are not really ours but ended up falling in our lap. Pros & cons of owning your own business! 🙂
We organized a small cookie decorating party with just few super close family & friends which was super fun, been going a lot to show Aria Christmas light decorations. If you guys live in or around St Louis, you must see all the light decorations they do especially at the zoo, botanical garden, brewery and so on! So much fun! She's 18 month old so this year she's enjoying everything leading up to Christmas so much.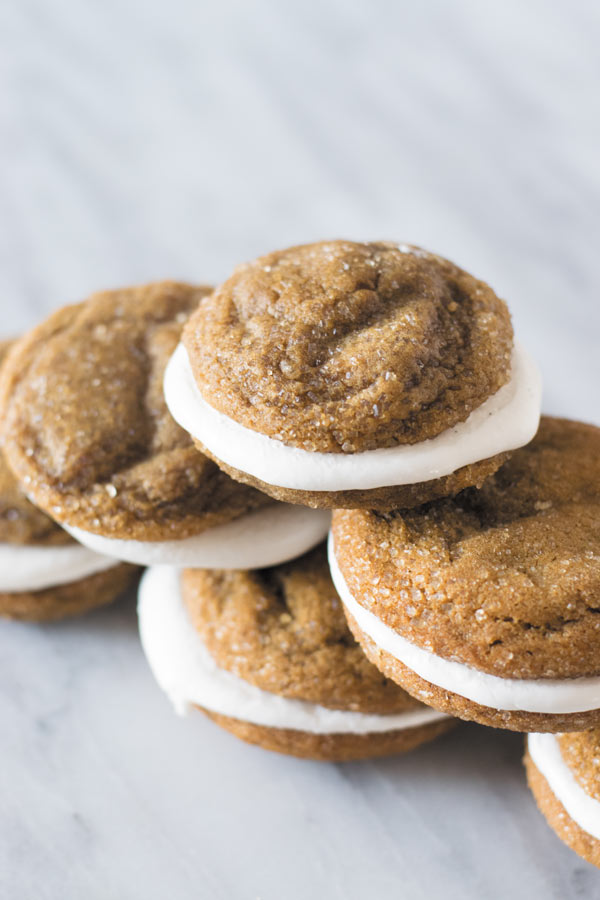 So back to cookie recipe.
I already have a super delicious, reader favorite SOFT & CHEWY GINGER COOKIES recipe on the blog. All I did is, made the recipe even more better by adding marshmallow buttercream in between 2 cookies and sandwiched them!! Seriously you won't be able to stop eating these.
Ohh and these have slight crunch when you bite into them from demerara sugar. So so good! I have been enjoying these with my evening cup of coffee. They smell amazing and just one bite makes me feel so festive!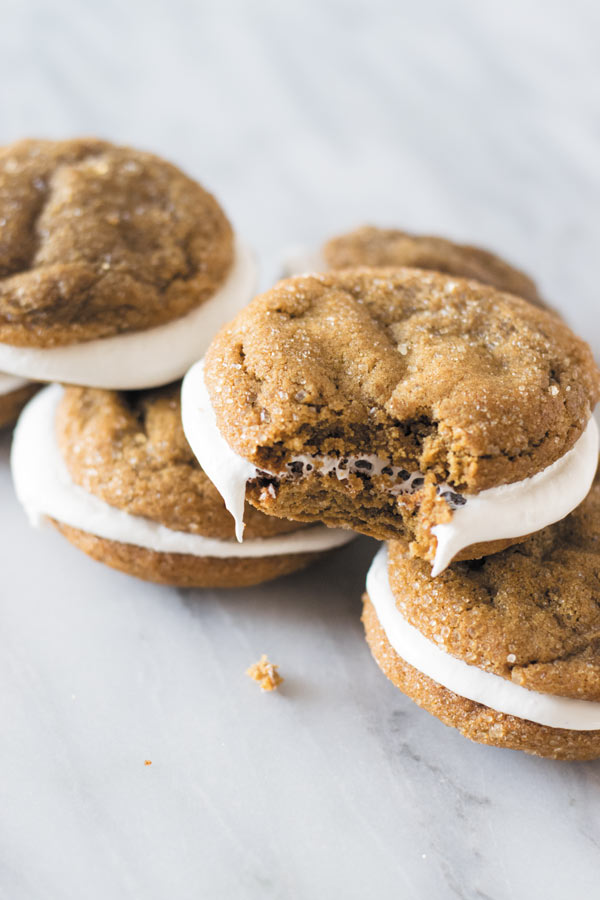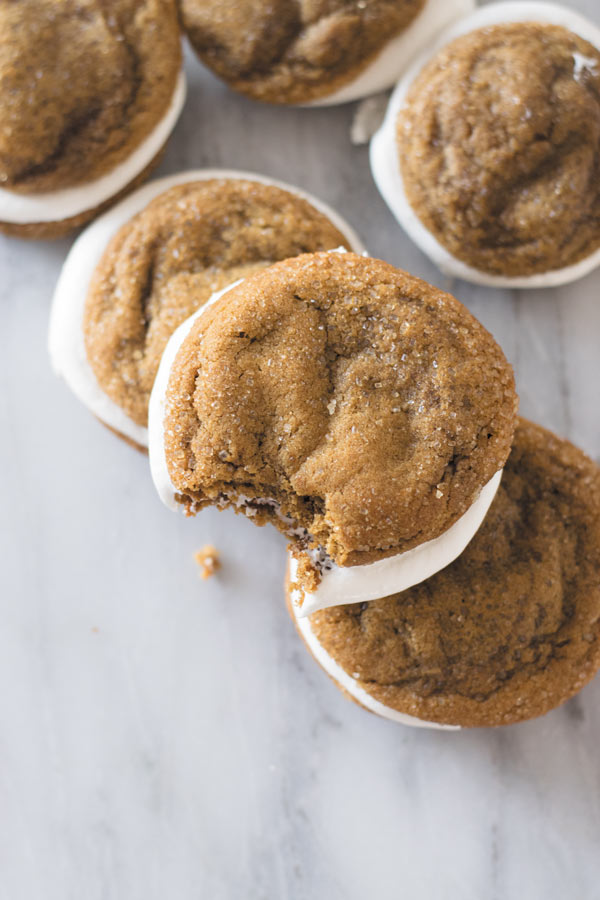 Go ahead, make these!

Soft & Chewy Ginger Cookies With Marshmallow Buttercream
Serves:
6 cookie sandwiches
Ingredients
(2+1/4) cups (316 gm) (11.2 oz) All purpose flour
4 tsp ground ginger powder
1 tsp baking soda
1 tsp cinnamon
Pinch of ground nutmeg
¼ tsp salt
12 Tbsp unsalted butter, soft at room temperature
½ cup (77 gm) (2.7 oz) brown sugar
½ cup (111 gm) (3.9 oz) white sugar
1 egg
1 tbsp water
4 tbsp molasses
2 tbsp white sugar
Some raw demerara sugar for rolling, optional
Marshmallow buttercream
3.5 oz marshmallow cream
4 tbsp unsalted butter, softened to room temperature
½ cup confectioners sugar
½ tsp vanilla extract
1-2 tsp water (only if needed)
Instructions
Preheat oven to 350F.
In a bowl, add flour, ginger powder, baking soda, cinnamon, nutmeg and salt and stir it all. Keep aside.
Now in another large bowl, cream butter and both sugars until light and fluffy. To it add egg, water, molasses and white sugar and mix until evenly mixed. To it add the dry mix and mix it all until evenly mixed.
Dough will be soft and sort of sticky. Transfer this dough onto a plastic wrap, flatten it a bit, wrap tightly and let it chill for 4 hours or more.
When ready to bake , preheat oven and if dough is super cold, let it come to room temperature. Break dough into small balls. I got around 12-13 balls of 42 gms each. Roll into balls. Roll them in demerara sugar and and place them on a parchment lined baking sheet with 2" or more gap in between each ball.
Bake for 8-9 minutes. Cool them on baking sheet for 5 mins and then carefully transfer to cooling rack and completely cool.
Meanwhile make marshmallow buttercream. In a bowl cream butter until light and fluffy. To it add marshmallow cream and beat. Add sugar and vanilla extract, beat until its fluffy. I added no water but if your's is too thick add 1 tsp water and beat again until you get the right consistency of buttercream.
Take a cookie and smear a good amount of marshmallow buttercream onto it. Place another ginger cookie on top of it and press them together gently to sandwich them.
Store in an airtight container for 2-3 days.
Notes
Soft & Chewy Ginger Cookie recipe from
HERE
.