Baked fries with a spicy kick. These SPICY GREEN FRIES will sure become your new favorite!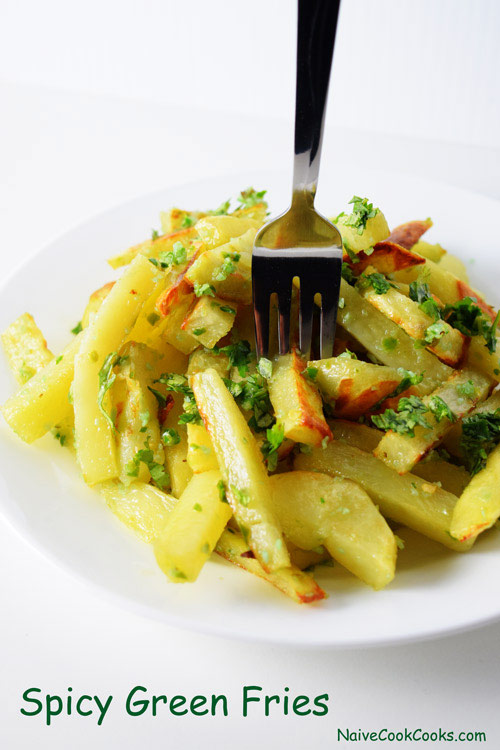 It's Friday & that means binge eating & binge watching. How about Potato fries coated with a spicy green chili + garlic + extra virgin olive oil sauce?! I love potato fries and that's one reason why I have already posted 2 versions of them here. Check ->>
But today's version is the SPICE BOMB you friends and it must must be made as soon as you can get your hands on some potatoes! I mean how hard can it be to find potatoes?! & it's the best thing to eat while watching game and drinking a chilled beer! No substitutions!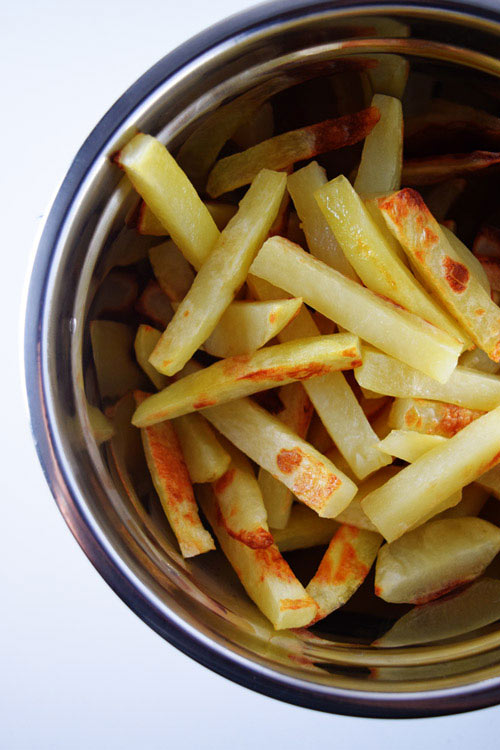 Last one week was very hectic but fun at the same time as we finished arranging almost half of our stuff. It was an adventure in itself as we took infinite number of trips to Ikea, Marshalls & Bed Bath and almost every store in town that carried something that we were looking for! Know that feeling? And the returns? Do you feel the same love-hate relationship when comes to going to return stuff that didn't work out. Oh I absolutely hate it and there have been times when I ended up keeping something that was useless but way past it's return date!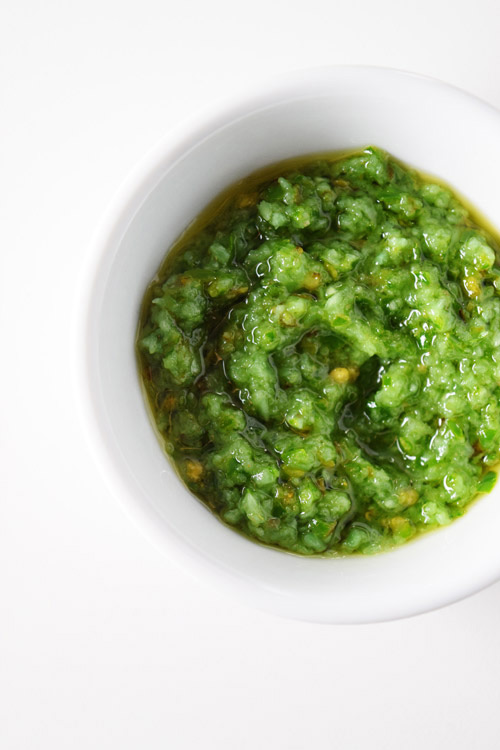 So few days back after we spent all day doing returns and came back, all I needed was something spicy & tasty! And then it hit me that it's been so long since I made baked fries. But instead of just making baked fries, I decided to also make this SPICY GREEN SAUCE that goes with everything! And it's just 4 INGREDIENTS : Fresh GARLIC + Fresh GREEN CHILI + OLIVE OIL + SALT and the best sauce that can be made ahead and kept covered in refrigerator for a long time.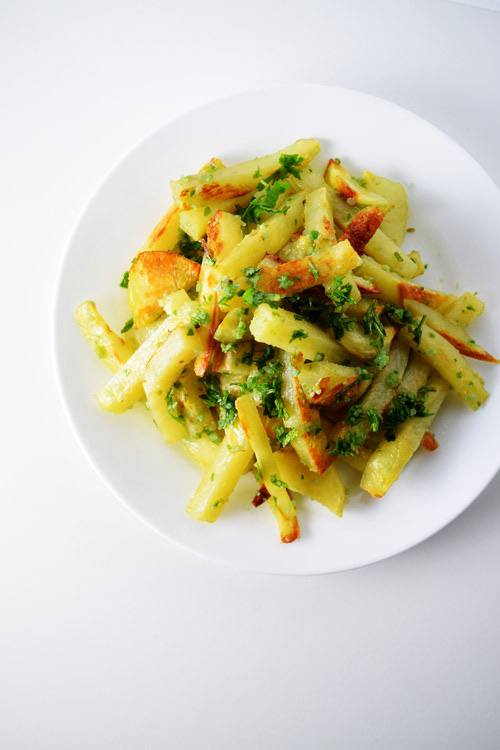 I ate this sauce for the first time with homemade pizza and since then it's one thing I always always make when we make homemade pizza and to be honest now it's something I put on bagels, fries, flatbread and even mix with rice!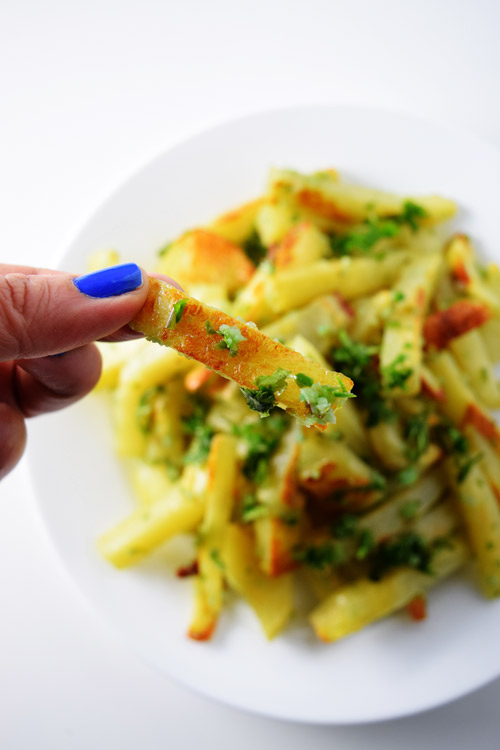 Follow along for a lot more delicious treats and life happenings on INSTAGRAM || FACEBOOK ||PINTEREST ||TWITTER ||GOOGLE+
Spicy Green Fries
Ingredients
3 large potatoes, peeled and cut in long slices
1-2 tsp oil
Pinch of salt
Spicy Green Sauce:
1 tsp green chili paste (** Add only ½ tsp green chili paste if you don't like too spicy!)
1 tbsp garlic paste
2-3 tbsp extra virgin olive oil
Salt to taste
Fresh finely chopped cilantro for garnishing (optional)
Instructions
Pre heat oven to 400F.
Peel and chop potatoes and let them sit in hot water for 10-15 minutes. Strain and wash them under running water to get rid of as much starch as possible.
Line a baking sheet with parchment paper. Wipe potatoes with a paper towel and transfer to a bowl. Add oil and salt to them and mix. Lay potatoes on a baking sheet without overlapping.
Bake in oven for 20 minutes. Take them out and flip. Bake for another 15-20 minutes or more/less until crispy, golden and fully cooked.
Transfer the fries to a bowl.
Now in another small bowl add all the green sauce ingredients and mix and taste.
Add this spicy sauce to fries and mix everything. Garnish with cilantro.
Enjoy with some chilled beer!
 Some more POTATO based recipes ->>
https://www.naivecookcooks.com/aloo-gobhi-flatbread/