Soft Chewy Ginger Cookies makes for a perfect holiday time treat!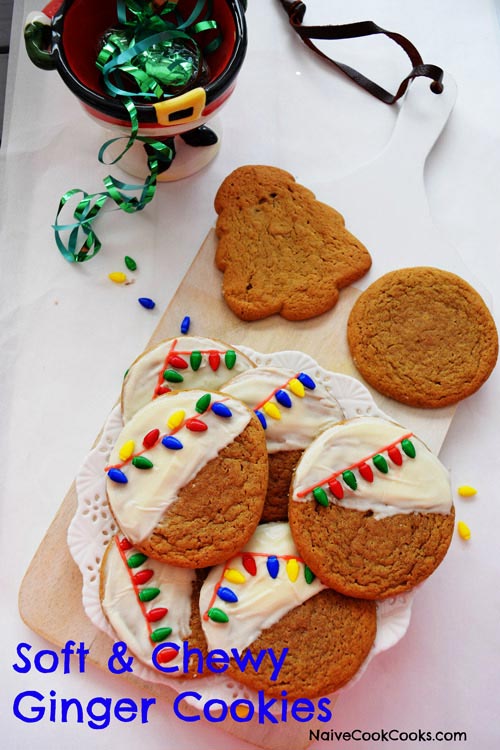 Big Thanks to NESTLE TOLL HOUSE for sponsoring today's post! #sponsored
It's holiday season and that means holiday decorating, making tons and tons of HOLIDAY RECIPES and especially cookies. I love making and eating holiday cookies and the best part – decorating! Even though it takes me long time to finish even simple decorating but I absolutely love doing it every year.
Now let's talk about these delicious soft chewy ginger cookies that are my Favorite Holiday Recipes this time of the year. This is the first ever ginger cookie recipe on this blog and I am not sure why I never made them before! They are soft & chewy with just the right amount of spice and frosted with a delicious Nestle Toll House Morsels icing with a hint of lime in it! Just DIVINE.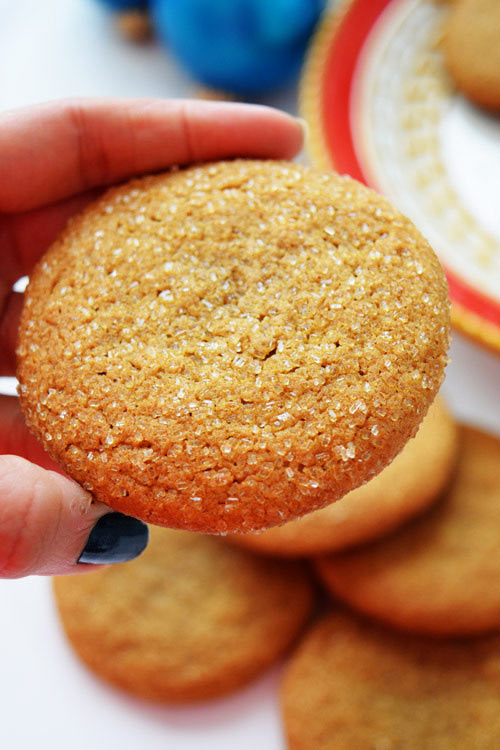 Since I made these cookies, I am a changed person. I feel I like them way more than my all time favorite sugar cookies .
When it comes to cookies, I like to bake them THICK , SOFT AND CHEWY . Yes those are the 3 adjectives I keep in my mind at all times while baking cookies as I absolutely hate hard crisp cookies! Not for me atleast! These cookies are melt-in-your-mouth sorts. The first bite and you CAN NOT STOP eating these! Been there, done that.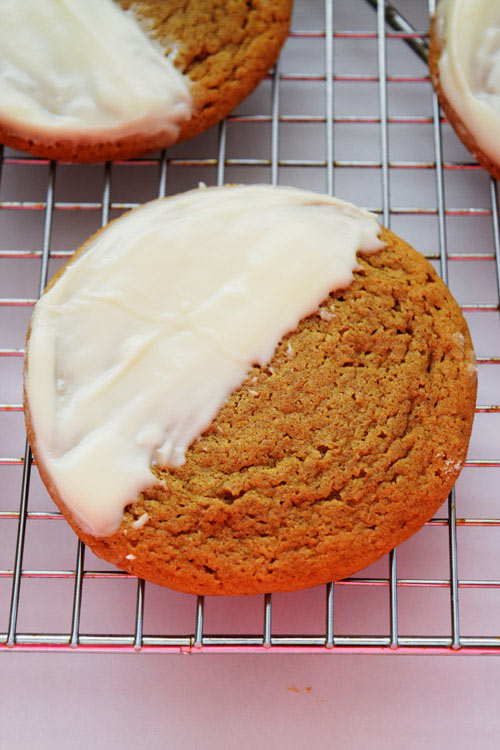 This reminds me of that time last year when after baking tons of cookie recipes from HERE, I was in a serious sugar coma.
I bought these cute light shaped sprinkles (if we call them that!) some time back and since then I am just trying crazily to use them somewhere anywhere and when I saw a similar decorating idea here, I knew IT WAS TIME!! Pinterest for the win. My husband likes to call Pinterest a women driven website and I know how true it is because well there is so much I want to Pin all the time. Since I love FOOD (that's why into food blogging, duh?!), I feel like 90% of the time I want to make all those glorious treats I see there and all those food hacks!  Btw have you ever tried any of those?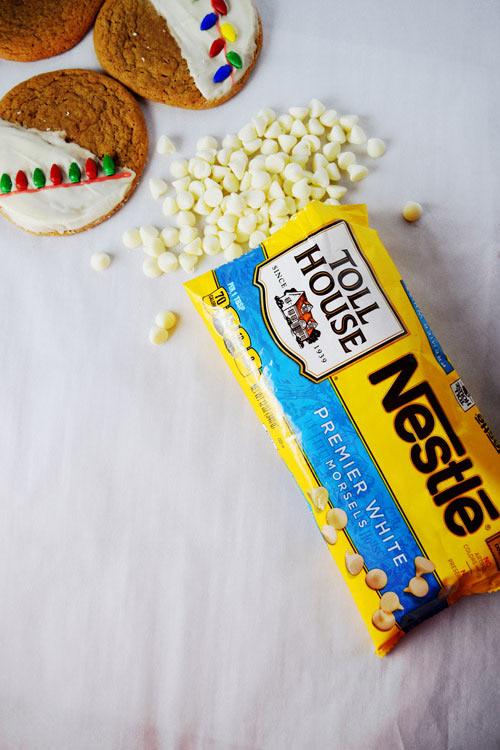 With a little help from Pinterest, I was able to decorate these and now I know I am totally making these for our Christmas movie night! So good. You can bake a huge batch of these and gift it to your friends! Food, in my book, makes for the perfect gift! Growing up I remember watching my mom feed a lot of people and I think that's where I get it from. And it's the holiday season friends, so giving is good!? ?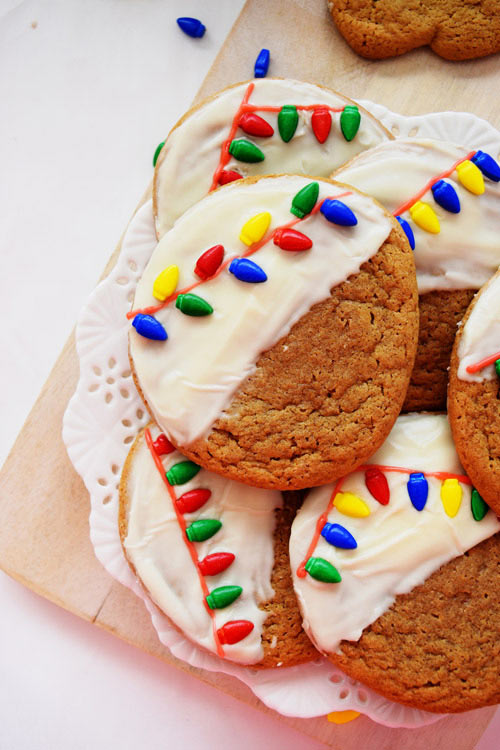 Follow along for a lot more delicious treats and life happenings on INSTAGRAM || FACEBOOK ||PINTEREST ||TWITTER ||GOOGLE+
Now the best part, yes there is a coupon to buy NESTLE products!! You can get the COUPON here.
Also check out NESTLE Pinterest page & Facebook page for more delicious mouth watering ideas!! (I just wasted an hour drooling over their pinterest page!) (HURRY UP as these coupons are limited and only available while supply lasts!)
Soft Chewy Ginger Cookies
Ingredients
(1+1/8) cups all purpose flour
2 tsp ground ginger powder
½ tsp baking soda
½ tsp cinnamon
Pinch of ground nutmeg
⅛ tsp salt
6 Tbsp unsalted butter or (1/4 + ⅛) cups, soft at room temperature
¼ cup brown sugar
¼ cup white sugar
½ egg
½ tbsp water
2 tbsp molasses
1 tbsp white sugar
Some raw demerara sugar for rolling, optional
White Chocolate & Lime Icing :
¼ cup white powdered sugar
1.5 tsp lime juice
1 tsp water
Red colored icing optional
Light shape sprinkles optional
Instructions
Preheat oven to 350F.
In a bowl, add flour, ginger powder, baking soda, cinnamon, nutmeg and salt and stir it all. Keep aside.
Now in another large bowl, cream butter and both sugars until light and fluffy. To it add egg, water, molasses and white sugar and mix until evenly mixed. To it add the dry mix and mix it all until evenly mixed.
Dough will be soft and sort of sticky. You can add a bit if flour just to make it less sticky. Break dough into small balls. I got around 10-12 balls. Roll into balls and flatten a bit. Roll them in demerara sugar and and place them on a parchment lined baking sheet with 2" or more gap in between each ball.
Bake for 8-9 minutes. Cool them on baking sheet for 5 mins and then carefully transfer to cooling rack and completely cool.
Meanwhile make icing. In a bowl melt white chocolate morsels in microwave until the chocolate is evenly melted. I do it in series of 25 secs, 25 secs and another 25 secs until it completely melted and smooth. To it add sugar, lime juice, water and mix until it's smooth.
Glaze half of the cookie with this icing and then decorate as you want. These cookies taste amazing even without icing.
Some more COOKIE ideas:
https://www.naivecookcooks.com/from-scratch-sugar-cookies/