Super soft, melt in mouth Almond Blueberry Snacking cake with fresh blueberries and toasted almonds.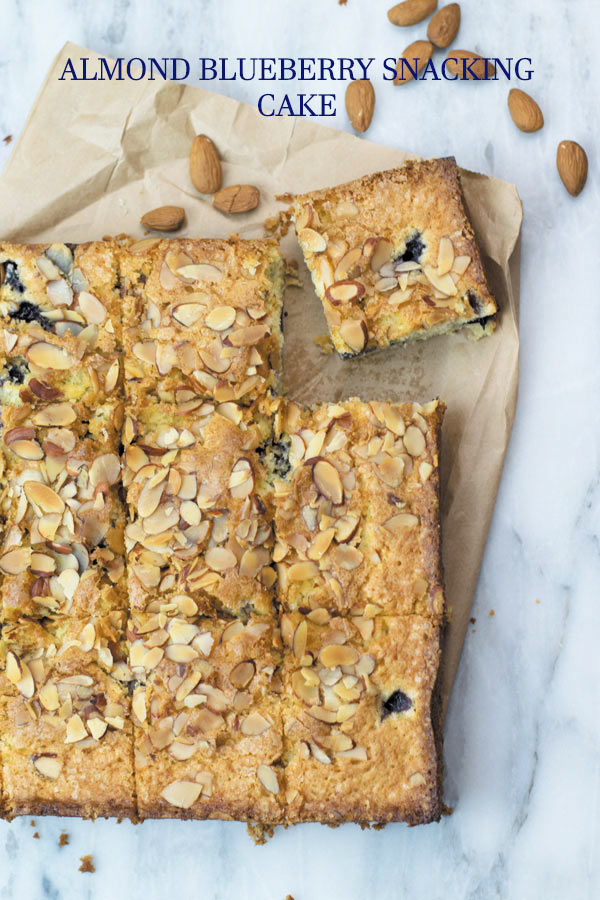 Happy Week#2 of January 2019 friends!! Gosh I am thinking like, how are we just 1 year away from 2020!! Is that crazy?!!
I have lots of things planned for 2019 and I won't promise you anything ahead of time as right now my number 1 priority is our little 19 month old munchkin! But hoping to share some great stuff with you guys this year 🙂
My mom is here visiting us from India and on her special request, I made this Almond Blueberry Snacking Cake and it's so good! It turned out super soft oozing with juicy blueberries and those toasted almonds give it a crunch in every bite!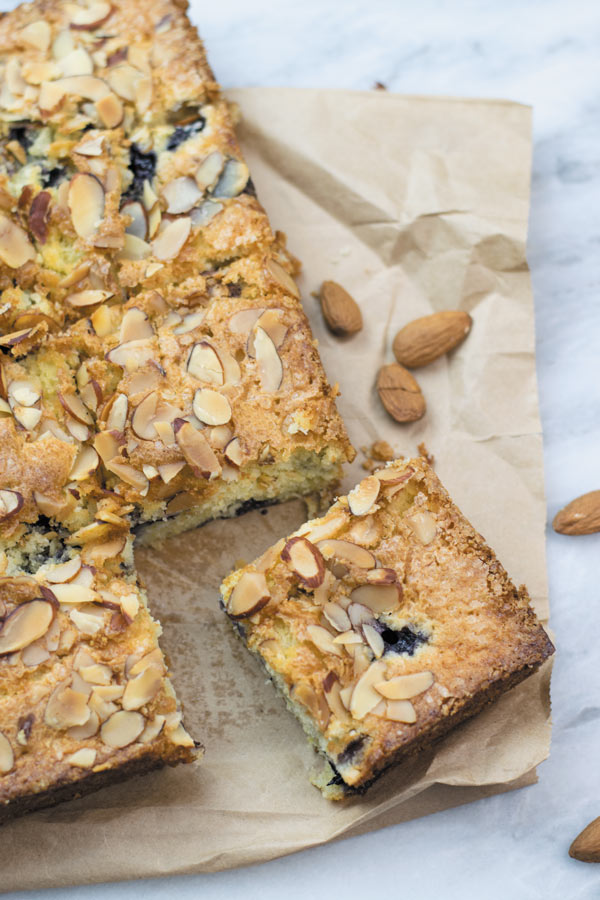 If you are also riding the eat super healthy aka starve yourself wagon starting new year, please do not do it!! I had taken those resolutions starting every year and failed miserably but this year **finally** it hit me that I don't need to reach to my goals ASAP. I need to be patient with myself and do things one at a time rather than running around like a headless chicken. Remember the phrase " slow & steady wins the race?" hehe!!
So as I was saying I haven't deprived myself of any desserts these last 6 days. I had my favorite Goat Cheese ice cream with cherries from Jeni's Ice Cream few days back, ate my mamma's famous chaat masala paneer pakoda's (Indian Cheese Fritters) and even though I am trying to consciously eat healthy, I am not being too strict with myself. Trying to stay motivated so I can stay on track longer.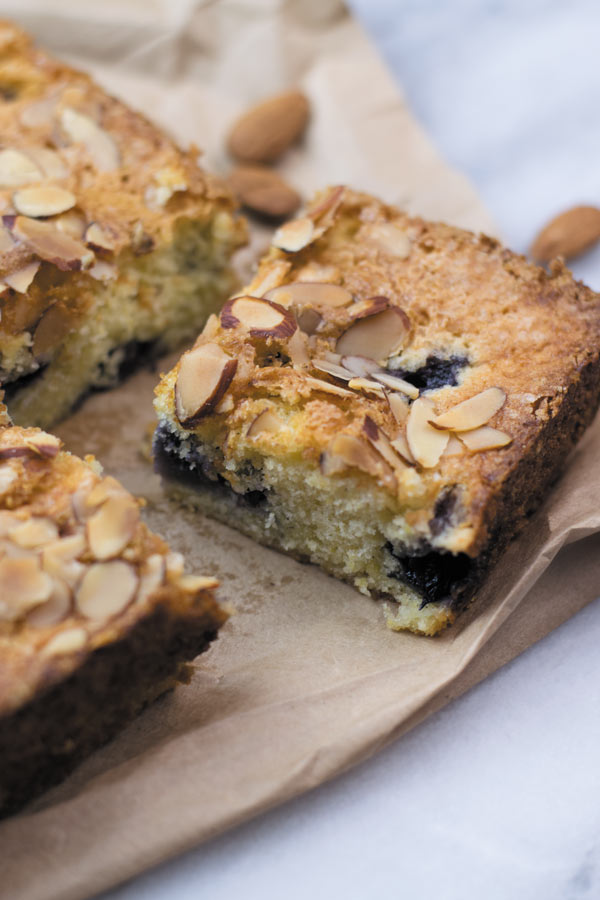 Let's jump onto this year's first recipe which is super delish, perfect for when you are expecting guests or want something with your evening tea/coffee or just so you and your friends could enjoy some desserts together 🙂

Almond Blueberry Snacking Cake
Ingredients
All purpose flour 1 cup ( 133 gm / 4.7 oz)
Cornmeal 3 Tbsp ( 35 gm/ 1.2 oz)
Baking powder 1 tsp (3 gm/0.1 oz)
Pinch of salt
Unsalted butter softened to room temperature 1 stick ( 113 gm/4 oz)
Sugar 1 cup (225 gm/7.9 oz)
Turbinado sugar, few tbsp to sprinkle on top of batter
2 eggs
Whole milk ⅓ cup
Vanilla extract 1 tsp
Lemon Zest ½ tsp
Blueberries 2 cups
Sliced almonds ⅓ cups or more/less as per your taste
Instructions
Preheat oven to 350 degrees F. Grease a 9 inch square parchment paper lined baking pan with butter.
In a small bowl, mix together flour, cornmeal, baking powder and salt. Keep it aside.
In another bowl, cream butter and 1 cup sugar until smooth. To it add eggs, milk, vanilla extract, lemon zest and mix.
Add this batter to the greased pan.
In a small bowl add blueberries and add 1 tbsp of all purpose flour to it and stir the blueberries around so they get coated with flour. Add these blueberries to the batter and gently using a spoon stir them in the batter.
Sprinkle batter with generous amount of turbinado sugar and slivered almonds.
Bake for 35-45 minutes. Check by inserting a toothpick at around 35 minutes. If it comes out dry, cake is done otherwise bake for few more minutes.
Once done, place the cake pan over a cooling rack. Once completely cool, take it out and slice. Enjoy and keep leftovers in airtight container.
P.S Just so you know, my Mom said this cake is even better than any store bought version!! So go, make it and enjoy!!