Delicious Roasted Vegetable Lentil Salad with lentils, roasted vegetables, crunchy vegetables & a simple olive oil – vinegar based dressing. Great as a side or a meal and leftovers store great for next day lunch!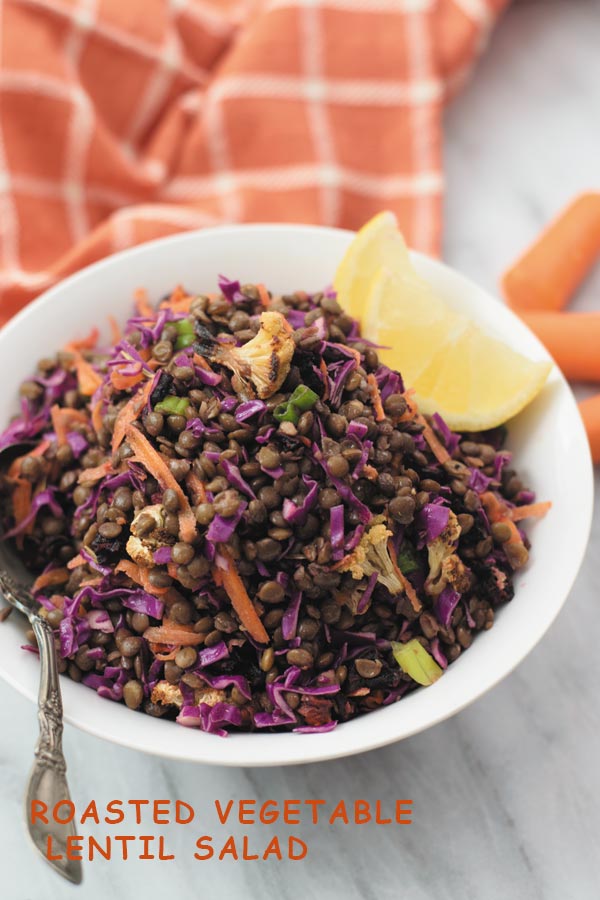 Did you have a relaxing weekend friends? My weekend was far from relaxing. I had planned on finishing so much work especially the ever dreadful taxes 🙁 but I got stuck with one silly work and it took whole sunday. We were so tired by Sunday evening that all we did is picked up food and did nothing. How far are you from getting done with your taxes? I always always dread when the time comes to do taxes and since I am always procrastinating, this year I am hoping I get them done way before the real time rolls in.
Apart from the tiring weekend, week before was really fruitful as I was able to test bunch of recipes and among them this was my favorite so far. I have never made lentil salad at home but when I saw a version of lentil salad with roasted vegetables in NY times by Melissa Clark, I was too tempted to give it a try. I have always enjoyed her style of cooking and even this salad did not disappoint.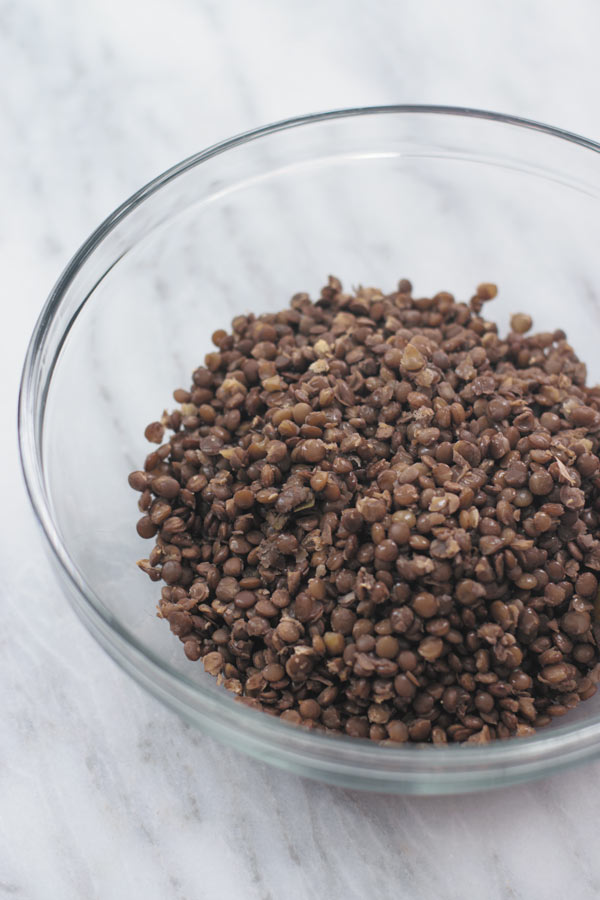 Here we are using simple very commonly found whole brown lentils which I love as they hold their shape much better than other lentils. She roasts a bunch of root vegetables but I kept it simple with whatever veggies I had on hand and roasted carrots, cauliflower and beets with some seasoning. While vegetables roast, lentils are cooked and other vegetables are shredded/chopped. Dressing is super simple with just olive oil, vinegar, mustard, salt and black pepper.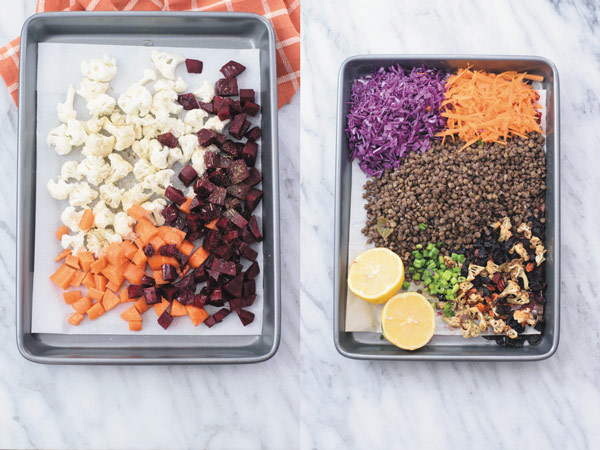 Once vegetables are roasted, they are tossed in a bowl along with warm drained lentils, simple dressing and fresh shredded/chopped vegetables. Everything is just tossed together and a quick taste test done. The first time I made this salad, believe it or not, I ate the entire bowl of salad all by myself as it was seriously that good. I wasn't expecting it to be so good with such simple ingredients but everything goes so well together. I made another big bowl yesterday for post and now I can't wait until lunch time!
You can play around with the kind of vegetables you want to roast – cauliflower, beets, butternut squash, carrots, sweet potato – these all will taste great once roasted. So pick and choose what you have on hand or as per your taste preference.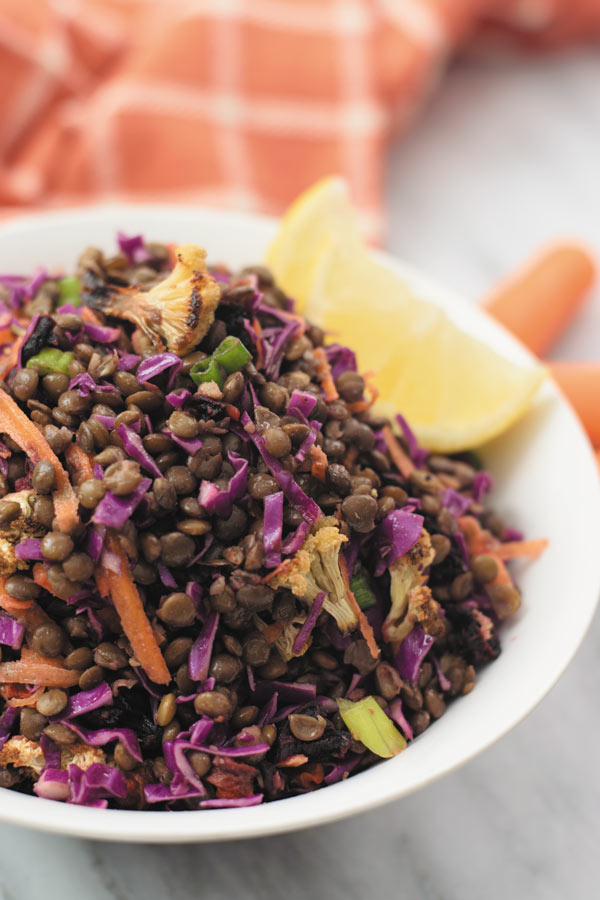 So go ahead and give this a try! If you make these or any other recipe from our blog, do tag us by using#naivecookcooks on social media channels.
If you enjoyed this recipe, don't forget to FOLLOW me on INSTAGRAM||FACEBOOK||PINTEREST||TWITTER ||GOOGLE+ || BLOGLOVIN || YouTube

Roasted Vegetable Lentil Salad
Ingredients
Roasted Vegetable Lentil Salad:
For lentils ->>
½ cup uncooked brown lentils
Pinch of salt
Pinch of black pepper
½ tsp garlic paste or 1-2 garlic, smashed
1-2 bay leaves
Enough water to cook lentils
For Roasted Vegetables ->>
2 large carrots, cleaned, peeled and chopped
1 beet, cleaned, peeled and chopped
¼ head of cauliflower, cleaned and chopped
Salt to taste
½ tsp dried rosemary
¼ tsp thyme powder
2-3 tbsp olive oil
Other:
1 cup shredded red cabbage
½ cup shredded carrots
3-4 green onions, chopped
Dressing:
2 tbsp red wine vinegar
Salt & black pepper to taste
1 tsp dijon mustard
3 tbsp extra virgin olive oil
Instructions
Roasted Vegetable Lentil Salad:
For lentils ->>
Wash lentils in strainer under running water until water runs clear. Transfer lentils, salt, black pepper, garlic paste, bay leaves in a pot. Fill the pot with water until lentils are fully covered and bring it to a boil. Simmer on low for 30-45 minutes until lentils are fully cooked but not mushy.
Once cooked strain the lentils on a sieve and remove bay leaf. Keep them aside.
For Roasted Vegetables ->>
Preheat oven to 400F.
In a lined baking sheet, add chopped beets, carrots and cauliflower. Drizzle with olive oil and add salt, rosemary and thyme. Stir it all together and bake for 45-50 minutes or until vegetables are cooked through.
Check at 30 minutes as the time to roast will depend on how big/small the vegetables are chopped.
Dressing:
In a bowl add all the dressing ingredients and stir until mixed thoroughly.
Other:
Get the rest of the ingredients prepped up.
Once everything is ready in a large bowl, toss roasted vegetables, drained lentils, dressing and other shredded/chopped vegetables. Toss until evenly mixed through. Enjoy!
Leftovers store great tightly wrapped in fridge for 2-3 days.
You might also like to try ->>