Roasted Vegetable Lentil Salad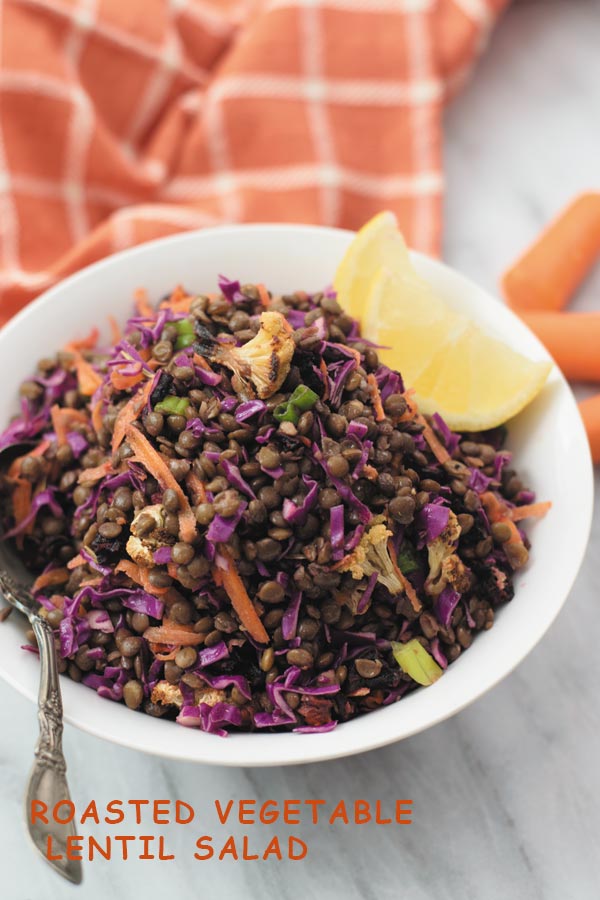 For lentils ->>
½ cup uncooked brown lentils
Pinch of salt
Pinch of black pepper
½ tsp garlic paste or 1-2 garlic, smashed
1-2 bay leaves
Enough water to cook lentils
For Roasted Vegetables ->>
2 large carrots, cleaned, peeled and chopped
1 beet, cleaned, peeled and chopped
¼ head of cauliflower, cleaned and chopped
Salt to taste
½ tsp dried rosemary
¼ tsp thyme powder
2-3 tbsp olive oil
Other:
1 cup shredded red cabbage
½ cup shredded carrots
3-4 green onions, chopped
Dressing:
2 tbsp red wine vinegar
Salt & black pepper to taste
1 tsp dijon mustard
3 tbsp extra virgin olive oil
For lentils ->>
Wash lentils in strainer under running water until water runs clear. Transfer lentils, salt, black pepper, garlic paste, bay leaves in a pot. Fill the pot with water until lentils are fully covered and bring it to a boil. Simmer on low for 30-45 minutes until lentils are fully cooked but not mushy.
Once cooked strain the lentils on a sieve and remove bay leaf. Keep them aside.
For Roasted Vegetables ->>
Preheat oven to 400F.
In a lined baking sheet, add chopped beets, carrots and cauliflower. Drizzle with olive oil and add salt, rosemary and thyme. Stir it all together and bake for 45-50 minutes or until vegetables are cooked through.
Check at 30 minutes as the time to roast will depend on how big/small the vegetables are chopped.
Dressing:
In a bowl add all the dressing ingredients and stir until mixed thoroughly.
Other:
Get the rest of the ingredients prepped up.
Once everything is ready in a large bowl, toss roasted vegetables, drained lentils, dressing and other shredded/chopped vegetables. Toss until evenly mixed through. Enjoy!
Leftovers store great tightly wrapped in fridge for 2-3 days.
Recipe by
Naive Cook Cooks
at https://www.naivecookcooks.com/roasted-vegetable-lentil-salad/