These "under 30 min" quesadillas are perfect for a meatless meal and packed with tons of flavors!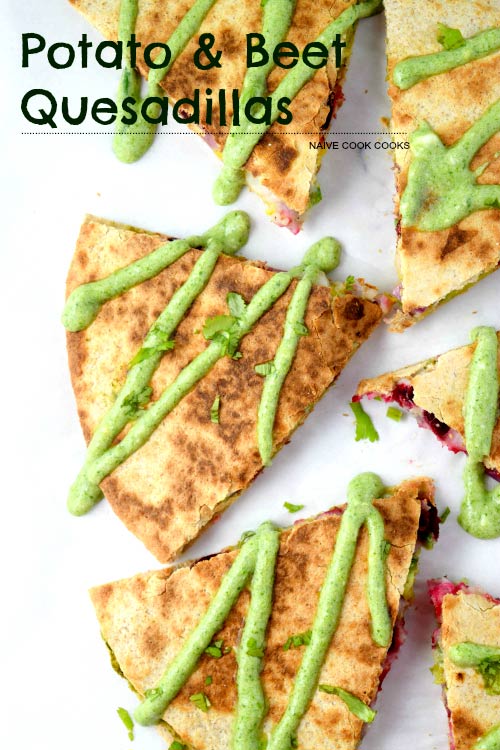 Some nights our dinners are way simple. Being a food blogger fresh food from scratch is not always guaranteed. I know it seems like we are always cooking and we always have tons of fresh homemade food ready at all times.But in reality we don't cook all day long, though if that was an option I will LOVE to do that. But there are gazillion of other things which go in running a blog as a business – planning on content, writing posts, marketing, trying to reach as many people as possible because what is an amazing content if only few people get to notice it, replying back to comments and commenting, networking, maintaining a healthy virus free site, working on tons of geeky stuff which goes in the working of a site but it does gets boring once in a while and then there are days, sometimes more than supposed to be, where I don't want to cook or I wish my mother lived closer by so she can make food for us!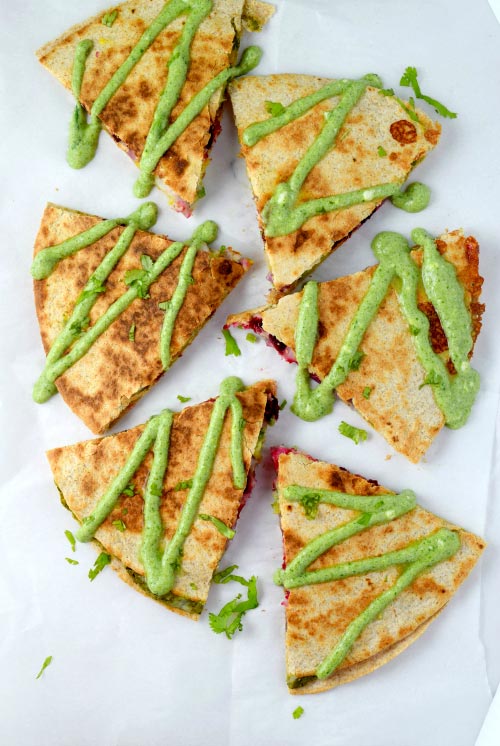 That's how these quesadillas were born. The filling idea for these quesadillas came from a popular Indian style sandwich. Usually the filling is placed between two bread slices and cooked till crispy but I went for a more filling and healthy route with whole wheat tortillas. The tortillas are smeared with cilantro chutney then an even layer of seasoned boiled potato comes, then it's topped off with small pieces of steamed beet, onions, jalapenos and some cheese. Covered with the second tortilla and cooked on a hot skillet until crispy, this makes for a super flavorful, delicious and not to mention healthy weeknight meal and ready in UNDER 30 MINS. These kind of easy, delicious, quick meals are always a hit with my family and with me as I then get time to do other things!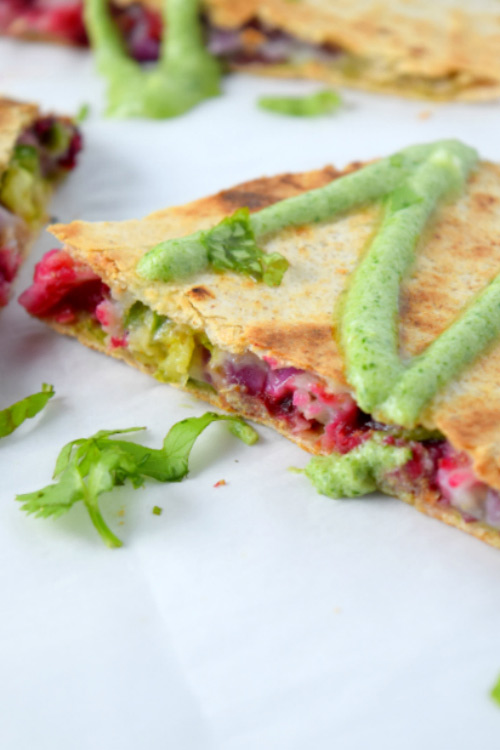 With Easter around the corner and all the indulgences, I thought these veggie quesadilla are perfect as a light meal option or after Easter detox meal. Anyways these are so delicious that you will be going for seconds.
Help in spreading the word!
Follow along for lot more delicious treats and life happenings on INSTAGRAM || FACEBOOK || PINTEREST 

Potato & Beet Quesadillas
These "under 30 min" quesadillas are perfect for a meatless meal and packed with tons of flavors!
Ingredients
2 whole wheat tortillas
1 small beet, boiled, roasted or steamed (For a quicker version, I wash the beet, slice it into 4 pieces with a knife and then place it in a plastic bag not fully sealed in microwave. I microwave it on high for good 3-4 minutes or until softened through.Once cool to touch,I peel and chop it finely.)
I potato, boiled
Salt to taste
Red chili powder to taste
¼ tsp turmeric powder
¼ red onion, chopped finely
½ jalapeno, chopped finely
Chaat masala or sandwich masala (optional but you have any use it!) (can buy from Indian grocery stores)
Green chutney
1 bunch fresh cilantro
6-7 small green chilies or as per taste
4-5 cloves of garlic
lemon juice to taste
salt to taste
Few tbsps mozzarella cheese
Cilantro sauce
½ of that green chutney
Few tbsps yogurt as per taste
Instructions
Get your beet prepared.
Get onions, jalapeno chopped.
Boil potato and once cool to touch, peel the potato and mash using a fork. To it add salt, red chili and turmeric and mix and taste.
Make green chutney. Throw all ingredients of green chutney in a blender and blend until smooth and taste adjust salt, lemon juice. If you don't like spicy, I suggest starting with only 2-3 small green chili.
Take one whole wheat tortilla. Smear with few tbsps of green chutney all over it. Top it off with mashed seasoned potatoes evenly covering everywhere. Now sprinkle beets, onions and jalapenos. Sprinkle some chaat masala or sandwich masala if using. If not using, then sprinkle a bit of salt & pepper.
Add some shredded cheese (optional but delicious. I used 2% fat mozzarella). Cover with the second tortilla and press together.
Heat a skillet with some olive oil.
Carefully transfer the quesadilla to the skillet and cook until bottom gets nice and crispy. Flip gently and repeat.
Cut into slices and serve with cilantro sauce. For cilantro chutney, simply mix some tbsp of green chutney with few tbsp of yogurt and serve.
Notes
You can make it directly in the skillet itself if you feel it will hard for you to transfer the whole quesadilla to the skillet to cook. Simply lay the whole wheat tortilla on the skillet with little oil and start assembling. Cook as normal.
More Veggie Recipes:
https://www.naivecookcooks.com/veggie-pot-pies/