Potato & Beet Quesadillas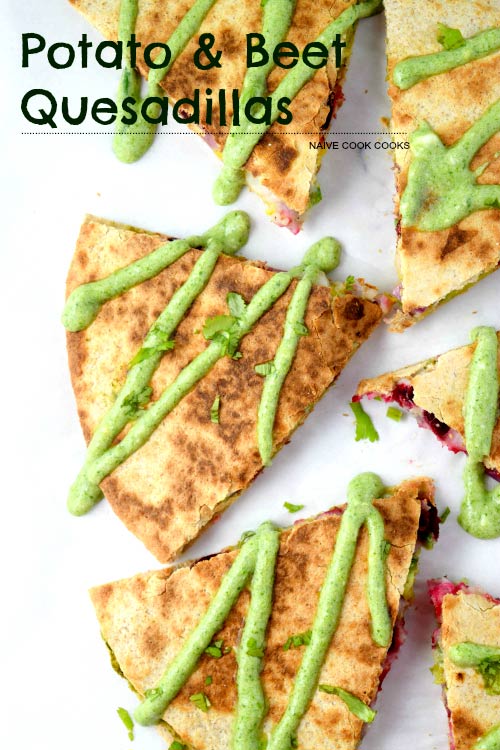 2 whole wheat tortillas
1 small beet, boiled, roasted or steamed (For a quicker version, I wash the beet, slice it into 4 pieces with a knife and then place it in a plastic bag not fully sealed in microwave. I microwave it on high for good 3-4 minutes or until softened through.Once cool to touch,I peel and chop it finely.)
I potato, boiled
Salt to taste
Red chili powder to taste
¼ tsp turmeric powder
¼ red onion, chopped finely
½ jalapeno, chopped finely
Chaat masala or sandwich masala (optional but you have any use it!) (can buy from Indian grocery stores)
1 bunch fresh cilantro
6-7 small green chilies or as per taste
4-5 cloves of garlic
lemon juice to taste
salt to taste
Few tbsps mozzarella cheese
½ of that green chutney
Few tbsps yogurt as per taste
Get your beet prepared.
Get onions, jalapeno chopped.
Boil potato and once cool to touch, peel the potato and mash using a fork. To it add salt, red chili and turmeric and mix and taste.
Make green chutney. Throw all ingredients of green chutney in a blender and blend until smooth and taste adjust salt, lemon juice. If you don't like spicy, I suggest starting with only 2-3 small green chili.
Take one whole wheat tortilla. Smear with few tbsps of green chutney all over it. Top it off with mashed seasoned potatoes evenly covering everywhere. Now sprinkle beets, onions and jalapenos. Sprinkle some chaat masala or sandwich masala if using. If not using, then sprinkle a bit of salt & pepper.
Add some shredded cheese (optional but delicious. I used 2% fat mozzarella). Cover with the second tortilla and press together.
Heat a skillet with some olive oil.
Carefully transfer the quesadilla to the skillet and cook until bottom gets nice and crispy. Flip gently and repeat.
Cut into slices and serve with cilantro sauce. For cilantro chutney, simply mix some tbsp of green chutney with few tbsp of yogurt and serve.
You can make it directly in the skillet itself if you feel it will hard for you to transfer the whole quesadilla to the skillet to cook. Simply lay the whole wheat tortilla on the skillet with little oil and start assembling. Cook as normal.
Recipe by
Naive Cook Cooks
at https://www.naivecookcooks.com/potato-beet-quesadillas/