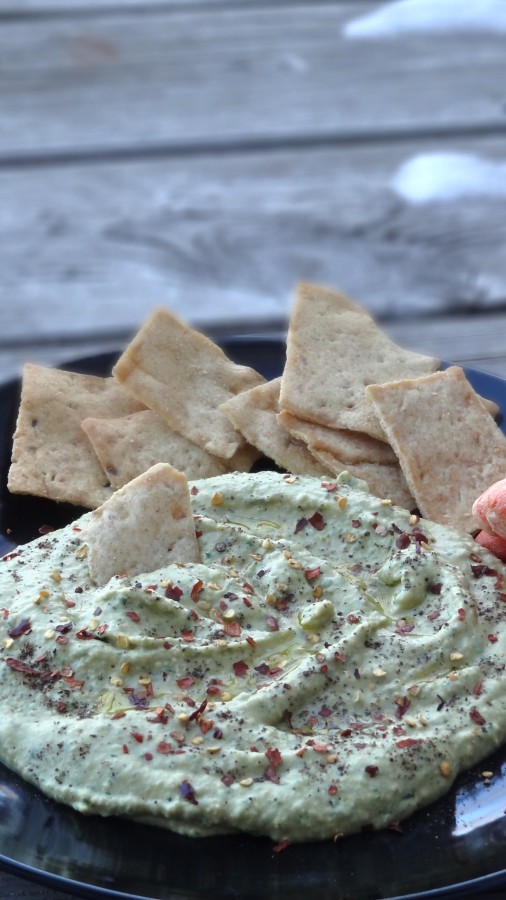 Quick question! Do you always come out with remarkably good pictures for post?! If you say yes, I suggest you to remember you new year resolutions where your first goal was to be honest! I have noticed some of my favorite bloggers like  whatkatieate, tartellete, indiansimmer, whiteonricecouple and many more have every picture so perfect that every time I visit their blog, a sense of guilt fills me up.
I wonder how they do it. Usually after I am done with cooking, I feel so impatient that my mind is more on how to start eating rather than concentrating on photography. I suppose it is time to renew my resolutions final time phew.
This hummus recipe was created in the effort of utilizing the parsley sitting in the fridge and in the efforts of eating something healthy. Though I must point out here that it was a failed effort as it was followed by a big meal of pasta in red sauce. One more day, one more failed resolution.
But for now let's enjoy this delicious green hummus dip.

Parsley Hummus
Ingredients
1 cup cooked chickpeas
1 tbsp garlic paste
¼ cup flat-leaf parsley leaves
Salt to taste
2-3 tbsp fresh lemon juice
1 tbsp extra virgin olive oil, plus additional for drizzling
1.5 tbsp tahini, stirred well if the oil has separated
1 tsp cumin seeds
Instructions
In a blender, throw in everything and make a smooth paste. Taste and adjust salt, lemon, garlic or tahini paste if desired. Sprinkle with black pepper and red chilli flakes. (optional)
Serve with pita chips, pita wedges or wheat thins.
Notes
Recipe adapted from an article in nytimes.com by Martha Rose Schulman.
More Appetizer Recipes: